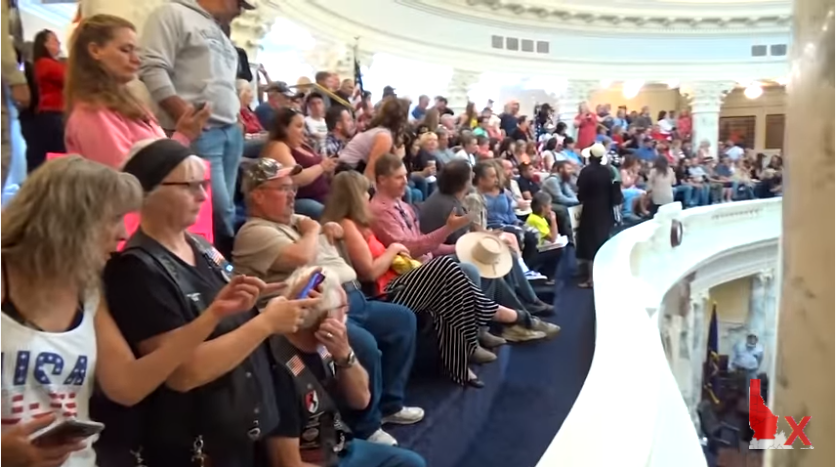 Idaho Reps meet to discuss Gov. Little's tyrannical actions – to a packed house
Video by Casey Whalen
Editor's transcription:
A small contingency of constitutionally minded Idaho State Representatives met at the statehouse on Tuesday June 23 to a packed house of irate citizens to discuss Governor Little's tyrannical actions.
North Idaho Representative Heather Scott reported from statistics that in 2017-2018 there were 101 deaths from the flu.  She said, "Did we shut down that year?  Did we hire contact tracers to start tracking people and telling churches they could not meet.  Are you kidding me?  101 deaths?  We've only had 89 and who knows if those are even Covid related because right now there is an incentive that everything's Covid related.
"I'm just disturbed that our leadership has intimidated legislators from being here and our horrible media who has basically tried to re-frame the narrative that we are here to do this or do that.  We are here to represent our people, that's why we are here today.  We are here to open our businesses.  We are here to get the government and the governor off their back so they can do business as usual.  I fear the longer this goes on the more many of them are going to lose everything they've had.  I truly do believe a civil war is coming if we do not end what we're seeing.
"The reason I came today is that we have got to be a voice of the people.  We have one person in the state taking their orders from the CDC, international groups, the Western Governors' Association and the National Governors' Association. When I sit on a conference call, and most legislators don't even want to show up for those conference calls anymore, because the governor gets on there and gives out everything he's doing and asks 'Do you have any questions about what I'm doing?' That's out of control.  That's not how a republic works.
"I think it's sad we don't have more legislators here.  I think we have a duty to stop this nonsense.  I think the people have a duty to stop this nonsense. Unfortunately, we do not have more legislators here because the people have not paid attention to who they have elected to office.  It's really critical that we ask are they here?  Are they representing their citizens? And if not, why are we not re-calling them with the governor?
"Those are the things I think we need to discuss as a body and rein in what is happening.
"Legal opinions are a dime a dozen.  A dime a dozen. That's the difference with the legislative branch.  We get to write the law. It doesn't matter what the opinions are of the courts.  We get to write the law.  That's how it's supposed to work. So for any one person to say otherwise, I just can't believe the governor's got the guts to do what he's doing.  He's obviously being controlled by someone, I do not know who that is.
"I think we need to re-convene and look at the money.  Because now that this problem has been created for our state and some people are homeless and people can't open their businesses. And now the governor is going to come in and tell them how he's going to make it all better and give them money like candy on Halloween.  Does he not think those businesses are not going to remember this in a few years?  I think we need to look at where we are spending the money.
"I think it is ridiculous.  We should be returning to session.  Our leadership should not be intimidating us or bullying us to not meet.  It's unthinkable that leadership would not join us today will not push back on letting us do our job.  They're supposed to lead us as a body to do our job.  We cannot do our job, we cannot rein in an out-of-control governor when we can't even get ourselves back into session.  We know the relationship there between the Executive Branch and the Legislative Branch and those roots go deep. And that needs to be broke."
See the complete video of this event below to hear other speakers in attendance.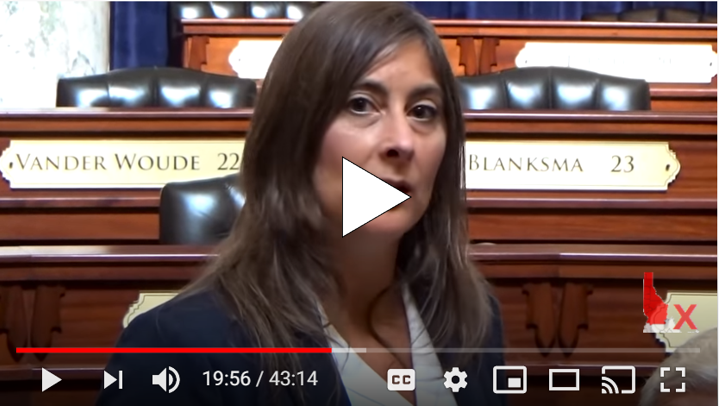 North Idaho Exposed
Help support independent journalism via Cashapp: $NorthIdahoExposed or venmo: @northidahoexposed
June 23, 2020 Boise, Idaho
Text RIGHTS to 80123 to join the People's Rights Movement, this is national.  We are creating a communications network to dispatch people to assist local business owners or families being oppressed by a tyrannical government.  Text the word RIGHTS to 80123.
GO BACK TO WORK IDAHO AND THE PEOPLE WILL PHYSICALLY ENFORCE YOUR RIGHT TO PROSPERITY. Text RIGHTS to 80123 to stay abreast of any upcoming announcements the Peoples Right's group in the amazing State of Idaho, Washington and soon more states as this is a national movement.  Contact me directly in North Idaho if your business wishes to open and need support:  Casey Whalen on facebook or northidahoexposed@protonmail.com
This channel is de-monetized, please consider an affordable donation;
Casey Whalen
PO BOX 3041
Coeur d'Alene, Idaho 83816
Join our local group fighting AGENDA 21 in Coeur d'Alene, Idaho: https://www.facebook.com/groups/cda2030
Public record board Inland NW: https://northidahoexposed.wordpress.com/
Copyright Disclaimer Under Section 107 of the Copyright Act 1976, allowance is made for "fair use" for purposes such as criticism, comment, news reporting, teaching, scholarship, and research. Fair use is a use permitted by copyright statute that might otherwise be infringing. Non-profit, educational or personal use tips the balance in favor of fair use. #allbusinessisessential #stand #donotcomply
Published with Permission of northidahoewxposed on YouTube