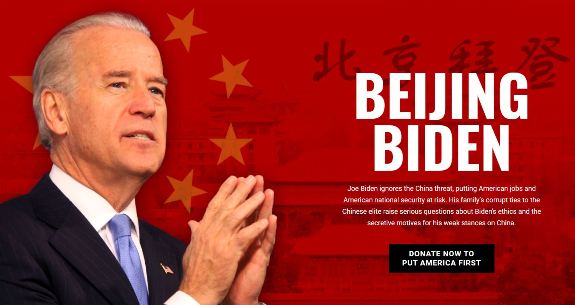 Beijing Biden Attacks Trump On China
By CHQ Staff
In one of the young presidential campaign season's most astonishing acts of hypocrisy the Joe Biden campaign has released a new ad, "Unprepared," that attacks President Donald Trump for having done more to praise China than to look out for Americans.
"Donald Trump left this country unprepared and unprotected for the worst public health and economic crisis in our lifetime, and now we are paying the price," the ad says.
The broad message is that Biden proved early on that he knew better than Trump what to do.
The Left-leaning website Politifact reports the Biden campaign says the ad is set to run in Florida, Wisconsin, and other swing states.
Biden, who has spent a 40-year career in politics advancing ties between the United States and Communist China, must be looking some very worrisome polls to get an ad like this up this early in the campaign because it is so demonstrably false.
Let's not forget that on January 27, 2020 Joe Biden published an op-ed in USA Today calling President Trump's planned China to USA travel ban "reactionary" while touting the Obama-Biden administration's response to the African Ebola epidemic.
And as Robert Romano observed in an op-ed for the Ceres Courier, on Jan. 31, President Trump issued the travel restrictions from China. One day after the travel restrictions were put into place, Biden said in Iowa, "We have, right now, a crisis with the coronavirus… This is no time for Donald Trump's record of hysteria and xenophobia – hysterical xenophobia – and fearmongering to lead the way instead of science."
But just two months later Biden did a complete about-face as CNN reported Biden claimed he supported President Trump's January 31 decision to ban foreign nationals who had been in China within the previous 14 days from entering the United States.
"Joe Biden supports travel bans that are guided by medical experts, advocated by public health officials, and backed by a full strategy," Kate Bedingfeld, Biden's deputy campaign manager, told CNN. "Science supported this ban, therefore he did too."
Notice Ms. Bedingfeld's strange use of the past tense in the phrase "he [Joe Biden] did too."
However, she offered no clues as to when Joe Biden changed from thinking travel bans between the United States and contagious disease hotspots were unhelpful, unscientific, and xenophobic to science-based necessities.
Which brings us back to the Biden campaign ad criticizing Donald Trump for trying to maintain an open relationship with Communist China's President Xi Jinping during the early days of what has now become a pandemic.
People who live in glass houses shouldn't throw stones.
Back in 2013, Joe Biden called Chinese President Xi Jinping a "good friend." Within weeks Communist China threw potentially billions of dollars at Hunter Biden while Joe Biden was Vice President the deal involved Chinese state-owned firms such as the Bank of China. While Hunter Biden's lawyer claims Hunter stepped down from the board of the Chinese private equity firm, Hunter still apparently holds a financial stake in it.
Even though the establishment media has been completely disinterested in the story of Hunter Biden getting a sweet deal from the Bank of China right after flying to China on Air Force Two with his father the Vice President, a trip on which Hunter arranged for his Chinese business partner to meet the VP the facts and pictures of this arrangement will make great pro-Trump TV ads as Election Day gets closer.
As The CATO Institute's Trump-skeptical Ted Galen Carpenter noted in a recent op-ed, "throughout his term, prominent Democrats and their media allies repeatedly condemned Trump for waging an ill‐​advised trade war against that country. Such criticism was part of a larger critique accusing the president of excessive nationalism (if not outright xenophobia) and an aversion to international cooperation.
That is why the Biden camp's attempt to reverse course and label Trump as "soft" on China inherently lacks credibility, concluded Mr. Carpenter. Indeed, the president's defenders are ridiculing the strategy. Trump's campaign organization immediately derided Biden for a new "fake‐​tough" China policy. A campaign email blast stated: "Beijing Biden can pretend to be tough on China, but there is more than four decades worth of material (plus some from the past year) that will make it impossible for him to deceive Americans."
According to research posted on the BeijingBiden.com website, since 1979, Joe Biden has been a key supporter and enabler of Communist China; a fact he often brags about and highlights in interviews and speeches, seemingly oblivious to the economic damage his positions have inflicted on America and American Workers.
"On my first visit to China, which was more than 30 years ago when I was a young United States senator in 1979, I was with the first delegation of congressional leaders to visit China after normalization. We had several days of business with then Vice Premier Deng Xiaoping. It was a very different country then, but what was absolutely clear to me was that China was on the cusp of a remarkable transformation….
Let me be clear — let me be clear: I believed in 1979 and said so and I believe now that a rising China is a positive development, not only for the people of China but for the United States and the world as a whole."
America has lost nearly 4 million jobs from China's predatory trading practices in under 20 years, leaving factories and manufacturers reeling from the BeijingBiden's complicity in Communist China-spearheaded outsourcing. And the toll of this isn't purely economic: 'deaths of despair' have risen among the American working class, inextricably linked to China siphoning their jobs and livelihoods.
For more information on Joe Biden's 40-year record of putting the interests of Communist China ahead of the interests of America's working families and our county's economic security go to https://beijingbiden.com/.
Published with Permission of conservativehq.com