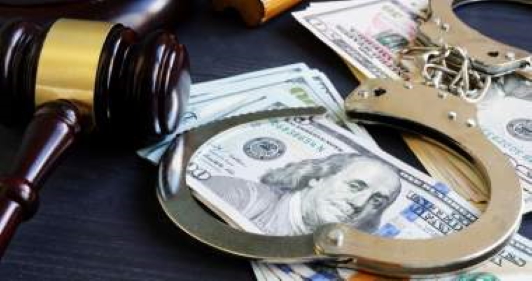 Surprised? Soros-aligned Group Posting Bail for Arrested BLM Rioters
By Luis Miguel
America's Marxist agitators have a well-funded get-out-of-jail free card waiting for them, one that has the support of a familiar name: George Soros.
Following the death of George Floyd at the hands of a Minneapolis Police Department officer and the resultant protests and riots, bail-out charities have been infused with huge amounts of donations with which to post bail for the rioters, looters, and vandals arrested amid the anarchy.
One of the most prominent among these organizations is the Minnesota Freedom Fund (MFF), which has taken in millions in the last week alone thanks to patronage and publicity from Hollywood celebrities such as Justin Timberlake and Steve Carell.
MFF's goal is to raise donations to bail out suspected criminals and those detained by Immigration and Customs Enforcement (ICE). As Breitbart notes, tax records show the organization used to pull in $110,000 a year, but has exploded to over $20 million in less than a week's time.
MFF Executive Director Tonja Honsey is a disciple of left-wing billionaire and socialist patron George Soros. She was named a Soros Justice Fellow by his Open Society Foundations in 2019. Honsey is also a convicted drug offender who was arrested in a 2002 meth-lab bust. In addition, she did time in prison for theft and check forgery.
Unsurprisingly, Honsey has spent her time post-prison as a "criminal justice reformer" and has even served on Minnesota's Sentencing Guidelines Commission.
In a tweet, President Trump implied that MFF, which is being praised by Democrat politicians, works to "get anarchists out of jail," suggesting that the group is paying the bail for Antifa and other terrorists who have recently set fire to buildings and attacked police.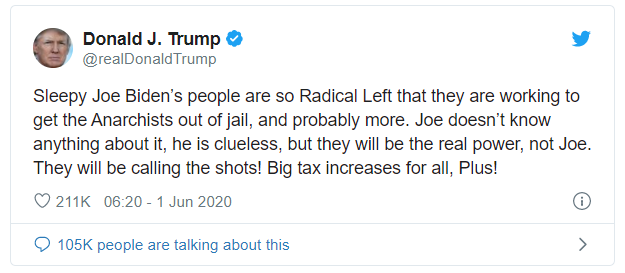 The president announced at the end of last month that he is designating Antifa, the militant left-wing revolutionary group, a "terrorist organization."
While MFF has not publicly supported Antifa yet, it partners in its bail work with the National Lawyers Guild (NLG), which does support and vocally back Antifa.
NLG, in fact, struck back at President Trump's designation of Antifa as a domestic terror group. "Trump's declaration that Antifa is a domestic terrorist organization has no basis in fact or law and is merely an attempt to criminalize ordinary people who are exercising their right to protest," NLG declared in a statement, conveniently omitting the times Antifa has been the aggressor in demonstrations by conservatives ⁠— leaving behind a long trail of bruises, concussions, and broken bones.
NLG is widely known as a communist front group and was even called "the legal mouthpiece" of the Communist Party by Eisenhower Attorney General Herbert Brownell.
When individuals are arrested in connection to the Black Lives Matter protests and riots, they are being instructed to contact NLG, which in turn contacts MFF to provide the bail cash.
MFF Board President Greg Lewin, in fact, recently sent out a notice affirming that NLG knows to contact MFF on bail matters.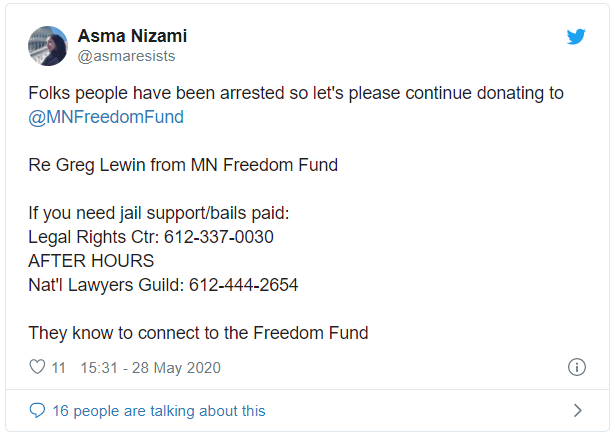 New York City Antifa has even told its members to "familiarize" themselves with the NLG's phone numbers.
The National Lawyers Guild has received funding from Soros' Open Society Foundations and worked alongside Soros organizations.
MFF has openly called on Minnesota Governor Tim Walz to defund the police and has the support of several Joe Biden staffers, as well as the support of Senator Kamala Harris (D-Calif.), who is considered a potential vice-presidential pick for Biden.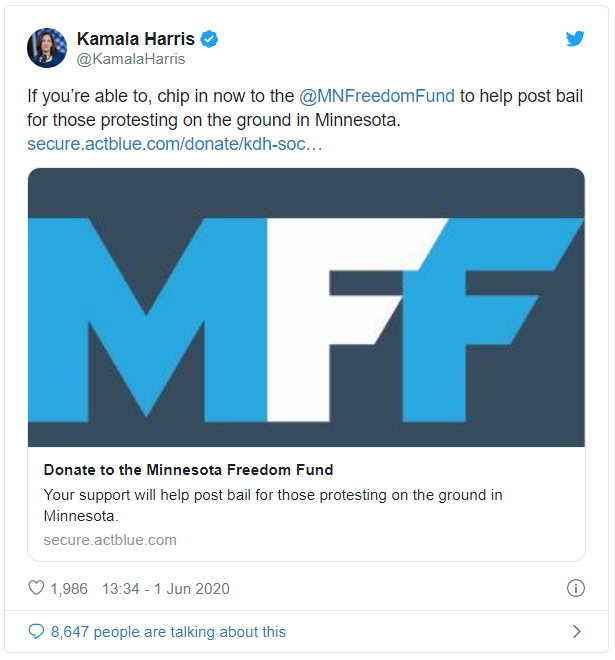 As would be expected, the left-wing group of freshman congresswomen known as "The Squad" (Representatives Rashida Tlaib, Ilhan Omar, Ayanna Pressley, and Alexandria Ocasio-Cortez) fully support MFF.
Celebrity Chrissy Teigen and her husband, singer John Legend, are just two of the many stars to pledge large donations to MFF, vowing to chip in $200,000 toward bail funds.
MFF has received so many contributions, in fact, that it has placed donations on hold and is asking people to give money to other charities, such as Reclaim the Block, which also supports the defunding of police departments.
With the help of MFF and NLG, Soros and his acolytes are accelerating the destabilizing of society. Not only are they convincing local governments to reduce their police resources even as violent activists storm the streets, but they have created the perfect safety net so that even when police aren't too scared of being called racists and arrest offenders, the Marxist foot soldiers can expect a swift bailout.
Image: designer491/iStock/Getty Images Plus
Luis Miguel is a marketer and writer whose journalistic endeavors shed light on the Deep State, the immigration crisis, and the enemies of freedom. Follow his exploits on Facebook, Twitter, Bitchute, and at luisantoniomiguel.com.
Published with Permission of thenewamerican.com