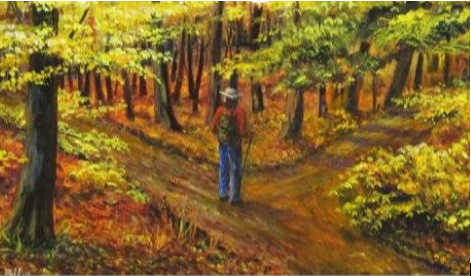 The Road not Taken
By Rob Chase
My original plan this year was to run for United States Congress – District 5 WA State, against Rep. Cathy McMorris. Pretty ambitious, eh?
I had run for Congress before in 2002 against Rep. George Nethercutt. Although I only received 5% as a Libertarian the highlight was I got to tell George publicly that getting into an un-declared war in Iraq would be a big mistake. In retrospect I was right. Not that my chances were a whole lot more this time around, but once you throw your hat in the ring anything can happen.
In the ensuing years since 2002 I had wondered how well I I could have done as a bona fide Republican with a political resume. This was to be my year if ever it was going to be. I believe in rotation in office, and term limits, but in my case now, as a 66 year old, term limits is as much a physical necessity as a political one.
Even so, during my Congressional Campaign this year I bolstered myself with visions of Mr. Smith goes to Washington, rubbing elbows with the luminaries of World power, and filing as a "Trump Republican" I would no doubt meet the great one, and tell him what he needed to know to Make America Great Again.
As long as I am waxing poetic with my Robert Frost subject I will add that Bobbie Burns once wrote that, "The best laid plans of mice and men aft agley" (Scottish I guess for "Go Astray").
On May 5th I got a call from Matt Shea to visit with him the next day. I woke up mid-morning with a premonition that Matt was going to ask me to step aside for him to run in my Congressional race. My premonition was correct. The next day Matt told me there were some unnamed people who had asked him to run for Congress and see if I would step aside. In turn he would endorse me for his 4th Legislative seat. I knew my answer would be yes before he asked the question. Matt would have a much better chance than I, and would make a good Congressman. We prayed together for wisdom and God's will in our decision.
We had agreed to file for office at 3:30PM on filing day, May 15th, before the 4:00 PM deadline. At 4:05 Matt called me and I immediately asked if his filing went well. Matt replied that, "something came up" and he didn't file. He went on to say that he couldn't tell me what that "something" was, but when I learned I would understand.
Last week Matt Shea announced he was going into the Ministry. He will follow his road and also give Shawn Vestal of the Spokesman Review more grist for his Mill. Maybe Shawn will start attending Matt's Church with notepad and pen in hand. Maybe the Holy Spirit will cause Shawn to respond to an altar call from Matt, and Shawn will take the Damascus Road to Glory.
My road will seemingly be to Olympia, God willing and I do not stumble. Do I have regrets? Oh sure, if I could have been elected to Congress I might have had a larger headstone someday, and my golden crown would have been a bit heavier. But I do stand a better chance in this race and there is a lot to be done about the State of Washington. Man proposes but God disposes. I think wherever we find ourselves is where God wants us to be. Cathy McMorris, Matt Shea, and me, that is where we will be. We need to bloom where we are planted.
If you would like to help me on my road my website electrobchase.com has been updated. There you could consider an affordable donation and keep me in your prayers.