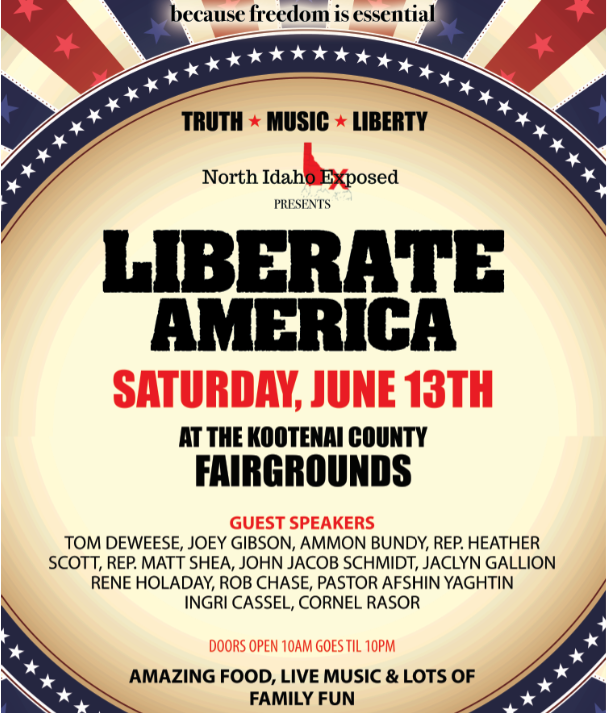 LIBERATE AMERICA Event in North Idaho JOIN US
             #allbusinessisessential #stand #donotcomply
By Casey Whalen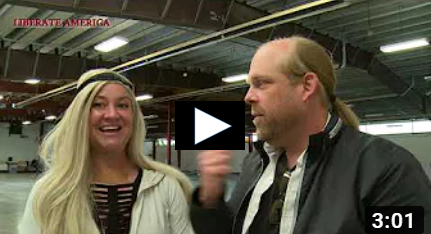 Please join us June 13 for some great speakers, music, food and PATIROTS. Hope to see you there, we are trying to get enough sponsors to make this event free to attend. If you would like to be a sponsor and/or have a booth please contact me directly. https://www.facebook.com/events/27008…
Guest speakers (confirmed):
Tom DeWeese of the American Policy Center
Joey Gibson of Patriot Prayer
Rep. Heather Scott (ID)
Rep, Matt Shea (WA)
Ammon Bundy
John Jacob Schmidt
Rene Holaday – Lady Liberty of LIberty State
Scott Herndon
Jaclyn Gallion
Rob Chase
Pastor Afshin Yaghtin
Ingri Cassel of Immunize Wizely on Republic Broadcasting Network
Greg Pruitt of the Idaho 2nd Amendment Alliance
Chris Brumbles
Cornel Rasor.
There will be camping ($20.00) or RV accommodations ($49.00). We are working on getting music acts together, vendors and things for children to do as well as food. Stay tuned for more information as it is available.
GO BACK TO WORK IDAHO AND THE PEOPLE WILL PHYSICALLY ENFORCE YOUR RIGHT TO PROSPERTY. Text RIGHTS to 80123 to stay abreast of any upcoming announcements from Ammon Bundy and the Peoples Right's group in the amazing State of Idaho.  Contact me directly in North Idaho if your business wishes to open and need support:  Casey Whalen on Facebook or northidahoexposed@protonmail.com
This channel is de-monetized, please consider an affordable donation; Casey Whalen PO BOX 3041 Coeur d'Alene, Idaho 83816
Join our local group fighting AGENDA 21 in Coeur d'Alene, Idaho: https://www.facebook.com/groups/cda2030
Pubilc record board Inland NW: https://northidahoexposed.wordpress.com/
Copyright Disclaimer under Section 107 of the Copyright Act 1976, allowance is made for "fair use" for purposes such as criticism, comment, news reporting, teaching, scholarship, and research. Fair use is a use permitted by copyright statute that might otherwise be infringing. Non-profit, educational or personal use tips the balance in favor of fair use. #allbusinessisessential #stand #donotcomply