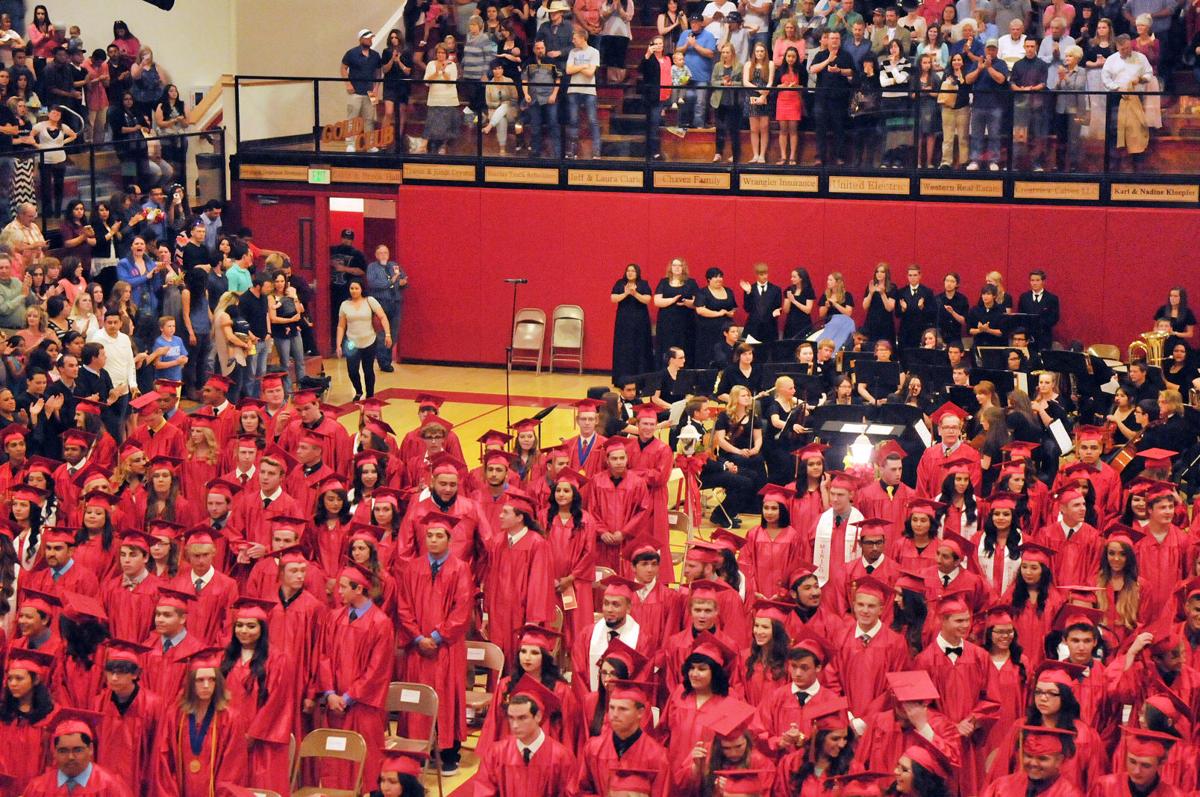 Minico High School seniors graduate May 25, 2016, in Rupert.  TIMES-NEWS FILE PHOTO
Idaho: Minico High School plans group graduation despite governor's order limiting events
By Laurie Welch
Minico seniors graduate May 24, 2018, in Rupert.  DREW NASH, TIMES-NEWS
RUPERT — Minidoka County School District officials decided to hold a group graduation ceremony May 21 for Minico High School seniors despite it violating the governor's order limiting group events during the COVID-19 pandemic.
Minidoka County School District Superintendent Ken Cox said the event appears to be allowed under the governor's state Rebound Idaho plan during stage four because there will be a gathering of more than 50 people. The school has 190 seniors.
But the fourth stage won't begin until June 13 at the earliest if there are no spikes in cases. The event will be in stage two of the plan if it goes into effect as expected on May 16. In that stage, public and private gatherings are supposed to be limited to 10 people or less.
Cox said he'd discussed options with school staff for weeks and a decision was made to hold the group graduation anyway on May 21.
"We talked about the options and the implications of this," Cox said.
Cox gave the final approval for the school's plan.
"I know the governor's guidance of not having groups of more than 10 is not going to be met," he said.
Cox said the district presented the plan to hold the ceremony on the football field to South Central Public Health District.
"They said they approved of the plan but not on that date," he said.
South Central Public Health District spokeswoman Brianna Bodily said staff spoke with school district officials and expressed their concerns about the gathering on that date, but the ultimate decision was up to the district and their students.
"Public health isn't required to approve mass gatherings like graduations," Bodily said. "With that in mind, we do not recommend anyone attend large gatherings before they meet the criteria in the governor's plan. That means for groups over 50 they should wait until stage four."
Public health's role in the pandemic is to investigate the disease and offer guidance and the health district does not have the power to shut down events that don't comply unless they know someone is carrying an infectious disease, she said.
If a person is invited to an event that doesn't follow the recommendations they should ask the organizer to make changes, Bodily said. Residents must advocate for their health and protect themselves from the disease.
"The Idaho School Boards Association hasn't issued guidance specifically on graduations," Misty Swanson, chief deputy of the Idaho School Boards Association, said in an email. "We know that districts have been creative in order to honor their graduating seniors, and have been working with local officials and public health districts to comply with the social distancing and Rebound Idaho guidelines."
Cox said only the graduating seniors and two of their family members will be allowed at the school's football field. The ceremony will be held at 5:30 p.m.
The student and family members must arrive by vehicle, where they will wait until the student is ushered to the practice field and seated 6 feet apart from classmates, and parents are seated 6 feet apart in the bleachers.
When students are moved to the football field for the ceremony, they will be seated 10 feet apart. The school board chairman will place the diploma holder on a table and step back before the student approaches. Photos will also be taken.
Students and their family members will be asked to wear masks, but it will not be required.
The Rupert Police Department and Minidoka County Sheriff's Office will help keep people spaced apart, Cox said.
Cassia County School District spokeswoman Debbie Critchfield said all five high schools in that district came up with graduation plans that include some version of a drive-up type ceremony that complies with public health guidelines.
"We're excited for the opportunity to celebrate our seniors' accomplishments in a memorable way," Critchfield said. "I feel like there will be more community support and more personalized than ever."
Critchfield said administrators at each school submitted their plan, which was approved by district staff to make sure it met public health guidelines.
From magicvalley.com