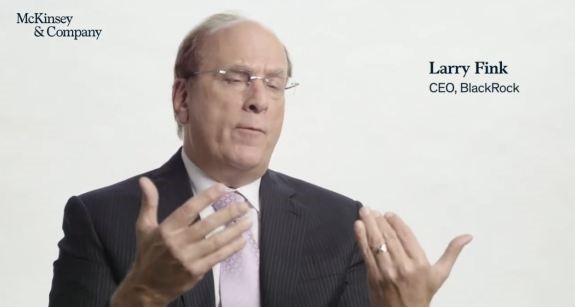 Trump Should Not Let Red China Keep Laughing At Us
By George Rasley
As we have explained in several articles, one of the ways Communist China has been able to gain an economic advantage over the United States is by accessing our own capital markets for the money to expand its economy.
To put matters plainly, Wall Street has been committing treason by giving Red China the money it needs to replace America as the world's top economic and military superpower.
But it gets worse. Larry Fink, the CEO of BlackRock, Inc. with its estimated $7 trillion under management, is making a run at another huge pot of American capital to invest in Red China.
Our friend Frank Gaffney and the Center for Security Policy's Committee for the Present Danger – China connected some truly frightening dots for us in his recent article "Year Of The Rat Fink – Investment Firms Selling Out America" exposing BlackRock, and CEO Larry Fink's near treasonous conduct.
Fink has repeatedly placed the interests of America – and, for that matter, those of his clients – second to his own agendas and interests. The most worrying of the latter are his sustained, concerted and personally lucrative efforts to promote investment in Communist China. They have, over time, had the effect of enriching and enabling the Chinese Communist Party (CCP), its corporate fronts and the malevolent activities in which they have long engaged – to the grave detriment of this country, its security, and values.
One of Larry Fink's most controversial agenda items is an impending investment of the roughly $600 billion portfolio of the federal government's retirement system, which BlackRock manages, in malevolent Chinese corporations, says Gaffney.
If this decision to mirror the Morgan Stanley Capital International All-Country ex-U.S. World Index, which is now imminent, is allowed to proceed, Fink will have put President Trump in the unenviable and untenable position of compelling U.S. military personnel and their civilian counterparts to invest in Chinese Communist Party weapons manufacturers and the Party's other odious companies.
For nearly a year, the "Committee on the Present Danger: China" has been warning (see here for example) about the CCP's penetration of our capital markets and urging the countermanding of that decision which the Federal Retirement Thrift Investment Board (FRTIB) initially took in 2017 with implementation to occur this year. Unfortunately, the FRTIB reaffirmed it late last year despite strenuous, bipartisan objections on Capitol Hill and from influential veterans. Unless President Trump intervenes, it will go into effect in the near future.
To his credit, notes Mr. Gaffney, President Trump understood the necessity of decoupling from Communist China long before he confronted its COVID-19 virus. The pandemic, however, has made such disengagement not just vital; it is now absolutely imperative.
Now, Mr. Gaffney has proposed a proven avenue by which President Trump can stop this dangerous Red Chinese raid on the retirement funds of millions of American military and federal government employees.
In his latest "Secure Freedom Minute" Gaffney suggests President Trump follow the course President Reagan used to block Wall Street from funding a gas pipeline in the old Communist Soviet Union:
Ronald Reagan wanted to bankrupt a Communist enemy seeking our destruction. He told our allies they could help the Soviet Union build a Siberian gas pipeline or they could do business with us. U.S. government lawyers said he couldn't use the International Economic Emergency Powers Act – known as IEPPA – "extraterritorially." He ignored them. The rest is history: the USSR is no more.
Now, government lawyers are telling Donald Trump he can't use IEEPA to prevent federal retirement funds from enabling the Chinese Communists' ambitions to destroy us. Yesterday, Mr. Trump acknowledged they're also trying to terminate his presidency.
Trump China advisor Michael Pillsbury says the Chinese are "laughing at us," contemptuous that we're so corrupt, we'll actually reward them for their pandemic. If President heeds the lawyers, the Communists will, indeed, laugh – all the way to the bank named BlackRock or Goldman Sachs.
We urge every CHQ reader and friend to review Frank Gaffney's article "Year Of The Rat Fink – Investment Firms Selling Out America" and then call the White House (202-456-1111) to demand that the President invoke the International Economic Emergency Powers Act to prohibit US military and US government civilian retirement funds from being invested in Communist China by Blackrock's Larry Fink.
George Rasley is the Editor of Conservative HQ.
From conservativehq.com