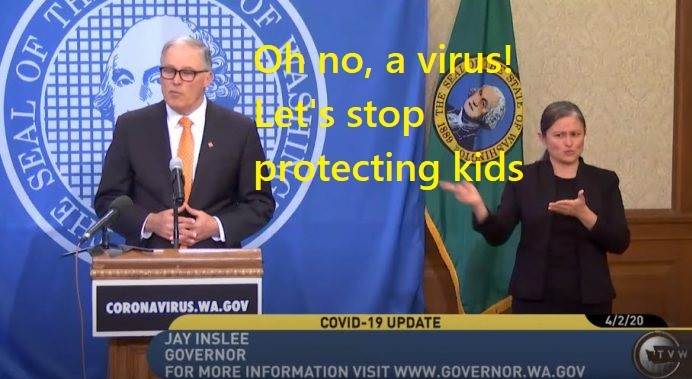 Washington State Governor Inslee has suspended background checks for childcare workers, which seems like questionable virus policy at best
Governor Inslee risks children by waiving background checks for childcare workers
By Glen Morgan
Washington State Governor Inslee has suspended background checks for childcare workers, which seems like questionable virus policy at best.
Washington State Governor Inslee has approached his virus lockdown policies with a plethora of formal emergency proclamations (see all of them here).  Some make sense like suspending abusive regulatory processes that provide little value and increase the cost to provide Washingtonians the goods and services they need – perhaps we can keep those suspended indefinitely.  However some of these are just bizarre and should be rejected by everyone.  Here is just one example of a proclamation which Inslee should rescind. (Note: *update to article below)

On March 26, 2020 Inslee made emergency proclamation #20-31 (see copy here).  As you can read for yourself, this suspends background checks for childcare workers hired to watch the children of "essential workers."  Ostensibly, the excuse is that the people who conduct the background checks won't be in their offices to conduct the checks.  This is just stupid policy, and it should be rejected and rescinded by the Governor's office.
Seriously, every time I volunteer to chaperone a field trip for my kids at school, I am required to allow the school to conduct a background check (and any parent who has volunteered has the same experience in our state).  Plenty of civic groups who focus on working with kids including large organizations like the Boy Scouts have to conduct background checks on all adult leaders who could come into contact with children.  Since most of the background check work is done via computer today, is the state seriously claiming they can't get a state worker (who is being paid whether they are sheltering in place at home or not), to complete this task?
In a time of crisis it is almost certain that bad actors, like child molesters, would take advantage of the situation to harm children.  That is what they do.  Of all things, why would Governor Inslee pick THIS ONE to waive?  Particularly while he is at the same time unleashing a tsunami of early-release criminals, including sexual predators? (See article here, and article here).  In Maple Valley, a worker assigned to watch children of first responders is now under investigation for multiple counts of molesting children just a few days ago (see here). It isn't clear yet that he would have been prevented from being in this position by this proclamation, but it should be a wakeup call to rescind this misguided proclamation policy. These predators are out there. Broadcasting the fact that you won't be doing background checks on childcare workers is probably not optimal policy, and it certainly isn't making the world safer "for the children."
*Update – After I posted this article, multiple Republican legislators contacted me to tell me in their caucus call this morning, they expressed a consensus that this was one of the proclamations they would not support. Keep in mind, Inslee is proceeding as though he doesn't need their support on these actions anyway.
Every clown who works with kids should have at least a cursory background check. Why rescind this policy just because of a virus?
OUR CONSTITUTION BEGINS WITH THE PHRASE "WE THE PEOPLE."  IT WAS THE FOUNDER'S INTENT THAT GOVERNMENT BE CREATED BY THE PEOPLE, TO SERVE THE PEOPLE.  IT WASN'T THEIR INTENTION FOR THE PEOPLE TO SERVE THE GOVERNMENT.  IT WAS ALWAYS INTENDED THAT GOVERNMENT WHICH FAILED TO SERVE THE PEOPLE SHOULD BE "ALTERED OR ABOLISHED."  UNTIL WE RETURN TO THE FOUNDER'S INTENT, WE REMAIN WE THE GOVERNED…
Background articles and documents:
Complete list of Governor Jay Inslee's emergency proclamations – official website
Proclamation #20-31 "suspend background checks for childcare workers"
Rantz: Governor Inslee releasing sex offender, gang members from jail over Coronavirus
Tahoma schools childcare worker faces multiple molestation accusations
Do these politicians and bureaucrats even care? Washington State rebellion grows
A good day for a little rebellion against Governor Inslee
Federal Lawsuit filed by Josh Freed against Governor Inslee April 21, 2020
Herman: Inslee reverses course, now against sanctuary counties
Dori: The wussification of our kids continues in Seattle schools
MyNorthwest: Washington Ferry Ridership Craters
Port Townsend Free Press "Snohomish County Sheriff Refuses to Enforce Governor Inslee's Shut Down Order"
Washington State Governor Inslee turned us all into armed homeschooling preppers
The top 6 Games Government bureaucrats play when faced with budget cuts – the video
The Top 6 Games Government bureaucrats play when faced with budget cuts
Herman: "Shared sacrifice" is the biggest lie Jay Inslee has ever told"
State Budget Cuts are Coming – the Video
Time to Downsize State Government
Many Counties delay property tax due date. This is only the beginning
Evergreen State College – the next Corona Virus Quarantine Facility?
City of Olympia Proudly Showcases beautiful addict/homeless camps – now THIS is real progress
Published with Permission of wethegoverned.com