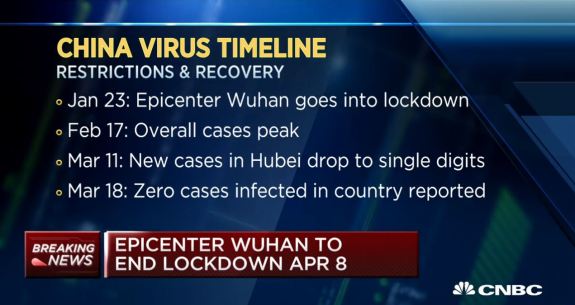 The Red Chinese Aim to Use the Wuhan Virus to Win Their War Against America
By George Rasley
The Wuhan virus may be a natural mutation, or a virus that jumped from an animal to humans, or it may be an escaped bio-weapon, but whatever its origin the Red Chinese aim to take advantage of the havoc wreaked by the COVID-19 epidemic to win their long war against America.
The Coronavirus, which has thus far killed at least 22,000 and infected at least 500,000 others, emerged, as Ari Lieberman observed in an article for FrontPageMag.com, from the city of Wuhan, which is the capital of Hubei province in the People's Republic of China. Chinese Communist Party authorities were well aware that they had a pandemic on their hands way back in December but maliciously suppressed information about it.
Significantly, noted Mr. Lieberman, The Times of UK, citing a respected and independent Chinese publication, reports that in December Red Chinese labs identified the pathogen that caused viral pneumonia in patients infected with the coronavirus disease and described the pathogen as highly infectious. A regional health official in Wuhan ordered the compiled samples and related research destroyed. Chinese authorities belatedly acknowledged the highly infectious nature of the disease in late January said Lieberman.
The Red Chinese could have warned the rest of the world but did nothing – in fact they made sure the Wuhan virus would spread around the world by lying and then objecting when President Trump closed America to certain travelers from China.
There's no other way to explain their behavior as other than an intentional plan to spread the Wuhan virus to the West and to the European Union and the United States in particular.
And while Red China makes long-term gains on the kinetic battlefield by learning how bio-warfare affects Western countries, its real gains are immediately recognized on the economic battlefield.
As Kyle Bass, Chief Investment Officer for Hayman Capital Management, tweeted:
We are at War with the Wuhan Virus. In the last month or so, the world has lost $25T in equity value and the US alone is going to have to expand the FED balance sheet by up to $5T to fill the hole.
Eric Martin reported for Fortune that the International Monetary Fund said it expects a global recession this year that will be at least as bad as the downturn during the financial crisis more than a decade ago.
Mr. Martin wrote that nearly 80 countries have asked the Washington-based IMF for emergency finance, Managing Director Kristalina Georgieva said in a statement Monday following a conference call of Group of 20 finance ministers and central bankers. Georgieva said the fund strongly supports extraordinary fiscal actions already taken by many countries and welcomes the moves of major central banks to ease monetary policy.
St. Louis Fed President James Bullard warned Wednesday that the impact of the novel coronavirus on the U.S. economy would be of historic proportion, reported Brian Cheung of Yahoo Finance. The numbers for the second quarter will be unparalleled compared to U.S. macroeconomic history," Bullard told reporters.
Based on St. Louis Fed research, Bullard projects the U.S. unemployment rate spiking up to 30%. The figure is based on the underlying assumption that about half of total employment is at "high risk" of layoff as businesses across the country shut down. "I don't think that has to be discouraging because these numbers are not comparable to anything that has occurred in the U.S. economy that we've recorded."
The (somewhat) good news is Bullard added that he expects the "extraordinary" figures on GDP and unemployment to be "relatively brief."
However, as Democrat politicians demand that America stay on a lockdown that has cut GDP by as much as 50% and the US and Western countries face at least two quarters, and maybe more, of unprecedented economic dislocation Red China is already ramping its economy back to pre-epidemic levels.
The impression that China is turning a corner is reinforced by economic data. A China Economic Activity Index compiled by the Financial Times to track the country's progress in getting back to work shows a steady uptick in areas such as real estate sold, power plant coal consumption and traffic congestion reported James Kynge and Hudson Lockett of the Financial Times.
Argus Media reports Hubei province has announced it would remove all travel bans starting March 25, 2020 and the provincial capital of Wuhan – where the outbreak originated – will lift the curbs on 8 April.
Argus reports production has also been stepped up at petrochemical crackers, which produce key raw materials for consumer products from plastic packaging to polyester for clothing. Petrochemical crackers owned by state-controlled Sinopec are targeting 90-95pc operating rates by the end of March, from a low of 70-80pc in February, market participants said.
Production levels for key fertilizers like urea and phosphate are already at normal levels, even as worldwide demand remains down.
Coal consumption has also been increasing in in line with gradual restarts at factories, reported Argus, with coal burn at major coastal power plants hitting 574,000 t/d on March 23, according to coal industry association the CCTD. This is the highest since January 19.
The result of the epidemic shifting to the West is that "China is trying to turn its health crisis into a geopolitical opportunity," says Yu Jie, senior research fellow on China at Chatham House, a UK think-tank. "It is launching a soft power campaign aimed at filling the vacuum left by the United States," reported Kynge and Lockett.
And while there will be disagreement among observers about exactly what "vacuum" the United States is leaving, one obvious vacuum that Red China has helped to create is the evaporation of the United States as a global economic safe haven.
If China can avoid a second wave of outbreaks, it will probably become the first large country to recover from the pandemic.
"With China's domestic demand-driven economy set to rebound and mainland investors avoiding the panic that has smacked western markets, its economy could put a floor under global growth and offer a safe haven to investors," Andy Rothman, an investment strategist at Matthews Asia, an investment fund, told the Financial Times.
The potential for such "safe haven" status does not seem farfetched reported Kynge and Lockett.
Offshore investors poured Rmb90bn ($13bn) into China's government bond and policy bank securities market in the year to the end of February, according to figures from the company that operates Hong Kong's bond trading scheme with the mainland — and inflows have accelerated further in March, traders said. This brought total foreign ownership of Red China's sovereign renminbi bonds to a record Rmb2.27tn.
"Global investors are not going to stop piling in," says Hayden Briscoe, Asia-Pacific head of fixed income at UBS Asset Management told the Financial Times. "They need a safe market that's actually offering them a nominal yield."
Red China has long aimed to replace the Dollar as the world's reserve currency and Wall Street and the US sovereign bond market as the world's economic safe havens; the Wuhan virus epidemic has brought them closer to those goals than they could have imagined just a few months ago.
From conservativehq.com