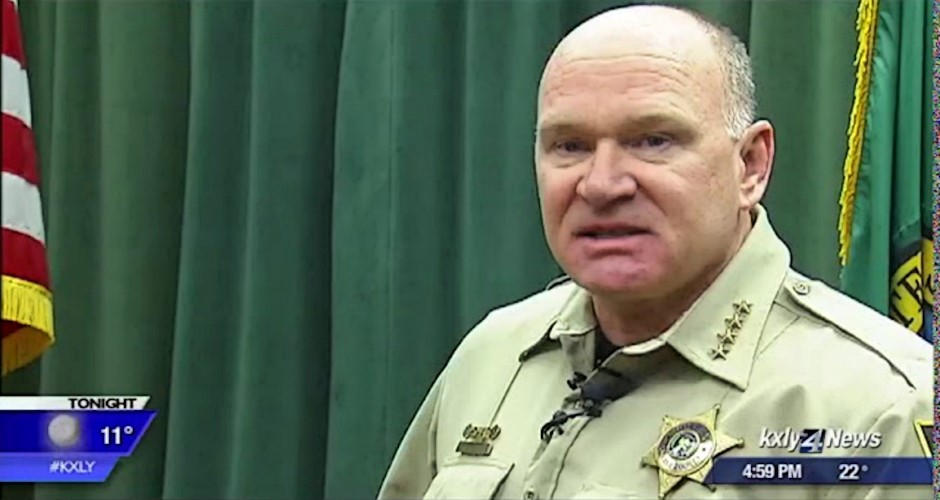 When a Constitutional Sheriff becomes Judge and Jury
Nefarious politics at work in Idaho
I don't usually read much in the liberal media papers, but this article in the Post Register on Sheriff Ozzie Knezovich caught my eye for the simple reason that I have been a victim of this type of retribution by the fake media when I was a key figure in the Boise Tea Party. Why this sheriff decided to make mention in his speech about three of Idaho's duly elected state representatives is beyond me. We suspect that there was an ulterior motive in this action to denigrate three of our most conservative's public servants.
Mind you, this is a sheriff from Spokane, Washington, who is speaking at a Lincoln Day dinner in eastern Idaho, intimating to anyone who will listen that Representatives Heather Scott, Judy Boyle, and Sage Dixon are right-wing radicals. His reason was their supposed connection to Washington Representative Matt Shea and their attendance at the Malheur standoff in 2016 as observers.
We believe the greater concern and danger is that this supposed constitutional sheriff is making these types of accusations and judgments on who is a good or bad legislator in a state in which he does not even live. He is a public servant from the State of Washington and, unless he has rock-solid proof of any subversive activities, he needs to keep his big mouth shut.
The fact that this officer of the law was asked to speak at this Lincoln Day dinner is suspect. One might think the motives of the planners of this dinner were just another way to try to demean the characters of some of our most conservative representatives in the House. Where is the outrage by our Republican Party Chairman about this speech? Supposedly, Sheriff Knezovich has been giving this speech in Washington for years and someone should have read a copy of it before he presented it to the Lincoln Day dinner group as it was totally inappropriate.
The sheriff is someone who fears that we have many far-right organizations that he doesn't trust such as the Three Percenters, the John Birch Society, and the American Redoubt movement. Personally, we are surprised that he didn't mention the Tea Party who has been labeled far-right by much of the liberal media.
Comparing these organizations to the white supremacist groups like the Aryan Nations is a far reach at best. If he believes that these three organizations are the biggest threat to our country, I would say he needs to do a bit more homework and get his head out of his butt. The three house members he talked about have a combined total of 21 years of public service to the people of Idaho and I personally know each one and have worked with them in the past on legislation.
Sheriff Knezovich needs to stick to his own knitting in Washington state and stop reading articles like the hit piece that was out this past month by a reporter at the Inlander who made a lot of accusations but was doing more muckraking to present Rep. Heather Scott as a radical. Daniel Walters, a staff writer at the Inlander, appears to be a man who is trying to further his career and what better way to do it than by claiming right-wing sensationalism and denigrating an Idaho representative who he has probably never met.
He complains in one of his articles that Rep. Scott had not served in a leadership position on a committee after three terms. We say to him that he does not understand how the crony Idaho Legislature works. In fact, I would doubt that he has ever set foot into the Idaho state capital and watched a committee meeting of which Heather Scott was a member. We have attended those committee meetings and this lady is like a bulldog looking for a bone to chew when working for her constituents, which is more than I can say for most of our crony representatives. She has taken on many of the establishment leadership in Idaho's legislature and is not afraid to speak her mind. If that is a bad trait, I say give me 69 more like her in the house.
Daniel Walters should be writing essays for some liberal media newspaper as he complains Heather would not give him an interview. Well, if I suspected someone was going to write a hit piece on me, I wouldn't give them the time of day. He even brings up a letter in one article written by Rep. Christy Perry accusing Scott of paranoid and aggressive anti-social behavior. Mind you, Christy Perry a former Idaho legislator, who is married, and who was caught in an extramarital affair with another legislator. This is like the pot calling the kettle black.
Brent Regan, Kootenai County Republican Central Committee chairman, was quoted as saying in one of Walters, articles that "Sage Dixon is compared to Heather a more staid individual," and went on to note that Scott is "known as an outspoken, you know, hard-charging representative. She's been elected and elected and reelected again. I think the people in her district like what she is doing". We whole-heartedly agree with his assessment. I don't know about you folks but this lady appears to be someone who the citizens of her district trust as she been reelected for three consecutive terms.
Our opinion of this speech by Sheriff Ozzie Knezovich and this hit piece by Daniel Walters were the means by which the crony republicans in Idaho's political hierarchy and a few lobbyists could get some revenge and try to get rid of Heather Scott. This lady legislator has more guts than Idaho's entire legislative body and knows how to stand up for her constituents' rights, which is why she keeps getting reelected.
So, in conclusion, we would tell Sheriff Ozzie to stay in Spokane, mind his own business, and stop trying to convince Idahoans who are the good or bad legislators in our state. As far as Mr. Walters goes, please keep your nose out of Idaho politics until you have spent nine years covering the legislature like I have and understand what actually happens there.
"We get the Media We Deserve" and Idaho is better off with representatives Heather Scott, Judy Boyle, and Sage Dixon. We at the Gem State Patriot thank them for their service.
Published with Permission of gemstatepatriot.com