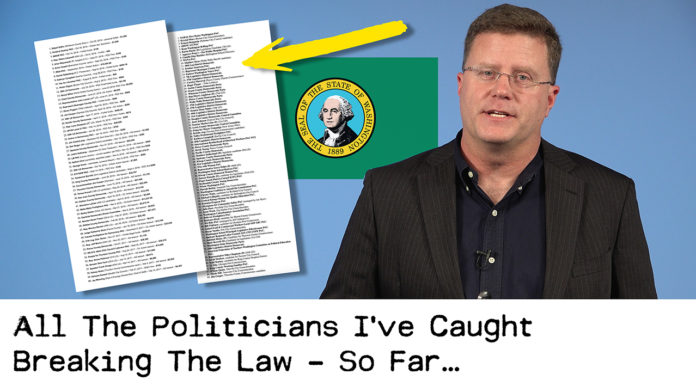 All the WA Politicians I've Caught Breaking the law…so far.
By Glen Morgan
It is a useful and productive way to spend your time exposing your local politicians for their lawbreaking.
TO RECEIVE THE LATEST NEWS FROM WE THE GOVERNED DELIVERED STRAIGHT TO YOUR INBOX –SUBSCRIBE HERE
Support We the Governed – MAKE A DONATION HERE
OUR CONSTITUTION BEGINS WITH THE PHRASE "WE THE PEOPLE."  IT WAS THE FOUNDER'S INTENT THAT GOVERNMENT BE CREATED BY THE PEOPLE, TO SERVE THE PEOPLE.  IT WASN'T THEIR INTENTION FOR THE PEOPLE TO SERVE THE GOVERNMENT.  IT WAS ALWAYS INTENDED THAT GOVERNMENT WHICH FAILED TO SERVE THE PEOPLE SHOULD BE "ALTERED OR ABOLISHED."  UNTIL WE RETURN TO THE FOUNDER'S INTENT, WE REMAIN WE THE GOVERNED…
Related Articles:
The List: Politicians, Judges, Candidates, and PACs caught and exposed by Glen Morgan's efforts
Governor Ja Inslee signs "Stop Glen Morgan Bill", but will it really change anything?
ESHB 2938 – Final Signed Session Law (Effective June 7th)
PDC campaign finance complaint #32210 against Governor Jay Inslee
TVW video of ESHB 2938 passing house on Feb 14, 2018
Washington State Constitution – Last Revision by amendment 1-12-2011
Warnings, Fines, Records, and Chaos – the joys of Washington's campaign finance laws
Democrat legislators break law, propose bill to hide their lawbreaking – attempt to punish those who exposed them
Thanksgiving spirit – bringing Democrats and Republicans together in King County
The Scorched wasteland of Washington's campaign finance laws
The Chaos of campaign finance compliance and the disarray of the Dems
Superior Court Judge Stolz fined $13k for failed "stealth" election campaign
Attorney General forced to sue failed Appellate Court Judge Candidate Nathan Choi for massive campaign finance violations
Washington AG forced to sue labor group, keeps $36k settlement very quiet
Tukwila Firefighters PAC settles campaign finance lawsuit for $23k, promises to do better
Dem Representative Morris settles AG lawsuit quietly and cheaply
Jay Manning fined for Cult PAC violations, State Democratic Party pays the tab
Spokane County Democrats settle AG lawsuit for $85,300 after kid glove treatment by Bob Ferguson
Representative Stonier settles lawsuit for $6.2k
Republican Caucus Leader – letter to PDC Commissioners demanding resignation of Executive Director Lopez due to bias concerns
AG judgment against Pierce County Democratic Central Committee (signed by former PDC Director Lopez representing the Pierce County Dems) dated Oct 27, 2017
Press Release -AG Ferguson names Peter Lavallee new Communications Director – December 11, 2014
December 16, 2011 AG vs. Moxie Media Campaign Finance Judgement for $290,000
November 2, 2016 – AG vs. Grocery Manufacturers Association Ruling for $19 million 
January 20, 2017 – AG vs. Wyman – Stipulation and Judgment for $12,090
The Rough Road ahead – campaign finance reform in Washington State
Shift WA – PDC overlooks Democrat campaign finance violations – again
Seattle Times – "State GOP says campaign-watchdog agency chief is biased, must resign"
The Columbian – "Republicans renew call for PDC Chief to quit over Probst case"
UFCW Local 21 PAC – Settlement for $40,000 with PDC – Memo of Understanding
Original complaint filed by Glen Morgan against UFCW Local 21 PAC – October 29, 2018 – PDC #42719
AG Ferguson's persecution of Tim Eyman, Eyman's plea, and a creepy AG employee
Dem PACs dissolve after campaign finance complaint
The Columbian – January 23, 2018 – "Local Democratic PAC plans to disband after complaints"
The Trials and Tribulations of Tina Podlodowski – Helping Democrats lose by less
Letter from 43rd Leg District Democrats claiming they have now dissolved
AG Attorney complains suing Democrat lawbreakers "unfair", quits to sue Republicans
Seattle Times – August 6, 2017 – "State senator fined for violating campaign disclosure law"
The Olympian – August 4, 2017 – Hunt agrees to fine in campaign finance disclosure case 
Published with Permission of wethegoverned.com