Report from Olympia | Feb. 12, 2020
Dear Friends and Neighbors,
The fifth week of the 2020 Legislature is well under way. Yesterday was the deadline for bills in the Senate's fiscal committees (Ways and Means, and Transportation) to advance in order to remain eligible for passage this session. There an exception for those bills that are necessary to implement one of the state's budgets. Those measures are always in play until the Legislature adjourns for the year.
There are now just four and half weeks left until the last scheduled day of the session, which is March 12.
We will spend the majority of the next couple of weeks on the floor of the Senate chamber voting on bills. I highlight several good bills that are still in play (and a few missed opportunities) below.
Next Wednesday is the final day for us to consider house of origin bills; in other words, it's the deadline for the Senate to vote on Senate bills and for the House of Representatives to vote on House bills.
After that cutoff all of the approved House bills will come to the Senate to begin the evaluation process all over again, starting with public hearings in committees. This will continue to whittle down the number of bills so that we are left with only the measures that have the support of both chambers and those become law unless the governor intervenes with his veto pen.
The entire process will move at a rapid pace, so please don't hesitate to contact me if you have a question or concern about specific proposals.
Thank you for the opportunity to serve as your state senator.
Best Regards,

Senator Mike Padden
Sweeping new sanctions coming against left-wing sanctuary cities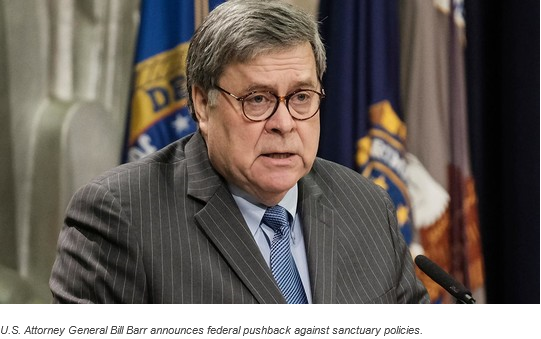 As reported by Fox News on Monday:  U.S. Attorney General Bill Barr announced additional sanctions and a significant escalation against left-wing local and state governments that obstruct the lawful functioning of our nation's immigration system.
It's no surprise that King County and the sanctuary policies adopted by it and Democrats statewide last year were among the first to come under fire. Now the U.S. Department of Justice is filing a complaint seeking injunctive relief against King County for its policy that prevents the Department of Homeland Security from deporting aliens using King County International Airport. AG Barr argues that the county refusal to cooperate increases the cost for DHS and puts federal officials at risk.
King County unfortunately is not alone. Last year Governor Inslee signed a sanctuary-state bill. Under the new law, police officers in Washington aren't able to inquire about immigration status and face limits on helping federal immigration agents look for people who are in the country illegally. Local and state authorities are also broadly prohibited from sharing immigration information about people in custody with immigration authorities, except under a valid court order or where required by law.
Sanctuary-state laws not only jeopardize the safety of law-enforcement officers, but often also put the safety of private citizens at risk.
From the District:
NW Credit Union Association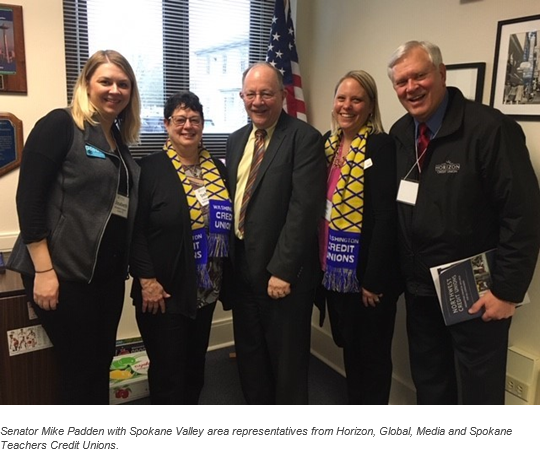 More than 250 advocates with the NW Credit Union Association gathered in Olympia for last week Credit Union Day at the Capitol. A major snowstorm resulted in the cancellation of last year Credit Union Day, so it was great to meet with Debie Kesee from Spokane Media FCU and her fellow advocates this year.
If your industry association is planning a special trip to Olympia, please let my office know. We would love to meet with you and hear about the work you and your organization are doing in our district.
Legislative Update:
Several bills still alive this session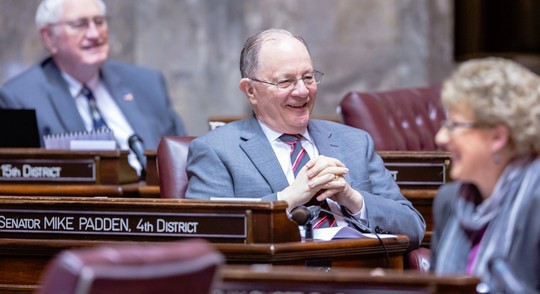 Several of my bills continue to advance this legislative session, having cleared both the policy and/or fiscal committee voting deadlines: Some of them are listed below:
Audio Story:
Common-sense teacher job-share bill appears dead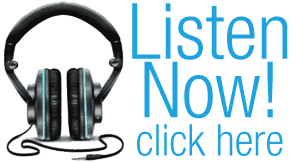 Many districts are struggling to find qualified teachers for the classroom. At the same time, a lot of districts have eliminated their job-sharing program where two teachers split their work week to oversee one classroom because of the cost of healthcare and other benefits. That is why I introduced Senate Bill 6296, which would allow districts to split the employer share of the benefits cost, making job-sharing an affordable option. It is a common-sense bill with bipartisan support, but unfortunately, the majority leadership has failed to advance it prior to the voting cutoff this week. Click here or on the image above to hear a radio story on the bill and my hopes that it will be revived, perhaps through the supplemental budget.
Video:
Bill to fix double taxation of concrete pumpers advances in the House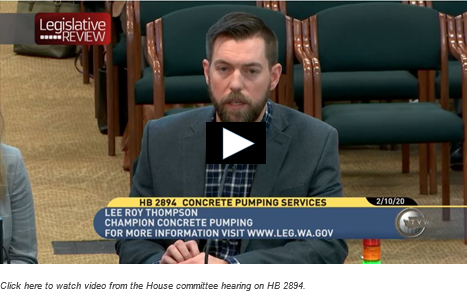 As you may recall, Senate Bill 6317, which would fix a problem caused by the state Department of Revenue that affects how concrete pumpers are taxed, received a committee hearing back in January. I co-sponsored the bill with Senators Shelly Short of Addy and Jeff Holy of Cheney. Unfortunately, it was not advanced by the fiscal committee by yesterday 5:30 p.m. deadline.
The good news is that House held a hearing this week on its companion legislation – House Bill 2894. You can click here or on the image above to watch TV summary of that hearing.
Since that hearing the House Finance Committee has recommended that the bill be passed; it will hopefully be voted on by the full House and sent over to the Senate shortly.
In the News:
"How can dumping a murdered body be a misdemeanor?"
Spokane families work to change state law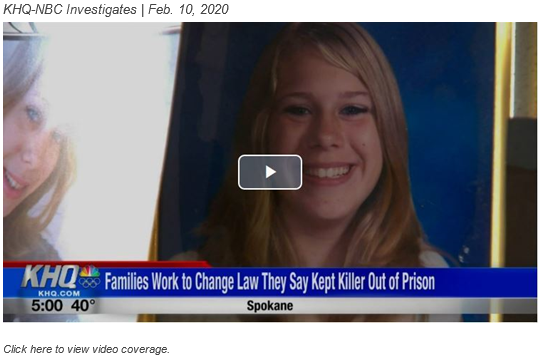 It's a crime that can leave those left behind haunted for the remainder of the lives but is nothing more than a 'slap on the wrist' for whoever is responsible. Right now in Washington state, the improper disposal of human remains is a misdemeanor. That means if someone is found dumping a body, they may not serve any jail time.
When the families of two Spokane victims learned the law is what it is, they told KHQ they were left 'horrified." Now, once the shock has worn off, they are banding together to try to get the law changed.
"Senator [Mike] Padden introduced a bill to make it a felony," [attorney Cheryl Mitchel] said.
Both Julie and Jackie have testified to show their support as Senate Bill 6501 makes its way through the process. Spokane County Prosecuting Attorney Larry Haskell has as well and told KHQ he is hopeful the law will be changed.
Click here to read the full article.
Meet Team Padden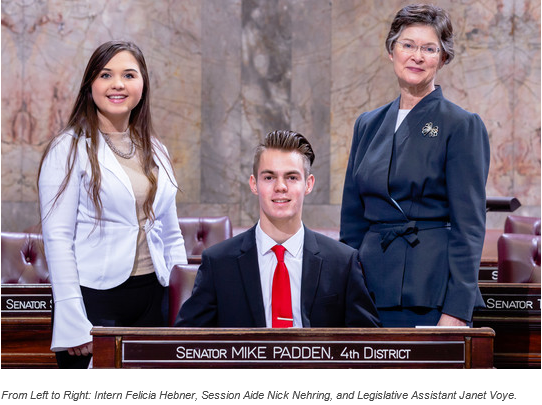 If you visit Olympia while the Legislature is in session this year, please do not hesitate to stop by our office and say hello. We are located in 106 Irv Newhouse Building. This year my legislative assistant is Janet Voye, my session aide is Nick Nehring, and my session intern is Felicia Hebner.
Janet was part of the team when I was first elected as a representative, from 1981-1984, and joined my Senate staff in 2017. She lives in Spokane and runs the district office in Spokane Valley during the interim between legislative sessions.
Nick, a graduate of Grand Canyon University, is from Marysville (Snohomish County), where his dad is mayor. Nick has always had a passion for public policy and was a member of Turning Point USA (the largest and fastest-growing conservative youth organization in America) while in high school and college.
Felicia is a senior at Eastern Washington University, majoring in political science with an emphasis in pre-law. She will graduate this upcoming spring and plans to apply to Gonzaga Law School in March.
I am pleased to have such a hardworking and talented staff working with me in Olympia and helping me to better serve as your state senator.
Contact us!
If you have a question or concern about state government, please do not hesitate to contact our office. We are here to serve you!
Phone: (360) 786-7606
Street address: 106 Irv Newhouse Building, Capitol Campus, Olympia, WA 98504
Postal address: PO Box 40404, Olympia, WA 98504
Email address: Mike.Padden@leg.wa.gov
PLEASE NOTE: Any email or documents you provide to this office may be subject to disclosure under RCW 42.56. If you would prefer to communicate by phone, please contact Sen. Padden's office at (360) 786-7606.
To request public records from Sen. Padden, please contact Randi Stratton who is the designated public records officer for the Secretary of the Senate and Senate members.