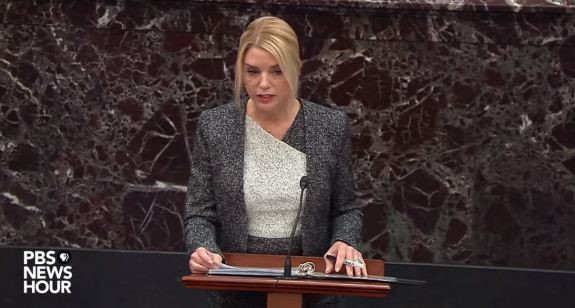 Strong Close: Bondi Unmasks The Biden Corruption Machine, But Do RINOs Care?
By CHQ Staff
Former Florida attorney general Pam Bondi spent 30 minutes of President Trump's defense time meticulously exposing the corruption of Joe and Hunter Biden and explaining why it is relevant to President Trump's defense.
However, it seems that with the carefully executed leak of the Bolton book almost no one in the establishment media was listening, nor did it seem to sway the Senate RINOs, such as Senators Mitt Romney and Susan Collins, who appear ready to have John Bolton testify while denying the President the opportunity to call witnesses, such as Joe and Hunter Biden, Eric Ciaramella, the fake whistleblower, and his coconspirator, Rep. Adam Schiff.
"You've heard from the House managers. They do not believe that there was any concern to raise here, that all of this was baseless," Bondi said. "We would prefer not to be discussing this, but the House managers have placed this squarely at issue, so we must address it."*
Bondi walked through evidence dating back several years of corruption at Burisma Holdings, a Ukrainian gas company that employed Hunter Biden on its board during a time that his father was vice president. She played video of witness testimony from the House proceedings in which former administration officials acknowledged Hunter Biden's role with Burisma minimally amounted to a conflict of interest.
Bondi also queued up a clip from a 2014 White House press briefing in which ABC News correspondent Jon Karl asked then-press secretary Jay Carney about whether Hunter Biden's role with Burisma amounted to a conflict of interest.
Hunter Biden joined the board of Burisma in 2014. The company's founder was under investigation by then-prosecutor general Viktor Shokin, who the U.S., United Kingdom and other Western governments argued had failed to rein in corruption in the country.
The U.S. at the time threatened to withhold roughly $1 billion in loan guarantees if Shokin was not replaced as prosecutor general, a message Joe Biden delivered to officials in Kyiv while serving as vice president and recounted during a 2018 Council on Foreign Relations conference — video of which Bondi displayed during her presentation.
The point of Bondi's presentation was to rebut the Democrats' fabulist narrative that all assertions about the Bidens have been "debunked," stating: "The evidence points entirely and unequivocally in the other direction," she said.
As Bondi explained, "In September 2016, a Ukrainian court canceled the [Burisma-linked] oligarch [Mykola] Zlochevsky's arrest warrant for lack of progress in the case. In mid-January 2017, Burisma announces all legal proceedings against it and Zlochevsky has been closed. Both of these things happen when Hunter Biden sat on the board of Burisma."
She then segued into the now-famous clip of Joe Biden bragging about urging Ukraine to fire Shokin or risk losing $1 billion in loan guarantees from the Obama administration.
"I'm going to be leaving here … in six hours [and] if the prosecutor's not fired you're not getting the money," Biden said at the time. "Well, son of a b—h, he got fired."
"Biden went around bragging that he stopped the prosecution," Bondi concluded, adding that although House Democrats have been trying to delegitimize Republican calls for more scrutiny therein, officials in the Obama state department, the United Kingdom Serious Fraud Unit, and reporters at ABC News and other outlets believed there was reason to "raise the issue" about the Bidens and Burisma.*
The common refrain you hear from Democrats and the media is that Hunter Biden is irrelevant. Yet, they then want to deny Republicans the right to show that investigating him was a legitimate pursuit. It's an attempt to have it both ways and Bondi was having none of it.
Christopher Arps, writing for RedState nailed it: The crux of the impeachment manager's case is that President Trump used his office to pressure a foreign government to investigate a political rival. That case dramatically falls apart when you point out the massive conflicts of interest between Hunter Biden and his Vice President father – who was at the time in charge of Ukrainian policy for the Obama Administration and later bragged about getting the prosecutor investigating his son's employer fired.
Pamela Bondi's meticulous presentation rendered anything John Bolton might have to say completely irrelevant. The toll-free Capitol Switchboard number (1-866-220-0044), we urge CHQ readers and friends to call their Senators to demand that a motion to dismiss the charges against President Trump be submitted and voted on immediately.
*Transcript material from articles posted by The Hill and Fox News.
From converativehq.com