Idaho Senator Cheatham Newsletter – District 3
Dear Friends,
Some recent activities and highlights taking place in the Idaho Capitol. I hope you enjoy the information. For more details, you can log onto legislature.idaho.gov where you will find bills, committee recordings, and live stream videos of our House and Senate floor sessions. I look forward to your involvement.
Sincerely,
Don Cheatham

Governor Little delivers his State of the State Address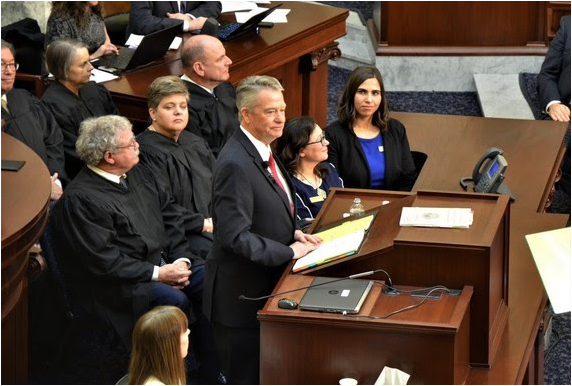 The Second Regular Session of the 65th Idaho Legislature convened last week in Boise.  Legislators from all over the state gathered at the Capitol to begin the people's work of balancing the state's budget and considering proposals for new regulations and law. Representatives from Idaho's Legislative, Judicial, and Executive branches joined together in the Idaho House of Representative chambers to hear Governor Little deliver his annual State of the State address.
During his speech, Governor Little emphasized a push for more investments in literacy, teachers, and Idaho's public education system. Other highlights included a continued effort to reduce unnecessary government regulation, grocery tax relief for Idaho families, conservative budgets, promoting a strong economy, wise investments in public safety and corrections, and providing health care in the state that is more accessible and affordable for all Idahoans.
A number of inaugural events were held as part of the transition in the executive branch. Governor Little's State of the State address is available for you to read on the Governor's webpage at www.gov.idaho.gov.
Agriculture continues to fuel Idaho's economy
Idaho has a rich heritage in farming and our farms continue to produce a wide variety of crops that fuel Idaho's economy. As the 5th largest agricultural economy in the United States, based on farm GDP as a percent of the state's total GDP, Idaho's farm-produced GDP growth rate percentage has outpaced Idaho's own GDP growth rate percentage, which shows that agriculture continues to be an important driver in Idaho's economic health. Idaho's cash receipts in 2019 topped $8.3 billion were predominately from milk, cattle, potatoes, hay, grain, barley, and sugar. Idaho's agriculture cash receipts continue to outpace U.S. averages and Idaho farm incomes reached a record high last year. Idaho exports around $848 million of agricultural products each year.
Idaho's economic outlook and jobs
In preparation for the 2020 Legislative Session, the Idaho Economic Outlook and Revenue Assessment Committee, consisting of Idaho House and Senate members, met to study Idaho's economy and the projections for Idaho's future. Today, the United States is in its longest economic expansion ever and has the lowest unemployment rate in fifty years. With an unemployment rate of 2.9%, the total number of Idahoans employed in the state is at an all time high–this is lower than the national average and below what most economists claim is a "fully employed" population. Idaho's employers are creating new jobs about two times faster than the national average.
Idaho: The Land and Its People!
In October 2018, a fully renovated Idaho State Museum opened to the public after almost ten years of work by the Idaho State Historical Society and others. Located in Boise, this world-class museum provides more space for exhibitions of Idaho history in a fun, interactive experience for people of all ages and backgrounds to enjoy. Also featured in the museum is how Idaho's unique landscapes, peoples, and cultures have shaped Idaho today.
This week, Idaho Legislators had the privilege of receiving personal copies of the newly released companion book, Idaho: The Land & Its People by Keith C. Petersen. This new publication features Idaho's amazing history and explores stories of Idaho's three geographic regions, including Idaho's northern lakes and forests, Idaho's centrally located mountains and rivers, and its deserts and canyons in the southern region.
A special thanks goes out to the Idaho State Historical Society for their work in helping Idahoans and visitors alike to better preserve and understand Idaho's rich and unique past.
Click here for more information about the Idaho State Museum.