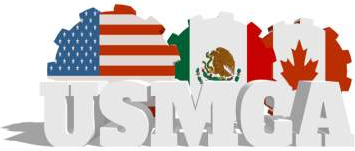 ID's US Sen. Risch: Don't Vote with Trump on USMCA, Have the Guts to Show Him What He's Not Aware Of!
By Rich Loudenback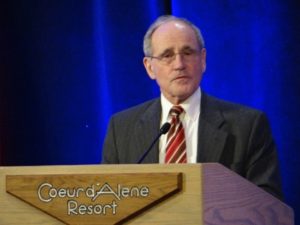 Asked how he will be voting on the up-coming USMCA bill, Idaho's US Senator and former governor, Jim Risch after touting in his speech about his close relationship with the President during his 2019 GOP Lincoln Day Dinner in Coeur d'Alene,  ID, he answered it would be pretty hard to vote against the President.
The problem with that answer is that President Trump has been taken in by highly credentialed advisors such as Larry Kudlow who have assured him that our lead negotiator on his new USMCA agreement replacing NAFTA is the best man for that job. However, that lead negotiator, Robert Lighthizer, was also the lead man on both NAFTA and TPP which Trump bagged only days after his presidency began. However, the USMCA looks to be the same as NAFTA plus 10-20%.
Quoting Christian Gomez of The New American magazine in his special report 'USMCA – A TPP Redux? ' – " Virtually all of the problems inherent in the TPP are likewise contained in the USMCA, such as the erosion of national sovereignty, submission to a new global governance authority, the unrestricted movement of foreign nationals, workers' rights to collective bargaining, and regional measures to combat climate change."
Highlights from Gomez's in-depth revealing article: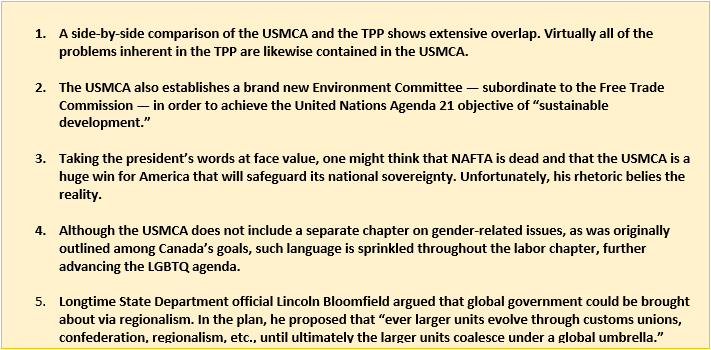 It's not secret among people that are paying attention to real news that our wonderful 'fire in the gut for America' President, meaning as well as he does to right our flailing ship of state as best he can, must at some point, rely on people he believes he can trust. That judgement call is one of his most difficult, because there are too many special interests abounding all around him. Credentials mean little.
I really believe, that President Trump really doesn't truly know what all is in this Trojan Horse 'USMCA agreement.' He can't possibly since he is so strongly on record rightfully opposing both NAFTA and TPP.
ONE MORE, VERY BIG, THING
President Trump can't have it both ways. He can't have both the border wall and the USMCA! They are antithetical. Wanting both is a gigantic contradiction!
Again quoting Gomez from his article: "Migration Roadmap Chapter 23 of the USMCA could also serve as a beachhead for a cross-border migration invasion similar to that experienced in the European Union. In language that is virtually identical to that found in the TPP, Article 17.5 of Chapter 17 of the USMCA states: "No party shall adopt or maintain … a measure that … imposes a limitation on … the total number of natural persons that may be employed in a particular financial service sector or that a financial institution or cross-border service supplier may employ … in the form of numerical quotas or the requirement of an economic needs test."
This opens the door for Mexico and its incoming radical socialist government or for a Mexican, a Canadian, or even a U.S.-based company to sue the U.S. government for restricting the number of employees that such a company would want to bring across the border.  Although the USMCA does not include a separate chapter on gender-related issues, as was originally outlined among Canada's goals, such language is sprinkled throughout the labor chapter, further advancing the LGBTQ agenda.
Schumer sides with Trump? In a rare display of bipartisan support, Senate Minority Leader Chuck Schumer (D-N.Y.) praised President Trump over the new USMCA, signaling possible support from Democratic lawmakers in the incoming 116th Congress in 2019. AP Images 8 GLOBALISM THE NEW AMERICAN border into the United States. As well, provisions from USMCA's Chapters 17 and 23 have the potential to undermine President Trump's border security measures and further open our nation's borders. Article 23.8 on "Migrant Workers" requires each country to "ensure that migrant workers are protected under its labor laws, whether they are nationals or non-nationals" of the country they are residing in. (Emphasis added.)
Such provisions could also further serve to help Democratic lawmakers retain President Obama's unconstitutional executive action for Deferred Action for Childhood Arrivals, commonly known as DACA. In fact, any adjudication on this matter could very well fall under the judicial jurisdiction of a USMCA bi-national panel for dispute resolution, rather than under the legal control of the United States.
Senator Risch spent a good bit of his Lincoln Day speech ingratiating voters with his enjoyable tales of his relationship with our President. If that bond is there, Americans who understand the gravity of this most important decision on the USMCA need pressuring him and all others in contact with our president to awaken him to the deceit and true agenda in that dangerous document. Senator Risch, America needs you to 'Patriot Up!'
And I might add that it is about time because your heretofore stellar voting record with the New American Freedom Index for yourself and Senator Crapo has dived recently to an all-time low of only 30% with our Constitution.
Out here in Constitution land we are not feeling the love currently.
Come through on this one and I will become an ardent fan.
There is an urgency for patriotic Americans, who love their country and are zealous for its national sovereignty and independence, to urge Congress to both withdraw from NAFTA and to stop the USMCA.