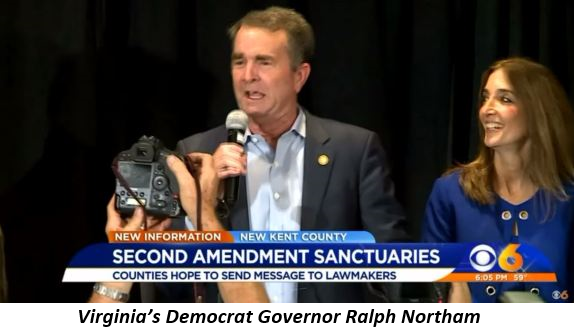 Virginia Now Has Over 100 Second Amendment Sanctuaries
By George Rasley         
On December 17, the Virginia jurisdictions of Franklin County, Mathews County, Prince Edward County, Stafford County, York County and the Town of Vinton voted to become Second Amendment sanctuaries pushing the 2A sanctuary movement in Virginia past the 100 mark.
And we note for the record the enormous citizen turnout for the meetings, with Stafford County seeing over 3,000 citizens attend the meeting and other counties seeing over 500 citizens show up in the middle of the workday to voice their support.
After Democrat Gov. Ralph Northam announced plans to reintroduce eight bills that regulate guns, including requirements for universal background checks and bans on assault weapons, localities across the Commonwealth of Virginia have been passing resolutions that aim to make themselves sanctuaries from new legislation that includes confiscatory and unconstitutional firearms regulations, with some using the word sanctuary, some reaffirmation and others Constitutional counties or cities.
For example, York County chose to call itself a "Constitutional County" instead of using the word "sanctuary." During the meeting, Supervisor Walter Zaremba said part of the reasoning behind this was so that it wouldn't be confused with sanctuary cities aimed at providing refuge to illegal immigrants.
York County's resolution explains that the new laws could infringe on citizens' constitutional rights.
"The Board of Supervisors hereby declares its intent to oppose any infringement on the constitutional rights of law abiding citizens to keep and bear arms," the resolution states.
According to Mike Allen's reporting for The Roanoke Times, Franklin County's resolution, modeled on the one Alleghany County passed Dec. 3, takes care to state that the board of supervisors has no authority to regulate the purchase and possession of firearms and no authority to direct how the county's constitutional officers, such as the sheriff and the commonwealth's attorney, enforce laws.
The resolution does include a political statement.
"The board is concerned that introduced 2020 legislation for the Virginia General Assembly, if passed, could infringe upon rights guaranteed by the Second Amendment" and the Virginia constitution, said Board Chairman Cline Brubaker, reading from the resolution.
The document urges state and federal authorities "to vigilantly preserve and protect those rights by rejecting any provision, law or regulation" that infringes on law abiding citizens' right to bear arms.
On Dec. 10, James City County voted to "reaffirm" its commitment to the U.S. and state constitutions rather than declaring itself a sanctuary locality.
However, Tazewell County has gone a step further and passed a militia resolution reported Jade Burks of WVVA.
"Tazewell County also passed a militia resolution, which gives us some teeth to be able to act and do something if a law comes out dealing with firearms that we see is illegal," Tazewell County Sheriff Brian Hieatt explained.
That resolution actually gives Tazewell County the opportunity to challenge any law it feels violates the Second Amendment rights of its citizens.
"The stronger legal arguments are the ones that we are preparing in the second resolution to allow us a constitutional challenge," Eastern District Representative of the Tazewell County Board of Supervisors, Charles Stacy said. "If the Virginia General Assembly passes these laws as they are written, and the governor signs them; we have the immediate ability to challenge those in both the Virginia and the United States Courts to challenge the constitutionality of those laws."
If the laws do pass, Tazewell County is willing to do just that.
"Right now we're all just hoping that the public outpouring all across the Commonwealth is enough to maybe inform the General Assembly that on these particular issues, their proposed legislation has gone too far," Stacy said. "And if the people deem it to be a violation of their constitutional rights, they're not going to just sit back and take that. They're going to advocate, they're going to fight that as hard as they can."
The leaders who will fight back are already being forged in Virginia, but it remains to be seen just what that fight will look like. A few years ago the image of thousands of armed citizens surrounding a courthouse to protect a county sheriff about to be arrested by the Virginia State Police would have been unthinkable, now, it could be the lead segment in a TV newscast from Tazewell County, Virginia.
George Rasley is editor of Richard Viguerie's ConservativeHQ.com. A veteran of over 300 political campaigns, he is also a certified rifle and pistol instructor and range safety officer. A member of American MENSA, he served on the staff of Vice President Dan Quayle, as Director of Policy and Communication for Congressman Adam Putnam (FL-12) then Vice Chairman of the Oversight and Government Reform Committee's Subcommittee on National Security and Foreign Affairs, and as spokesman for Rep. Mac Thornberry former Chairman of the House Armed Services Committee.
Published with Permission of conservativehq.com