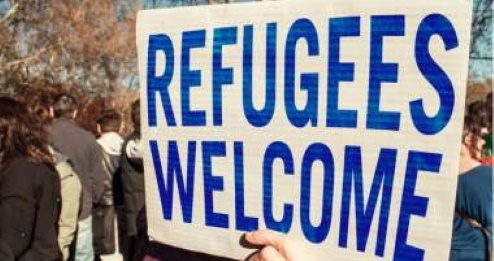 Red States Succumb to Pressure, Open Their Doors to Refugees
By Luis Miguel
Red state governors from both major parties are opening the door to refugees.
Back in September, President Trump signed an executive order giving states and localities veto power over the resettlement of refugees within their jurisdictions. Governors now face a January 21 deadline by which to decide on the matter in order to qualify for federal funding should they agree to receive refugees.
The president's executive order gives governors the say on whether refugees will be placed within their borders. Cities and counties cannot accept refugees if the state vetoes their entry.
Democrat governors in various Republican strongholds have committed to bringing more refugees into their states.
Newly elected Governor Amy Beshear of Nebraska, for example, along with Democratic governors Steve Bullock of Montana, Roy Cooper of North Carolina, and Laura Kelly of Kansas have already signaled to the U.S. State Department that they will go forward with the program.
"North Carolina was one of the first states to welcome refugees to the United States after the United States Refugee Act was signed into law in 1980," Cooper wrote to Secretary of State Mike Pompeo. "Our state has a strong network of community and faith-based groups which aid in the resettlement of refugees who seek safety from persecution."
But it isn't only Democrats. About a dozen Republican governors are still silent on the issue, while in the following  states the Republican governors have already indicated that they will receive refugees: Arizona, Indiana, Iowa, Nebraska,  Oklahoma, North Dakota, Ohio, Tennessee, Utah, and West Virginia.
Republican governors in the blue states of Massachusetts and New Hampshire have also green-lighted refugee resettlement.
Republican red state governors who have yet to take a public stance include Brian Kemp of Georgia, Mike Parson of Missouri, and Greg Abbott of Texas. The Lone Star State took in the largest number of refugees this year.
California's Democrat governor, Gavin Newsom, has not yet sent his letter of consent but has said he will do so.
In 2015, governors from 31 states — mostly ones with Republican governors (including Abbot) — tried to close their doors to Syrian refugees, largely citing the potential for terrorism.
At the time, they lacked the support of the executive branch of the U.S. government. Now that they have it, however, some governors are back-pedaling.
Nebraska Governor Pete Ricketts, for example, is opening up his state to refugees despite taking a hardline stance in 2015.
He provided his consent to the president in an open letter Thursday that was co-signed by Iowa Governor Kim Reynolds and South Dakota Governor Kristi Noem. The letter suggested that it was President Trump's improved vetting of refugees that convinced Ricketts to change his position.
"Thanks to your leadership, Americans can be confident once again in the screening process for refugees entering the United States," the governors wrote.
Last year, a federal judge blocked Indiana from trying to turn away Syrian refugees as part of an order championed by Vice President Mike Pence as governor. But now Republican Governor Eric Holcomb is singing a different tune with his acceptance of refugees, though he tried to quell criticism that he is going soft on immigration.
"These are NOT illegal or unlawful immigrants but individuals who have gone through all the proper channels," Holcomb wrote in his consent letter.
Several of the GOP governors who have consented to refugee resettlement have credited their decision to their Christian beliefs.
Arizona's Doug Ducey announced his consent on the day 300 evangelicals signed a letter calling on him to keep letting refugees resettle "as an exercise of our Christian faith."
Oklahoma Governor Kevin Stitt said religious leaders also reached out to him.
Tennessee Governor Bill Lee cited his Christianity amid backlash from state legislative leaders who had sued the federal government to stop the refugee flow. "My commitment to these ideals is based on my faith, personally visiting refugee camps on multiple continents, and my years of experience ministering to refugees here in Tennessee," Lee wrote in his consent letter.
Among the groups that have intensely lobbied Republican governors to open their states to more refugees is the Evangelical Immigration Table, a pro-migration organization with the aim of "welcoming the stranger."
Evangelical Immigration Table has ties to the George Soros-funded National Immigration Forum.
A recent video by the American Association of Evangelicals reveals that Soros has been funding progressive Christian groups for some time, such as the Sojourners Community and Vote Common Good activist organization.
Photo: Lalocracio/iStock/Getty Images Plus
Luis Miguel is a writer whose journalistic endeavors shed light on the Deep State, the immigration crisis, and the enemies of freedom. Follow his exploits on Facebook, Twitter, Bitchute, and at luisantoniomiguel.com.
Published with Permission of thenewamerican.com