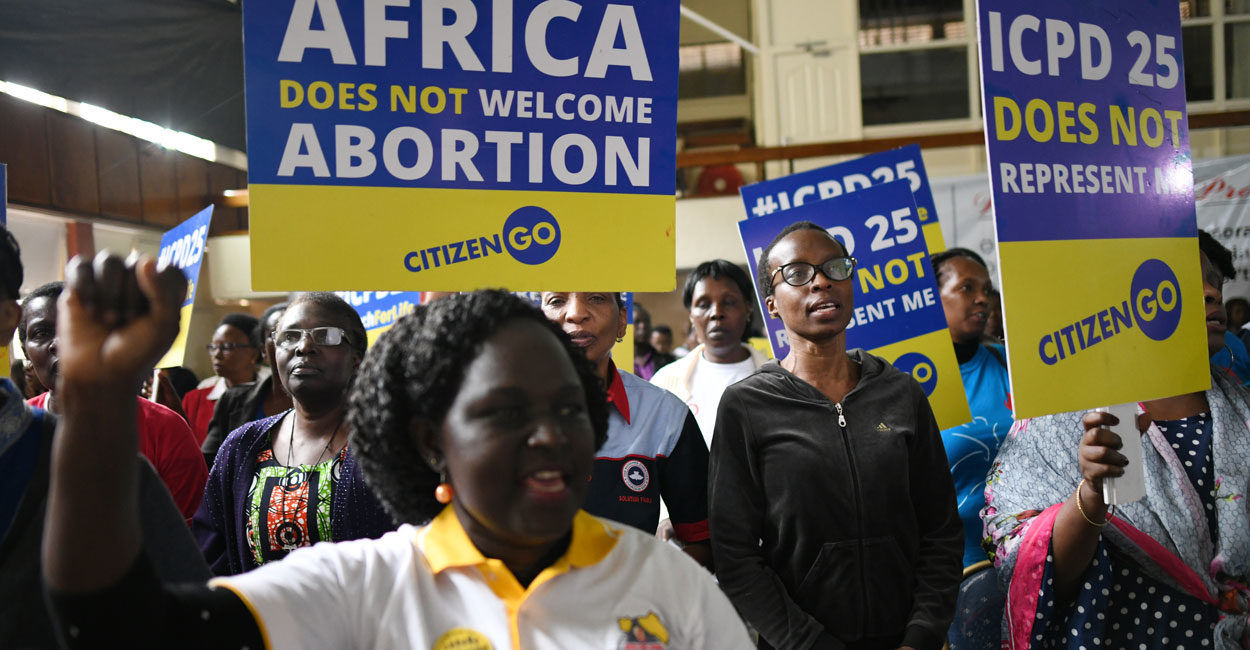 Pro-Life Nations Reject UN's Cultural Colonialism on Abortion, Population Control
By Grace Melton
Many Africans think that international efforts to promote abortion are a prime example of cultural colonialism.
Case in point: The just-concluded United Nations Population Fund's Nairobi Summit to commemorate the 25th anniversary of the International Conference on Population and Development. Rather than staying true to the outcome of the 1994 conference, this summit served to showcase the U.N.'s promotion of abortion, contraception, and controversial comprehensive sexuality education.
But member states from the developing world were not all on board.
At a press conference, a prominent member of Kenya's Parliament, Chrisantus Wamalwa, reminded attendees that the Kenyan Constitution requires that "every Kenyan has a right to life, and life begins at conception."
The demand for socialism is on the rise from young Americans today. But is socialism even morally sound? Find out more now >>
Another member of Kenya's Parliament, Jennifer Shamalla, said that she and her colleagues were "deeply concerned" about the U.N.'s promotion of abortion under the banner of population and development policy.
Yet, nearly all of the 85 sessions that took place during the Nairobi Summit advocated in one way or another for abortion and contraceptives. Thousands of abortion advocates, development specialists, and U.N. bureaucrats descended upon Kenya to attend the summit.
It was ostensibly organized to improve health and education outcomes, particularly for women and children, based on promises made at the 1994 International Conference on Population and Development.
But the U.N. Population Fund's Nairobi Summit circumvented the proper U.N. process of negotiation and consensus-building by member states and instead became a vehicle for international abortion advocacy.
Pro-life governments, including that of the U.S., and pro-life nongovernmental organizations, such as The Heritage Foundation, pushed back on the U.N.'s well-funded attempt to co-opt women's empowerment by foisting a radical agenda on the developing world.
The official U.S. commitment statement at the summit identified how the U.S. is promoting women's empowerment and health throughout the world. U.S. Ambassador Kyle McCarter penned an opinion piece that ran in several Kenyan newspapers, expressing sentiments shared by many in Kenya that the challenges faced by women, girls, and families require solutions that do not come at the expense of the family and the unborn.
The U.S. also released a joint statement with Belarus, Brazil, Egypt, Haiti, Hungary, Libya, Poland, Saint Lucia, Senegal, and Uganda, in which they articulated their strong commitment to improving women's health while respecting the importance of life, family, and children.
That statement categorically stated that "there is no international right to abortion," and as the week went on, more countries decided to speak up in opposition to the Nairobi Summit's priorities and tactics.
The Kenyan Christian Professionals Forum, in cooperation with the Archdiocese of Nairobi, organized a conference called "Pro-life and Family Friendly Side Events to ICPD25." It attracted representatives of many pro-life, pro-family, and faith-based groups from Africa, Europe, and the U.S., including those who were denied admission to the Nairobi Summit by the U.N.
During the conference, The Heritage Foundation and other pro-life organizations facilitated a high-level intergovernmental panel, "Protecting Life in Global Health Policies," which featured representatives of the U.S., Brazil, Hungary, Poland, Kenya, and the Holy See.
Abortion advocates at the summit, including the leaders of International Planned Parenthood Federation and Marie Stopes International, as well as U.N. officials, made derisive comments about pro-life resistance to their efforts. Sadly, they have also succeeded in attaching purse strings to the U.N.'s development agenda.
The summit organizers boast of having raised commitments of $1 billion from Austria, Canada, Denmark, Finland, France, Germany, Iceland, Italy, the Netherlands, Norway, Sweden, the United Kingdom, and the European Commission, as well as some $8 billion in pledges from the private sector.
That places African leaders in the unenviable position of choosing between much-needed development assistance and upholding their people's values.
The international community demonstrated its monomaniacal focus on abortion when the director general of International Planned Parenthood Federation, Alvaro Bermejo, announced its commitments to the summit to thunderous applause.
Those commitments included influencing 20 countries to change their laws on abortion, persuading 42 countries to adopt comprehensive sexuality education curriculums, and ensuring that at least six countries change their laws concerning sexual orientation and gender identity.
The dismay of African nations and other pro-life countries is certainly warranted. The summit purported to address a broader range of issues important to women and girls, such as ending child marriage and female genital mutilation, fighting gender-based violence, and improving maternal health.
But, in reality, the summit's speakers' list, highlighted commitments, and honorees illustrated the international community's laser like focus on abortion and population control in spite of the strong cultural, moral, and religious objections of many of those countries who are supposed to be the beneficiaries of the U.N.'s largesse.
From dailysignal.com