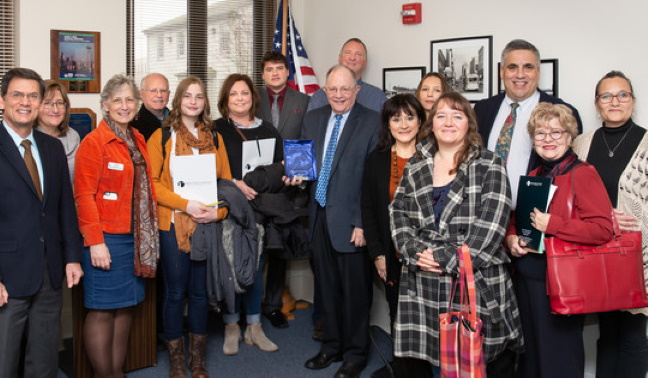 Assembly Week in Olympia

Report from Olympia |  Nov. 22, 2019
Dear Friends and Neighbors,
This week lawmakers returned to Olympia for what are known as "committee assembly day" the time when legislative committees meet to do some pre-session planning. The Senate committees on which I serve – Law and Justice, Early Learning and K-12 Education, and Transportation – convened to discuss a number of important issues that have come up over the interim. A good example is the budget impacts of Initiative 976, which was easily passed by voters to lower the cost of car tabs.
Assembly days also are a good time to meet with our colleagues and citizen groups.
Our Senate Republican Caucus met on Monday and Tuesday of this week to discuss the priorities of our constituents. We also had an opportunity to say thank you to retiring Sen. Barbara Bailey from Oak Harbor, who will not be returning in January for the 2020 session.
During one of the many meetings scheduled this week, I received a surprise from my good friend, Mark Miloscia, a former Republican senator who is now executive director for the Family Policy Institute of Washington.  FPIW is the only statewide policy and advocacy organization in our state, advocating on life, family, marriage, parental rights, religious freedom, and Christian social justice issues.
It wasn't a surprise to see Mark walk into my office accompanied by a large group of FPIW members, but I didn't expect he would present me with an award for my work on pro-family policies. What an honor! I am thankful for the opportunity to serve the people of Washington and be their voice in Olympia. Standing up for families and the most vulnerable in our society is both a responsibility and a privilege.
Thank you for the continued opportunity to be your voice for faith, family and freedom in the state Senate.
Sincerely,

Senator Mike Padden
Department of Revenue apologizes for confusing, chaotic double taxation
After lawmakers step in, agency agrees to delay guidance to allow the Legislature time to fix the problem.
Last month the state Department of Revenue issued interim guidance that resulted in concrete pumpers essentially being double-taxed, meaning they were subject to both the B&O tax on retail and the retail sales tax. The guidance (on Rule 211) was developed within the agency, with no external input whatsoever.
On Monday I and several other lawmakers demanded an explanation. We pointed out how, "With the stroke of a pen, DOR has managed to create chaos, disadvantage hard-working, small businesses who provide needed services in the construction industry and sanction double-taxation.  …It is incredibly troublesome that DOR chose to change long-standing policy in such a secretive, non-inclusive manner."
Yesterday, we got some good news. DOR heard our concerns and informed us in a letter that the department would be changing the effective date of the interim guidance from Oct. 1, 2019, to April 1, 2020.
In the letter, DOR Director Vikki Smith wrote: "We want to be transparent on our reading of the law and delaying the interim guidance's effective date accomplishes this objective while affording the Legislature time to make changes and for stakeholders to provide additional feedback."
Click to view lawmakers' letter to DOR.
Click here to view a chronology of Rule 211 and Concrete Pumping.
Click here to view DOR's response.
November revenue forecast proves once again that's it's time for tax relief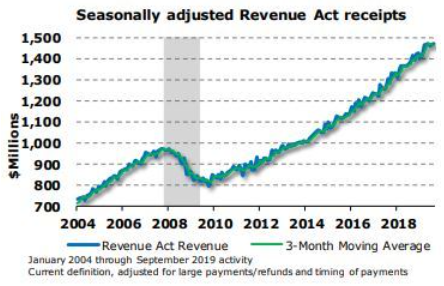 Thanks to the President's aggressive pro-growth policies, the positive economic news continues to roll in. The fourth of this year's quarterly state revenue forecasts was released this week. The November revenue forecast for 2019-21 was increased by nearly $300 million over the September forecast. Combined with the June and September upticks, 2019-21 revenues are now $850 million higher than forecast when the Legislature adjourned.
To put this in context, the 20 percent B&O tax increase imposed by the majority party on providers of professional services is expected to raise $380 million in the current biennium.
The November forecast also shows a 2019-21 revenue projection of $51.7 billion. The ending-fund reserves for the current biennium total $3.5 billion, including $2.2 billion in the constitutionally protected rainy-day fund and $1.3 billion in unrestricted reserves.
Despite this continuing great news, there are still some in Olympia calling for tax increases from the Legislature when it convenes in January. When times are tough, these voices say that we need every tax dollar possible. When times are good, they say the people can afford to pay more.
It seems the Governor and the majority party in Legislature have a preferred solution to every situation: new taxes. For them, it's a coin with heads on both sides.
Now is precisely the time to give tax relief to hardworking Washington taxpayers! The tax increases we saw last year were unnecessary. The people deserve to get some of their money back!
And given what we know about the typical economic cycles, dollars that are not already allocated or not given back to the taxpayers should be used to pay off debt obligations and/or saved for a rainy day.
We'll see if Governor Inslee agrees when he releases his supplemental budget next month. House and Senate Democrats will release their budgets during session.
Groundbreaking held to celebrate new trail connection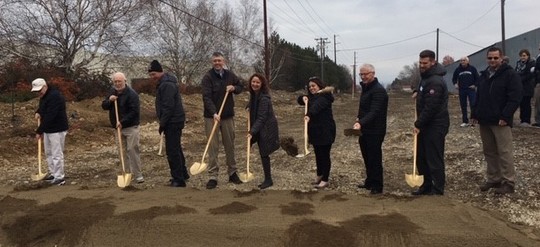 A groundbreaking celebration was held on Nov. 13 to celebrate the start of construction on the one-mile section of the Appleway Trail pathway from Evergreen Road to Sullivan Road.
The event was at the beginning of the new trail section off Evergreen. The $2.4 million project, expected to be completed by early next summer, connects to an existing pathway on both sides to create a 5.1-mile paved trail running from University Road to Liberty Lake.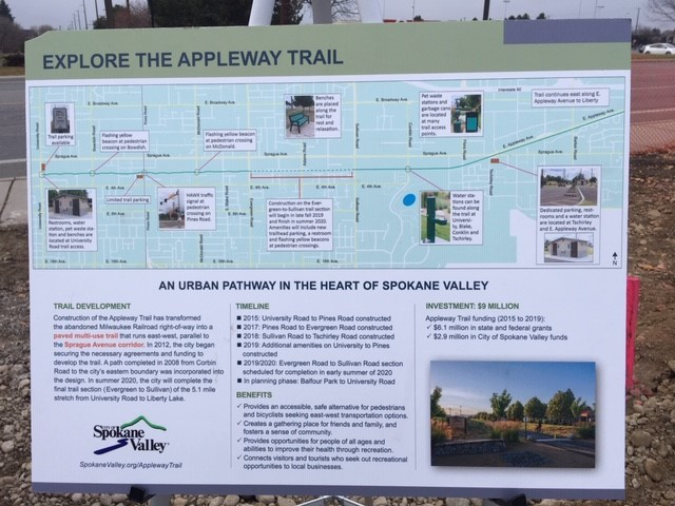 Partnering with Spokane County, the city began developing sections of the trail by adding parking, restrooms, drinking fountains, benches, landscaping and several traffic signals at pedestrian crossings.
The overall project has been funded by a package of local, state and federal dollars, including $2 million from a state legislative appropriation, a recreation and conservation grant and federal funds.
In The News: 
Auditors find community colleges' $145M computer system flawed
By Jim Camden, Spokesman-Review | Nov. 3, 2019
A problem-plagued $145 million computer system for Washington's community colleges was inadequately designed and installed in Spokane and Tacoma schools, state auditors said in a highly critical report.
The computer system known as ctcLink was supposed to eventually tie many accounting functions of all 34 community colleges in the statewide system together. It caused problems for student enrollment, scheduling and financial aid after it was installed at Spokane and Tacoma community colleges before the start of the 2015 fall semester.
Problems continued for months with some faculty members not being paid and failures to meet federal requirements for colleges that handle student aid.
The Spokane and Tacoma schools were chosen for a pilot project for the statewide system, and ctcLink still isn't up and running in most of the system's 34 community colleges as the costs have ballooned, more problems have developed and the company that sold the system went bankrupt.
Click here to read the full story.
WPC: Update on House remote testimony 2020 pilot program
By Jason Mercier | Nov. 12, 2019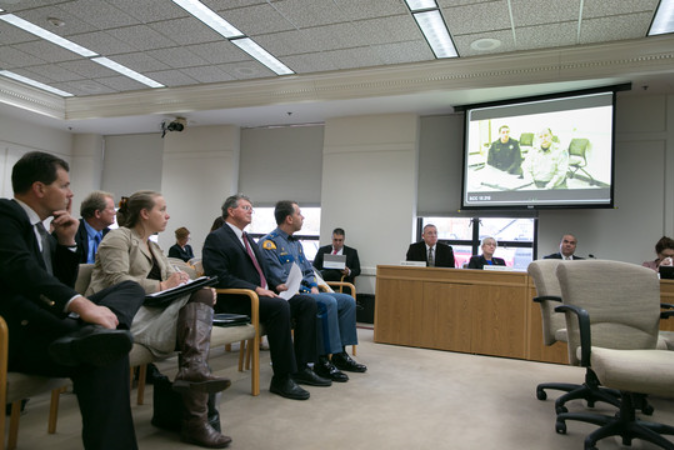 Remote testimony is finally coming to the Washington state House. On March 21, the House adopted on a voice vote HR 4621 (Requesting information on options and recommendations for a pilot remote testimony program). In exciting news, the House Executive Rules Committee recently approved a remote testimony pilot for the 2020 session. According to legislative staff:
The pilot as approved by Executive Rules:
permits three standing committees to use remote testimony during the 2020 legislative session, including: College & Workforce Development; Housing, Community Development & Veterans, and Local Government;
includes four remote testimony locations: Bellingham, Ellensburg, Spokane, and the Tri-Cities;
permits one committee per time slot to use remote testimony, on a first-requested, first-served basis; and,
provides an evaluation of the pilot project to the Executive Rules Committee by July 1, 2020.
The availability of remote testimony for a particular bill will be listed in meeting notices in Legislative Meeting Schedules, listserv notices, and online, and also announced using strategies to enhance public awareness. Links to a web-based sign-in system for remote testimony will be included.
Earlier this year the Senate made remote testimony a permanent option for its public hearings. In recognition of the Senate's lead on this important reform, WPC awarded Senate Majority Leader Andy Billig (D-Spokane) and Senators Mike Padden, (R-Spokane Valley), Sharon Brown (R-Kennewick) and [former senator] Guy Palumbo (D-Maltby) with our inaugural Summit Award for their successful efforts to strengthen the ability of citizens to participate in government via remote testimony.
Six years ago, we made a pitch to Washington lawmakers to embrace remote testimony. With the House now joining the Senate, it is exciting to see the full legislature taking the final steps to embrace this important reform.
Jason Mercier is the Director of the Washington Policy Center's Center for Government Reform, based out of the Tri-Cities. Follow him on Twitter: @OlympiaWatch.
Washington earns "A" grade for progress in fighting human trafficking
On Wednesday, the Vancouver-based organization Shared Hope International released its annual Protect Innocence Challenge report, which reviews each state's laws on combatting human trafficking. Washington was given a score of 93.5 or an A grade for its laws.
Shared Hope, which was founded by former Clark County state senator and U.S. Rep. Linda Smith, has graded states since 2011. While Washington continues to be a leader in the fight to end human trafficking, there is still more work to be done. Senate Republicans are committed to educating the public about human trafficking; giving law enforcement and our courts the tools they need to go after exploiters and traffickers; and providing victims with support in recovering from these horrendous crimes.
In The News:
Oaks Academy to expand, serve 150 additional students
By Rebecca White, Spokesman-Review | Nov. 14, 2019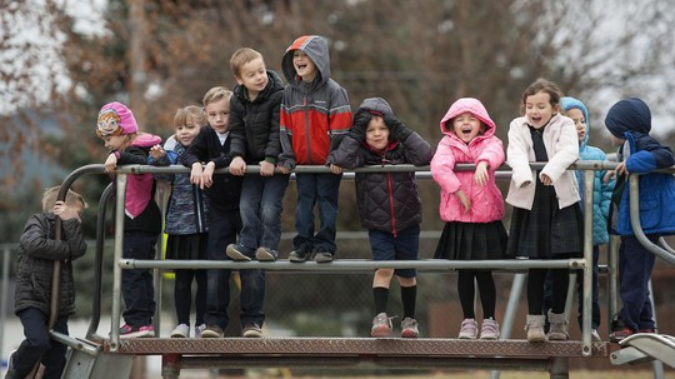 The Oaks Classical Christian Academy kindergarteners play during recess at the school in Spokane Valley on Tuesday, Nov. 12, 2019. (Kathy Plonka / The Spokesman-Review)
When the Oaks Classical Christian Academy was first founded, it had just 33 students in a church on the border of Spokane and Spokane Valley, which had not yet become a city. Twenty-three years and several moves later, it now has 332 students and will soon build its permanent home.
The school is in the Valley Fourth Church campus on South Bowdish Road in Spokane Valley, and the bulk of its classrooms and activities will be moved onto what is now a soccer field next door. In September, the school purchased the 8.2-acre field for almost a $1 million and hopes to move in by September 2022.
Click here to read the full article.
Sen. Mike Padden – 408 N. Mullan Rd., Ste. 106 – Spokane Valley, WA 99206