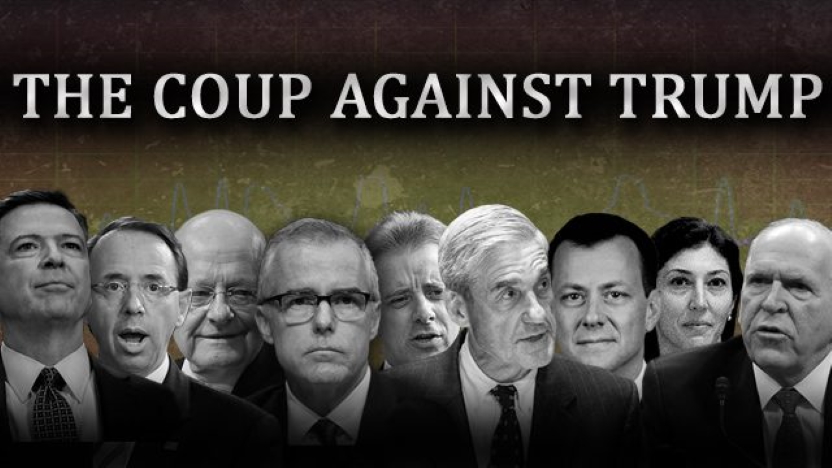 Dems Are Panicking, But Will True Justice Be Done?
By Jim Clayton
Right before the election in 2016 two former FBI agents Lisa Page and Peter Strzok were having an affair while both being married to other people. They sent hundreds of text messages to each other that have since been made public. The most famous is when Lisa page said "Hillary is going to win right? Right?" to which Strzok replied, "Yes 100 million to one, but if she doesn't we have an insurance policy. It's like if you die before your 40."
For the longest time, I wondered what this meant and now after two and half years of this phony Russian collusion hoax, I realize what he meant now.
The pieces are now falling into place. The Durham investigation will reveal that Brennan Clapper, Strzok, Page Comey and Steele all conspired with Obama and Hillary to rig the election for Hillary.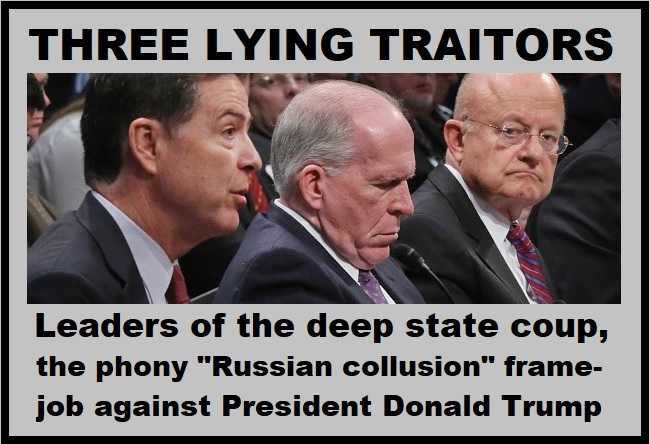 If that failed then the insurance policy that Strzok mentioned to his lover Lisa Page was to accuse Trump of Russian collusion along with their backers in the mainstream media so they can impeach him, find him guilty and throw him out of office so Hillary would get in.

Meanwhile Hillary is the real Russian colluder with selling 20% of our uranium to Russia for 145 million dollars to her foundation and buying and paying a foreign spy, Christopher Steele, for a phony, unverified  Russian Dossier on Trump to present to a FISA Court so they could get a warrant to tap Trump's aid's phone,. That's Watergate on steroids. That's what is happening now and coming out. I want to see justice done and people punished for these high crimes, but unfortunately, I don't think anything will be done because of who they are. The people who say that no one is above the law put themselves above the law. You can't write a political spy novel this good. Subpoenas and grand juries are coming, real ones.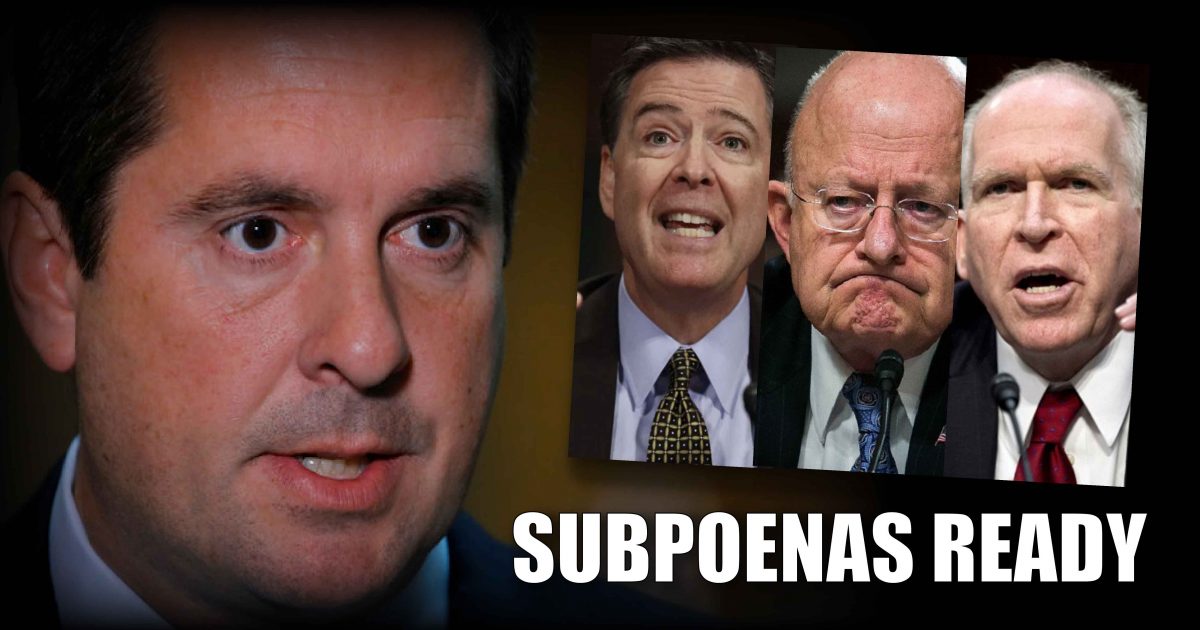 Roger Simon co-founder of PJ Media recently stated quite appropriately in an article saying: "To those of us who have been watching this spectacle from the beginning, this was inevitable. After all, where'd the Mueller/Russia probe come from in the first place? Since there was absolutely no there there, it makes no sense that it wasn't a fraud from the outset. Who started it? Who are the treasonous/seditious culprits who conspired to overthrow an election? Well, we should soon be finding out, although we can make some educated guesses.
The names of these institutions we all know and they are some of the most important companies in our media landscape. This is time to name the biggest miscreants: The New York Times, The Washington Post, The Wall Street Journal (front pages), the infantile BuzzFeed, the risible CNN, ABC, CBS, and the multiple sexual molesters at NBC. These are the people who have informed us, actually assured us, from the outset that Donald Trump had done things that deserved impeachment when all they did was try to overthrow an American presidential election. All that time they were harboring the real targets of the investigation, the real criminals.
Will any of these people admit any of their culpability? It's doubtful. As I type this, we are hearing a joint announcement from Reps. Schiff and Nadler that this is all "retribution." The Durham Investigation Is Criminal: A Disaster for the Liberal Media
Jerry McCormick of Patriot News Alerts recently said, "Fox's Geraldo Rivera recently admitted that the Russia hoax, which clearly undermined of Trump's presidency, now appears to have been facilitated at the highest levels of our government — possibly even including Barack Obama. And if Obama was involved, then it's clear Joe Biden was involved.
Perhaps that is the reason Joe Biden is running for president. Maybe he is hoping to win the election to bury this investigation before it exposes just how involved his administration was in the "Deep State" coup to unseat Trump from his presidency.
Even if Biden is not indicted, however, even a single Democrat indictment on this matter will end any chance the Democrats have of winning in 2020."
Rush Limbaugh summed it up perfectly on his radio show this week when he said, "In the past, it hasn't mattered who won elections, Republicans or Democrats. The deep state succeeded, it survived, it prospered,  it grew. Republicans knew their place in it. They were to lose most of the time, honorably, and when they won, they were to act like it was a mistake. The Democrats were always going to be perceived as running the government, running the town. The media would take care of that. Now we've had somebody win who is not part of this establishment and who has sworn to dismantle it. And we see how they react. And right now the Constitution does not matter to them. Their own survival, the survival of their small, elite, closed membership club is all that matters. And that's what we are enmeshed in here." My Warning from the Day After Trump's Election – The Rush Limbaugh Show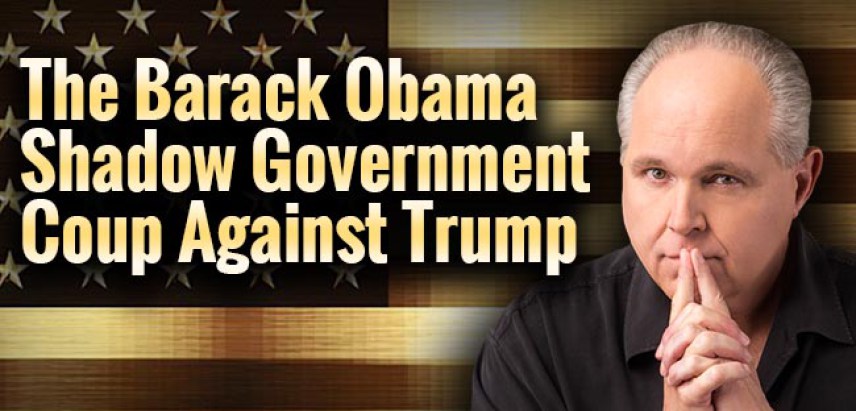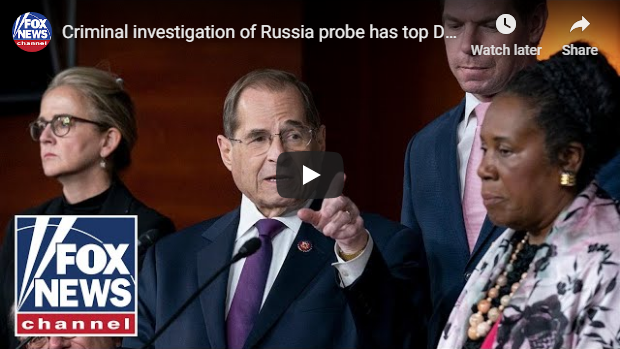 Wake up Right! Subscribe to our Morning Briefing and get the news delivered to your inbox before breakfast!
Published with Permission of conservativedailynews.com