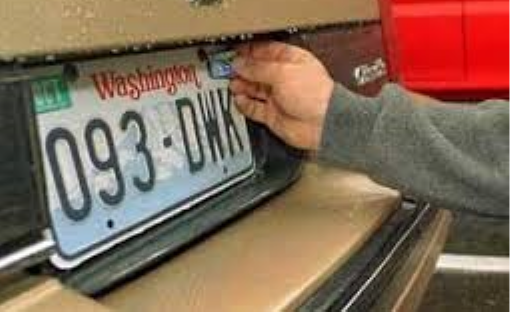 TOTALLY ILLEGAL: WA gov't itself is using tax dollars to directly fund the No I-976 campaign. Will the AG prosecute? Ya, right! I-976 only way to fight gov't dishonesty & lawlessness.
By Tim Eyman
Toby Nixon: "This mailer is absolutely, positively, without a doubt, a blatant violation of state law."
Check out what landed in mailboxes yesterday: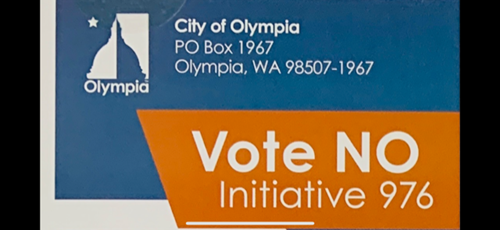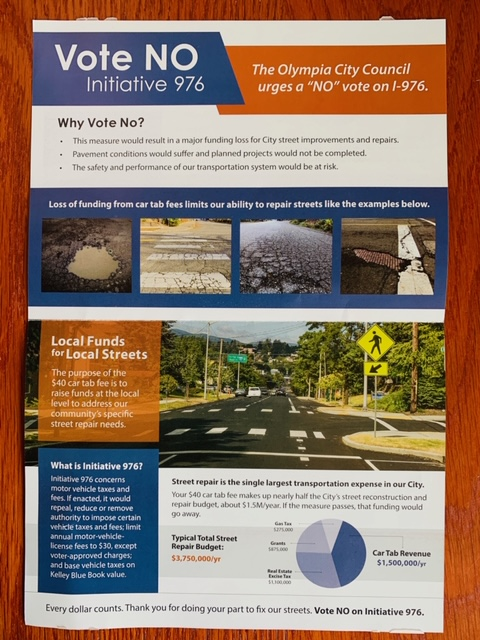 Last week, Toby Nixon posted this: "RCW 42.17A.555 is a broad prohibition on using public resources for campaigning. Not even 'de minimis' use for campaigning is allowed – not even a paper clip or an email." – RCW 42.17A.555    Use of public office or agency facilities in campaigns—Prohibition—Exceptions.
Big Business, Big Labor, politicians, the press — they're all the pigs at the trough feeding on dishonest vehicle taxes. And because I-976 gives the voters the chance to repeal those dishonest vehicle taxes, the pigs are squealing about it.
For months, the pigs have been indirectly spending tax dollars on their dishonest ads against I-976 (FYI – the Skagit Valley Bridge got knocked down by an oversized semi-truck, not low car tabs). Here's how taxpayers are indirectly paying for those ads: Sound Transit spends billions helping Big Business and Big Labor. And then Big Business and Big Labor turn around and "donate" to the No campaign. That's netted them $4 million+.
But it seems $4 million isn't getting the job done.
So now they're tapping taxpayers' wallets.
From today's Seattle Times: "Stating 'vote no' is 'express advocacy,' Nixon added later. 'The PDC should throw the book at them and their attorney should be fired.'"
I don't buy it for a second. No lawyer gave this mailer the green light. They knew this was illegal but they did it anyway.
Why? Because they're desperate. They know that voters have passed our previous tax initiatives that repealed this dishonest tax and dishonest valuation schedule. They know about the recent Q13 poll showing 78% support for I-976, the KOMO 4 poll showing 85% support for $30 tabs, and the Democrats' poll showing 70% support statewide and leading in Seattle 52%-48%.
For them, keeping this dishonest tax justifies illegal behavior.
I-976 isn't just about honest vehicle tabs anymore — it's about honest government.
Sound Transit lied — telling voters their tabs would go up about $80 but taxpayers are paying $300, $500, $800 more. Sound Transit lied by never admitting to voters that a $10,000 vehicle would be taxed like it was worth $25,000. Sound Transit lied to the Legislature — asking for $15 billion in taxing authority but doing a switcheroo and jacking it up to $54 billion. Sound Transit lied to the AG — saying they were using one dishonest valuation schedule when they were using a different one. Sound Transit lied to the Supreme Court — telling them it didn't matter that the valuation schedule they're using isn't the one they said because they really need those artificially inflated tax dollars.
Reject dishonest taxes and dishonest government and vote yes on I-976.
Is it any wonder that Fascist Fergie is trying so hard to shut us down? If it weren't for your prayers, friendship, and generous support, he woulda taken me out years ago.
Now more than ever, I really need your help. The costs of litigation, bankruptcy, and other crap from the AG's attacks are brutal. Please help me and my new attorney Richard Sanders fight back. Please:
1)  Mail check to:  Tim Eyman Legal Defense Fund, 500 106th Ave NE #709, Bellevue, WA, 98004
2)  PayPal:  https://www.paypal.me/timdefense
3)  GoFundMe:  https://www.gofundme.com/Help-Tim-Eyman-Survive-Fund/donate
Thank you for helping me and my family during this very difficult time.
I love you all.
Tim
Over $40.094 billion in tax savings so far!
Fighting for Taxpayers for 22 years
ph: 425-590-9363, cell: 509-991-5295
tim.eyman@gmail.com
TimDefense.com
Paid for by Permanent Offense – $30 Tabs Initiative – Term Limits – Give Them Nothing
PO Box 6151, Olympia, WA 98507
Top 5 Contributors: Suzanne Burke, Puget Sound Chapter NECA PAC, Andrew Skotdal, Tim Eyman, Thomas O'Brien
www.PermanentOffense.com
www.TimDefense.com
Want to change how you receive these emails?
You can update your preferences or unsubscribe from this list