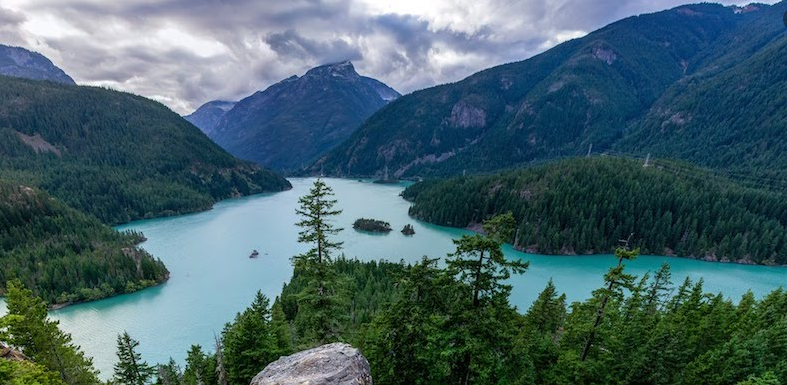 Landscape Conservation Design
By Karen Schumacher
While Landscape Conservation Design (LCD) is applicable to all areas in Idaho, once again Custer and Lemhi counties, located in the High Divide region, are poster case studies for LCD implementation.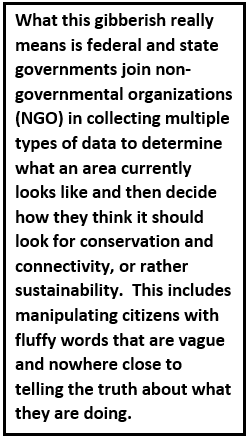 Recommended Practices for LCD was announced by the Landscape Conservation Cooperative Network (LCCN) in September, 2018, describing LCD as "…a partner-driven approach to achieve a sustainable, resilient socio-ecological landscape. It is an iterative, collaborative, and holistic process resulting in strategic and spatial products that provide information, analytical tools, maps, and strategies to achieve landscape goals collectively held among partners."  The process includes initiating LCD, convening stakeholders, assessing future desired conditions, and creating spatial and strategy designs.  What this gibberish really means is federal and state governments join non-governmental organizations (NGO) in collecting multiple types of data to determine what an area currently looks like and then decide how they think it should look for conservation and connectivity, or rather sustainability.  This includes manipulating citizens with fluffy words that are vague and nowhere close to telling the truth about what they are doing.
On page 19, the High Divide (HD) area is highlighted as a Section 2 Example/Case Study that describes specific applications of the practices.  The complete area can be found on the LCD Mapper.  On this map, scroll down on the left to the High Divide area, Phase 1.  If you click on "show more" at the bottom, it brings up all the involved parties, including the Heart Of The Rockies Initiative (HOTRI), Salmon Valley Stewardship (SVS), Lemhi Regional Land Trust (LRLT), Region 4 Forest Service, multiple NGOs, federal agencies, Idaho Fish & Game (IDFG), and many others.
HOTRI and its facilitated group, the High Divide Collaborative (HDC), formed in 2013, are identified as leading the design process which serves as the "framework for conservation planning and delivery in the High Divide landscape."  While recognizing mistrust of outside interests and government agencies, the HDC still proceeded with landscape conservation funding through the Land and Water Conservation Fund (LWCF).  Even before the Recommended Practices LCD document was created, HDC was already well on its way implementing LCD through SVS as shown by the following examples.
The Central Idaho Public Lands Coalition (CIPLC), created by SVS, is achieving one LCD process with its working groups.  According to LCD design, a Bridging Organization "identifies and convenes an inclusive set of stakeholders…within the defined geography…that use specific mechanisms such as working groups to link and facilitate interactions among individual actors".  Working groups are used to designate "priority management areas" for the "amount of habitat" needed for objectives. And geospatial data is used to create maps that "evaluate the potential of every acre of habitat to support a species' population".  CIPLC working groups include Socio-Economic Impacts, Grazing, Forest and Watershed Health, Recreation, and Lands and Minerals.  SVS recently launched the Forestry and Fire working group, and will be launching the Wildlife Connectivity working group.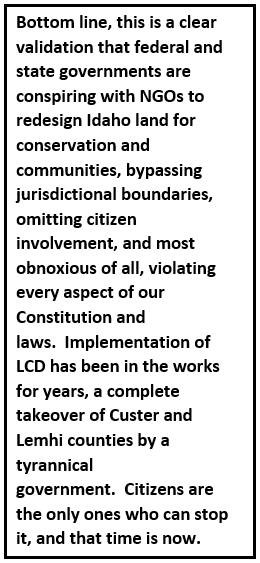 Another LCD task accomplished by SVS was convening an "inclusive" set of partners which included ranchers and local "stakeholders".  Of course, federal and state agencies were in line to be included along with other NGOs.  As for building trust, and claiming to listen "to all stakeholders"…and creating "recurring opportunities for all perspectives to be heard", they are only referring to themselves.  True to its LCD task, the HDC Coordinating Committee has held workshops and celebrations of themselves.
The Lemhi County Economic Development Association (LCEDA) tracks the local economic data, then shares it with Headwaters Economics (HE).  Socioeconomic data collected by HE on Custer and Lemhi counties is highly detailed as seen on this map.  The socioeconomic piece of LCD is for the purposes of dictating how communities function.  HE and Executive Director Ray Rasker are HDC partners along with the Central Idaho Rangeland Network.  HE uses data to make future investment decisions on recreation, healthcare, and education, which is why LCEDA, as part of LCD, is spearheading the education project.  LCEDA was very clear on their intentions in 2011, "Sustainability can be achieved through changing the community."
LCD "Primary conservation goals" were identified for their "shared vision for the future of the High Divide landscape."  Their "shared conservation goals has yielded strong support from our congressional delegations…" and "…has resulted in substantial federal investments in our priority conservation initiatives."  The money just keeps pouring in for the takeover of local land management.  In order to sustain the Collaborative, the "LCD must clearly lead to greater opportunity for effective conservation delivery".  It is up to citizens to stop that delivery.
A pretty hefty federal investment was made by the Great Northern Landscape Conservation Cooperative (GNLCC) for these objectives in 2015-2016, which included funding of $150,000 from the U.S. Fish & Wildlife Service (USFWS) and $157,100 from other sources, a total of $307,100.  The purpose of this support was to "identify and evaluate future landscape configurations…while conserving the High Divides unique landscape resources…emphasize wildlife connectivity between large protected core areas: Yellowstone, the Crown, and central Idaho"…and…"coupling socio-economic data and trends with conservation modeling in a holistic landscape conservation design process."
The Center for Large Landscape Conservation (CLLC) also had their fingers in the game in  2014, including IDFG, Y2Y, and the USFWS,  In the Conserving an Intact and Connected GNLCC Landscape word document at the bottom of the above link, the High Divide area was summarized as having convened the HDC, assessed ground conditions, created spatial and strategic LCD to inform habitat connectivity decision making, with LWCF funding being committed for "major land acquisitions, conservation easements, and restoration".  This was during the time of the GNLCC Ecological Connectivity Project which created spatial design and strategic approaches for LCD.  The Lemhi Regional Land Trust (LRLT) is the NGO partner that pursues conservation easements and other land acquisitions while SVS is involved in restoration projects through their Lemhi Forest Restoration Group.
This is how the scam works, the GNLCC, now defunded, was a conglomerate of government agencies and large landscape initiatives such as the HOTRI, Y2Y, CLLC, Rural Voices for Conservation Coalition (RVCC), and land trusts.  HOTRI created the HDC after SVS was established.  In partnership with governments, SVS then proceeded to implement LCD objectives at the local level with their NGO buddies with funding primarily coming from your tax dollar.  All of these groups and individuals think they have the right to determine how they want your community to look, how the land should be managed, and how citizens should live while sharing data to create those changes.  For the claim that "The recommendations, findings, and conclusions in the guide are those of the authors and do not necessarily represent the views of the U.S. Fish and Wildlife Service."   What a bunch of crock, they sure don't have any problem posting it on their website.  All of this is an internal government led coup d'état over the foundation of our Republic.
Bottom line, this is a clear validation that federal and state governments are conspiring with NGOs to redesign Idaho land for conservation and communities, bypassing jurisdictional boundaries, omitting citizen involvement, and most obnoxious of all, violating every aspect of our Constitution and laws.  Implementation of LCD has been in the works for years, a complete takeover of Custer and Lemhi counties by a tyrannical government.  Citizens are the only ones who can stop it, and that time is now.