Governor sued for illegal vetoes
Report from Olympia |  Sept. 24, 2019
Dear Friends and Neighbors,
As summer has given way to fall, I and many other legislators already have an eye on winter – specifically, the January start of the 2020 legislative session. I am already drafting policy proposals that can be prefiled as legislation in December, and several committees are scheduled to hold work sessions and planning meetings.
During this critical planning stage it is important that I hear directly from the people I am so privileged to serve. As the Fourth Legislative District's voice in the Senate, I need to hear your concerns, views and priorities to do my job properly.
That is why I thank those of you who attended our coffee meetings at Cole's Coffee this past week. These coffee meetings have been a great way for us to connect and share our thoughts on important issues for our state and our community.
Another way to stay up to date on news from Olympia is to read and share this newsletter. The previous issue mentioned the importance of participating in the 2020 U.S. census (something I'm still working with colleagues and stakeholders to promote). In this issue, for example, you can learn more about a lawsuit the Legislature has filed against the governor in order to restore the proper (and constitutional) balance of power.
If you have questions about this issue, or any others in this newsletter, please don't hesitate to contact my office.
Thank you for the honor and privilege of representing you in the Washington State Senate.
Sincerely,

Senator Mike Padden
Legislature takes Governor Inslee to court over illegal veto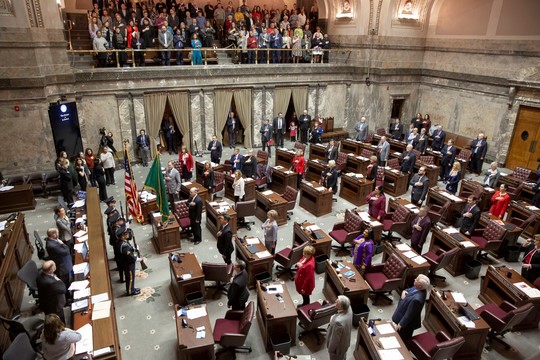 Democrats and Republicans in the House and Senate announced recently that the Legislature had filed a lawsuit against Gov. Jay Inslee for an illegal veto of six single-sentence provisions in the state's 2019-21 transportation budget (House Bill 1160).
Senate Republican Leader Mark Schoesler explained in a statement that the state constitution provides the executive branch with the power to veto sections of legislation or specific appropriation items. It does not give the governor the power to veto individual sentences. He called it a "dangerous precedent, which must not be allowed to stand."
For more information, read the news and editorial coverage below:
Legal challenge against state's Abortion Insurance Mandate law moves forward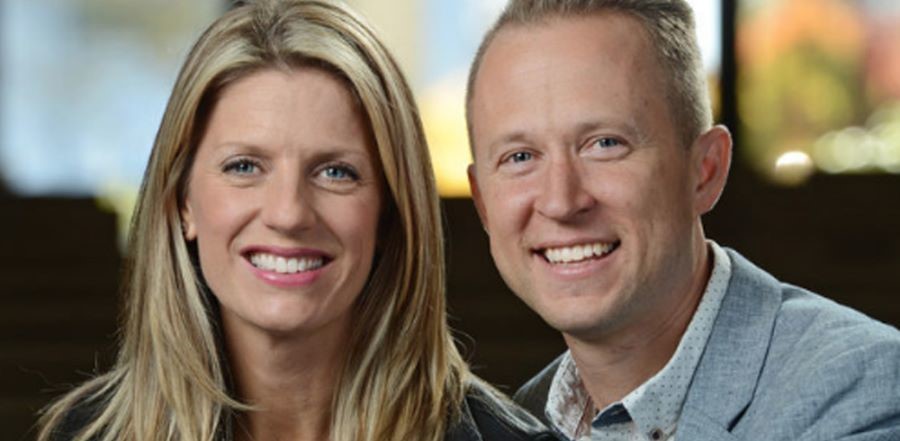 Jay and Sandy Smith, who lead Cedar Park Church in King County, a Christian church in the Assemblies of God denomination, continue their fight against the state's Abortion Insurance Mandate, which they say violates their religious liberty.
On Thursday, state Insurance Commissioner Mike Kriedler gave notice that Providence Health Plan of Oregon is approved to sell policies in Washington's individual healthcare market in 2020. According to the notice, Providence also will be the first health insurer to invoke its religious conviction to limit coverage of abortion services to its enrollees.
The bad news is that Providence will be required to inform enrollees who want selective abortions not covered by their plan that they can gain access through the Washington Department of Health (DOH) Family Planning Program. In other words, the state is forcing Providence to go against its strongly held religious beliefs through what would be described as compelled speech – a violation of the First Amendment.
These issues are part of a case that is currently working its way through the federal courts. In 2018, the Legislature's majority Democrats forced through a bill requiring health plans in Washington that cover maternity care to also cover abortions. The law created by Senate Bill 6219, known as the Abortion Insurance Mandate by some and as the Reproductive Parity Act by others, is being challenged by a congregation in King County, Cedar Park Church, with help from the Alliance Defending Freedom.
Pro-abortion groups claim that the church could stop offering maternity care if it doesn't want to offer abortion. Jay Smith, the lead pastor at Cedar Park Church, told the National Review this argument is "ridiculous," saying that to drop maternity overage would also contradict the church's fundamental pro-life ethic.
"We want to have our staff members, our teachers, our pastors, to have their own families, and we want to be able to support that," Pastor Smith explained. "So really, that's not a reasonable choice."
On September 13, Pastor Smith filed a motion for preliminary injunction, which would delay enforcement of the Abortion Insurance Mandate law until the court rules on the case.
Click here for more information.
Come celebrate progress on the North Spokane Corridor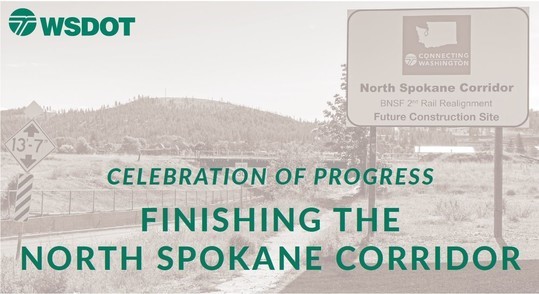 If you have been as happy as I have to witness the tremendous progress on the North Spokane Corridor project, there will be a community celebration this Friday, Sept. 27 from 10 to 11:30 a.m., in recognition of these long-awaited improvements to our local transportation system.
This progress has taken the work of the entire community – from planners to lawmakers to citizens.
I have greatly appreciated working with Mike Gribner, state Department of Transportation regional administrator, in keeping the project on track. He was very helpful in reaching a solution agreeable to all parties for the soil-contamination issues at the "Black Tank" property in the Hillyard rail corridor.
Applications are now open for our 2020 Legislative Internship Program!

Click here to watch a video about the Legislative Internship program.
Our Legislative Internship Program provides college students with an unmatched opportunity to experience state government first hand, learn the legislative process, and develop their professional skills. Undergraduate interns work with lawmakers, constituents, and stakeholders and learn in-depth about the public-policy process in state government. The paid, two-month internships are available to juniors and seniors of all majors attending any college in the state!
One of the most valuable things the interns assigned to our legislative office take from this experience is the opportunity to observe and work directly with the people of the Spokane Valley. Students receive academic credit and a cost-of-living stipend during their time in Olympia, and leave the internship program as prepared professionals and deeply engaged citizens.
Applications close on October 11.
  
Click for more information or to apply today!
In the News:
Groundbreaking launches construction of Ridgeline High School in Liberty
LakeSpokesman-Review | September 5, 2019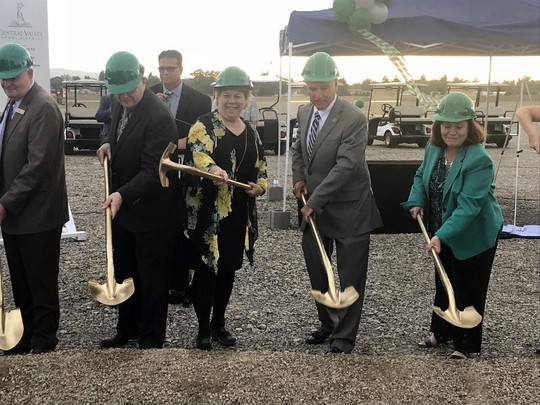 Officials toss symbolic shovels of dirt during a groundbreaking ceremony for the new Ridgeline High School in Liberty Lake. Holding the golden shovels, from left, are Central Valley School District board member Keith Clark, Sen. Mike Padden, board member Debbie Long, Liberty Lake Mayor Steve Peterson and board member Mysti Reneau. CVSD Superintendent Ben Small looks on from the background. (Nina Culver / The Spokesman-Review)
Cars filled an empty field in Liberty Lake last week as the community turned out in droves for the official groundbreaking ceremony for the new Ridgeline High School.
…Superintendent Ben Small thanked the Spokane Gun Club for selling its property to the school district for the high school. The 60-acre site at 20150 E. Country Vista Drive has since been annexed into the city of Liberty Lake.
"We're standing on property the school district did not own one year ago today," Small said. He noted the district has been discussing a third high school for 40 years.
"It's a long planning time," Small said. "But once we hit, boy did we move."
Washington state Sen. Mike Padden was one of several elected officials who used a golden shovel to toss a symbolic pile of dirt to mark the groundbreaking. "This is the first new comprehensive high school built in Spokane County since Mt. Spokane High School in 1997," he said. "Projects like this new school mean a tremendous amount, not only to the students but to the entire community."
Click here to read the full article.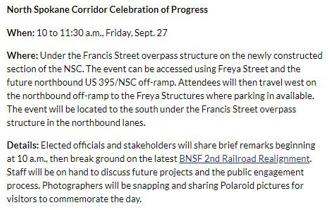 Mike has maintained an excellent working relationship with the cities of Spokane Valley, Liberty Lake and the other cities in the region.
I also am grateful to Matt Ewers with the Freight Mobility Strategic Investment Board, who is also a member of the Spokane Regional Transportation Council, for all of his hard work to ensure the North Spokane Corridor is successfully completed.
The North Spokane Corridor, envisioned since the 1940s, is a project vital not only to the 4th District and the Spokane Valley but also to the entire Spokane region. It will create a quicker, safer, and less congested route for our northern communities to access local businesses and attractions, such as the Spokane Valley Mall and the Interstate Fairgrounds.
In addition, it creates a new interchange onto State Route 290, which will reduce travel time and increase capacity to Millwood and the Spokane Business and Industrial Park.
The project will generate new interest in areas both north and south of the Spokane River, which opens the door for new commercial and industrial development, while lessening wear and tear to city and county roads caused by freight and heavy traffic, and reducing the burden placed on our local systems.
Click here to read the full article.
Sen. Mike Padden ● 408 N. Mullan Rd., Ste. 106 ● Spokane Valley, WA 99206