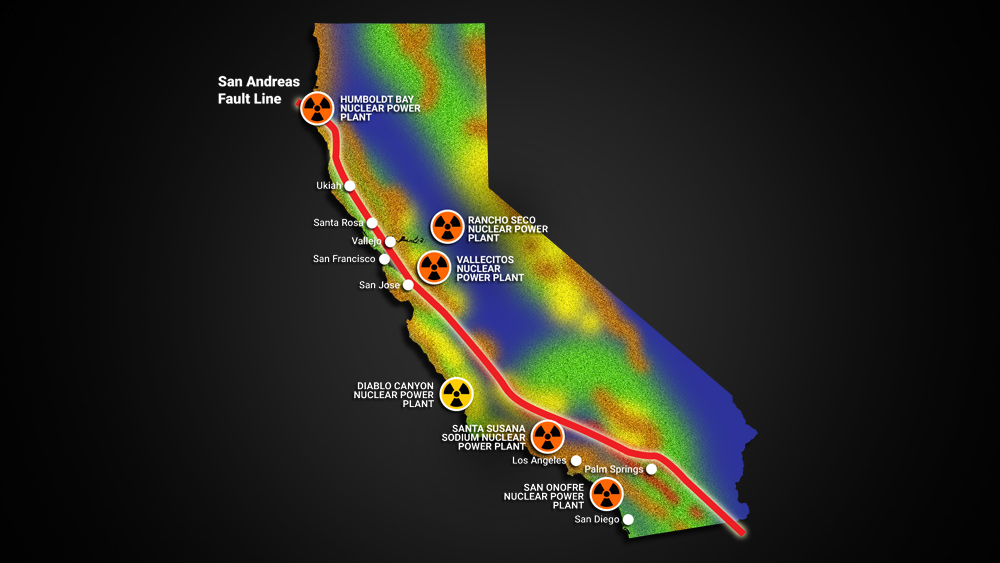 Is the BIG ONE coming? NASA aircraft flight pattern along San Andreas Fault rings alarm bells among observers
By Ethan Huff
Speculation is growing as to what the National Aeronautics and Space Administration (NASA) might be secretly up to after observers recently noticed a NASA817 airplane mysteriously zig-zagging its way up the San Andreas Fault in California.
Reports indicate that the low-flying craft was seen traveling from the Palmdale area of Southern California up to Boise, Idaho, weaving its way in and around the San Andreas along the way.
By the looks of it, say some, NASA may have been inspecting the fault up close, potentially out of concern that it might slip in the very near future and set off the "big one."
CBS2 anchorwoman Jasmine Viel stated during a recent report on the strange phenomenon that the NASA plane created "scary" noises that were "big and loud." Meanwhile, NASA has yet to provide a public explanation as to why it sent this plane to the region, which has created more questions than answers about the situation.
"A registered NASA aircraft was noticed doing zig-zag flying patterns near and over the San Andreas fault line," stated Tyler Glockner of the "secureteam10" YouTube channel in a recent video about this unusual event.
"It's almost as if it is scanning the ground as if to try and get more data about what is happening underneath. What is going on? Is something occurring? What do they know? Are they gearing up for something? Do they know the Big One is coming?" he further asked.
For related news, be sure to check out Unexplained.news.
One thing is for sure: It's only a matter of time before the "big one" finally hits
In another video analysis, YouTuber Lisa Haven asked her own questions about what NASA seems to know about here that the public doesn't.
Sponsored solution from the Health Ranger Store: The Big Berkey water filter removes almost 100% of all contaminants using only the power of gravity (no electricity needed, works completely off-grid). Widely consider the ultimate "survival" water filter, the Big Berkey is made of stainless steel and has been laboratory verified for high-efficiency removal of heavy metals by CWC Labs, with tests personally conducted by Mike Adams. Explore more here.
Is NASA anticipating another even larger earthquake in California in the very near future? Is there a way to detect this future earthquake based on the previous ones that occurred near the Naval Air Weapons Station in China Lake back in early July?
It would appear as though there's definitely some substance to these and other related theories, and that most people aren't privy to what's actually going on because they're simply not paying attention to the writing on the wall.
The San Andreas Fault, in case you didn't know, forms the tectonic boundary between the Pacific Plate and the North American Plate. It runs an astounding 750 miles across the length of California, and is said to be well overdue for the "big one."
"The government has brought NASA in to see if they can predict when she will erupt because supposedly we are overdue for a Big One," wrote one YouTube commenter in response to yet another video analysis of the situation.
"They might be checking San Andreas fault line for any changes brought on by the recent quakes," wrote another.
Even the mainstream media is taking notice that something isn't right here, and that the public is largely being left in the dark about the government's secret concerns about the San Andreas Fault.
The now dried-up Salton Sea, reports SFGate.com, sits directly atop the San Andreas Fault. And this is significant because its ever-changing geologic history is believed to play a major role in periodically setting off this fault, meaning it's a potential indicator of an impending quake.
"The current Salton Sea, California's biggest lake, formed when an irrigation engineering project accident in 1905 allowed the Colorado River to flood into the Salton Sink and form the body of water that would become more visited than Yosemite Valley in the mid- 20th Century," this same report goes on to explain.
"It also became one of the most important stops for migrating birds in the North America."
Sources for this article include:
From: naturalnews.com