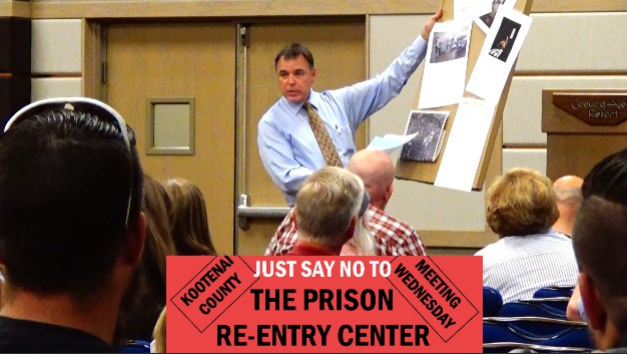 John Grimm Candidate for Kootenai County Sheriff, Coeur d'Alene Resort – Coeur d'Alene, Idaho
'No Prison Re-Entry Center' – Kootenai County Advisory Board
By Casey Whalen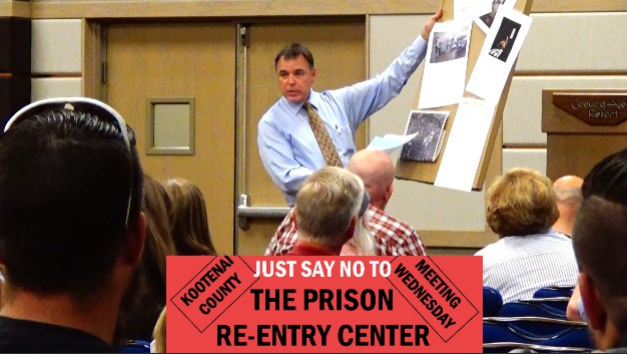 An advisory board assembled Wednesday, August 7th at the Coeur d'Alene Resort to inform concerned citizens about the re-entry center proposed for this area. The 'No Re-Entry Center' panel of speakers consisted of local businessmen including attorney Duane Rasmussen, Hayden City Councilman Matthew Roetter and Kootenai County Sheriff Candidate John Grimm.
Idaho Department of Corrections is searching for a site in Kootenai County for the largest prisoner re-entry center in the state with a 12.2 million budget. The all-male facility would be comprised primarily of returning citizens from the 1st & 2nd Districts. But, Boise reserves the right to house any type of offenders from anywhere in the state.
Inmates housed in the center would range from non-violent and/or low risk to high risk individuals who are nearing a release date.
Many questions were answered by the panel as well as a survey of those in support of or against a local re-entry center. Highlights of the event are featured in the video above.
Casey Whalen is a freelance journalist for his You Tube site North Idaho Exposed
                                                                                                                                                                                                                                                                   Video by Casey Whalen
northidahoexposed@protonmail.com