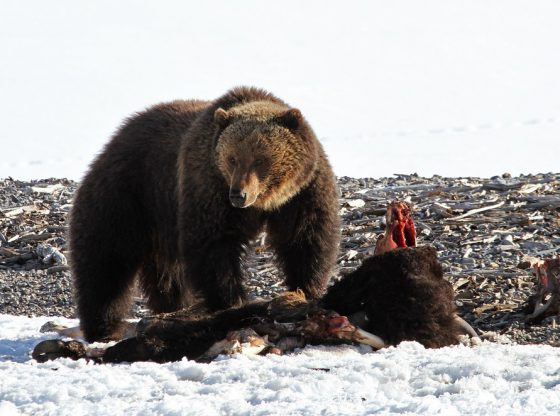 Western leaders denounce "activist" relisting of Yellowstone grizzly as endangered
Report from the Congressional Western Caucus
"The court-ordered relisting of the grizzly was not based on science or facts, but was rather the result of excessive litigation pursued by radical environmentalists intent on destroying our Western way of life…"
Excerpts from a press release issued by the Senate & Congressional Western Caucus
Activist Judge, Frivolous Litigation Lead to Yellowstone Grizzly Listing
Background:
Today, the U.S. Fish and Wildlife Service revised the List of Endangered and Threatened Wildlife under the Endangered Species Act to again include grizzly bears in the Greater Yellowstone Ecosystem (GYE).
Today's listing stems from frivolous litigation and a court order from an activist Montana Federal Judge.
The Federal Register Notice can be viewed HERE.
On June 30, 2017, the USFWS published a final rule delisting grizzly bears in the GYE due to recovery. This delisting was based on the best scientific and commercial data available.
Today's relisting is unwarranted and not based on science as the Yellowstone Grizzly is fully recovered. The population has grown from 150 bears in the 1970s when the bear was first listed to approximately 700 today.
As reported by the Idaho Statesmen, "Bear-proof dumpsters and bear-resistant food storage containers were non-existent in the area just a handful of years ago… All U.S. Forest Service campgrounds within the greater ecosystem were bear-proofed by the end of 2018. The [Greater Yellowstone] coalition expects the 1,194 new bins to be used when campers arrive this summer."
At a hearing on a related bill, Brian Nesvik, Director of the Wyoming Game and Fish Department, discussed in detail how Yellowstone Grizzlies are mauling people. He testified, "The GYE grizzly bear population is fully recovered as measured by all federally developed recovery criteria… Recently there has been a great deal of attention to increased mortality of grizzly bears in the GYE. Very simply, increases in mortality are proportional to the increase in abundance and distribution of grizzly bears… Since the GYE population was first listed under the ESA, the State of Wyoming has invested over $50 million in recovering and managing this population." The federal government meanwhile spends $100,000 on the species. Local and state conservation dollars often disappear or are drastically reduced when a species is listed.
As reported by Montana Public Radio, "Last September officials trapped and relocated a grizzly bear that showed up near a Dairy Queen in Cody, Wyoming. Around the same time, authorities killed two bears that fatally attacked a hunting guide in a wilderness area east of Grand Teton National Park. Thompson said the main conflicts are with cattle, but between 2014 and 2018, there were four cases of bears killing or injuring humans in Wyoming."
Comments from Members of the Western Caucus
Congressional Western Caucus Chairman Paul Gosar (AZ-04): 
"Clearly the system is broken when a fully recovered species is relisted, not based on science but, as a result of an activist judge and litigation from extremist groups. The unwarranted relisting of the Yellowstone Grizzly will dry up funding from states and local conservation groups for the bear and divert scarce taxpayer dollars from truly endangered species that actually need such funding, harming the grizzly and other listed species in the process. These apex predators are so prominent in the Yellowstone Ecosystem that they invade urban areas, harm livestock and even kill people in the process. With an abysmal 3 percent recovery rate, the ESA must be modernized."
Senate Western Caucus Chairman Steve Daines (MT):
"Our wildlife management under the ESA should be recovery-focused based on sound science, not managed by court order," Daines said. "The decision to relist the grizzly bear to the ESA is a major setback for Montana. I will do all I can to bring common sense and sound science back to the ESA and restore state management of this iconic species."
Senator John Barrasso (WY):
"The grizzly is fully recovered in Wyoming. End of story. The Fish and Wildlife Service first moved to delist the bear almost 15 years ago. The last three administrations made the determination that the grizzly bear was recovered. Wyoming has a proven track record of strong, science-based management of the grizzly bear. Protections under the Endangered Species Act are unnecessary and not supported by the facts. Now, the administration needs to focus on successfully delisting the grizzly bear in Wyoming and allow the state experts to resume successful management."
Senator Mike Enzi (WY):
"It is extremely disappointing that grizzly bears in the Yellowstone region will be added back to the endangered species list due to a frivolous lawsuit and a flawed court decision. Biologists agree that the Yellowstone population of grizzly bears has recovered and might have even reached the capacity in many areas of the ecosystem. This information isn't new – I've been working on this issue for more than 20 years, and we knew back then that grizzly bears had recovered. I am committed to working with the Administration to delist these bears and give Wyoming proper authority to manage its wildlife."
Senator Jim Risch (ID):
"We have worked for over a decade to expand delisting of grizzly bears, a species that has successfully met its recovery goals. Today's listing announcement is yet another example of the Endangered Species Act being used for lengthy and circular legal battles instead of to recover wildlife. Idaho's local wildlife managers have a history of successful species management based on collaboration and science, yet, they are once again being strong-armed by litigation based on neither. This is detrimental to the very species the ESA was enacted to protect."
Senator Mike Crapo (ID):
"States should have the authority to create wildlife plans that fit their specific needs, and the case regarding the Greater Yellowstone Ecosystem Grizzly Bear is no different. I remain committed to bear management policy that benefits both the species and humans, by balancing the interests of the bears, livestock, owners, sportsmen and our big game herds in Idaho, all according to the best, most recent science.  Idaho's wildlife officials are uniquely qualified to carry out wildlife management initiatives in the Gem State, and I am confident they can serve as a model for others regarding wildlife."
Committee on Natural Resources Ranking Republican Rob Bishop (UT-01): 
"By every measure, the Greater Yellowstone Area grizzly bear recovery has succeeded. The delisting was without a doubt, proof that investment in coordinated conservation measures between the federal, state and local levels actually works. Unfortunately, Democrats and environmental extremists couldn't care less about the best scientific and commercial data. The Democrats instead have fought for the recent decision to re-list the species. When litigation supersedes science, we have no better evidence that the Endangered Species Act is flawed. This decision is disappointing. It punishes states for exceeding species recovery goals, disincentives further wildlife management and ultimately harms the recovery of hundreds more species.
House Republican Conference Chairwoman Liz Cheney (WY-At Large):
"The court-ordered relisting of the grizzly was not based on science or facts, but was rather the result of excessive litigation pursued by radical environmentalists intent on destroying our Western way of life. The thriving grizzly population within the Greater Yellowstone Ecosystem should be celebrated as a conservation success, with Wyoming investing significant resources in grizzly bear recovery and management since 2003. The ruling that forced today's action was both needless and harmful to the ecosystem, which is why I introduced legislation earlier this year to reinstate the science-based decision by the U.S. Fish and Wildlife Service to delist the grizzly and prevent future court action on the delisting, returning management of the grizzly back to the state where it belongs. I will continue working with my colleagues in Congress and the experts in Wyoming to ensure proper management of the wildlife in our state and prevent further federal overreach into our daily lives."
Chief Regulatory Reform Officer Andy Biggs (AZ-05):
"I was very disappointed to see the U.S. Fish and Wildlife Service's decision to return grizzly bears in the Greater Yellowstone Ecosystem to the Endangered Species List.  Unfortunately, this action was not based on sound science—the bear population has grown over fourfold since the 1970s—but instead on the arbitrary decision of an activist judge.  As a result, federal wildlife managers will now have fewer resources to spend on conservation efforts to protect species that are actually endangered.  Meanwhile, a growing grizzly population will not only threaten property but human lives as well.  I look forward to working with Western Caucus Chairman Gosar to rationalize and modernize the Endangered Species Act in the coming months so that travesties like this are much less likely to recur in the future."
Congressman Greg Gianforte (MT-At Large): 
"Today's listing is the result of an activist judge siding with environmental extremists and refusing to follow the scientific findings of U.S. Fish and Wildlife Service that the grizzly bear recovered in the Greater Yellowstone Ecosystem. This unnecessary judicial overstep is another reason Congress needs to pass my bill with Congresswoman Cheney to end judicial activism, empower state management over one-size-fits-all federal management, and instruct the Department of Interior to re-issue its delisting."
See more on the Western Caucus website by clicking here
Published with Permission of FreeRangeReport.com