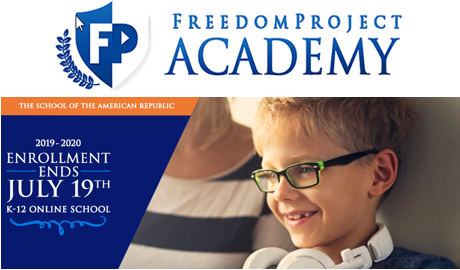 Home Schooling Done Right – Common Core Free!
FreedomProject Academy is committed to changing culture and restoring the nation through Classical education, teaching Judeo-Christian values, and preparing the next generation of patriot leaders.
Founded in 2011, FreedomProject provides various ways to Faithfully Educate America, including our fully accredited online academy, a partnership program to provide live classes to churches and private schools across the country, a Common Core Free curriculum developed in-house and award-winning media.
FreedomProject Academy offers a fully accredited, Classical education for Kindergarten through High School.  FPA is rooted firmly in the Judeo-Christian values as rooted in the Constitution by our Founding Fathers, who strove to guarantee the preservation of our God-given liberties.  Our classes are delivered live online through interactive classrooms to students in all 50 states and a dozen foreign countries, serving missionary and military families overseas.
French, Latin and Spanish classes are also taught at FreedomProject Academy.
For thorough information including some short videos go to FreedomProject Academy website.