What Does the NEA Plan for Children in the Fall?
By: Vicky Davis
The question, What does the NEA plan for children in the Fall? begs the question, Why would the NEA have ANYTHING planned for children in the Fall.  The NEA is a union that is supposed to represent teachers.  The chartered purpose of the NEA according to 36 U.S.C. 1511 is:
1. to elevate the character and advance the interests of professional teaching
2. to promote the cause of education in the United States
There is nothing in those two statements that indicate their purpose is to bring sexuality into the classrooms nor do they have any business providing materials for the classroom and training teachers, administrators to implement programs pertaining to sexuality.
The following is an excerpt from Page 7 (adobe) of the NEA's Reports on Implementation of Actions of the 2018 Representative Assembly.
Emphasis added –
Gender Inclusive Schools
NEA shall, using existing digital media, have all state and local affiliates encourage K-12 teachers to view a series of films called Creating Gender Inclusive Schools and use the accompanying study guides of the Youth and Gender Media Project (visit youthandgendermediaproject.org) to create inclusive communities for all youth, regardless of where they fall on the spectrum of gender identity and expression (2018-11).
Completed (Assigned to Center for Social Justice)
Resources and information were promoted and made available to state and local affiliates and members through the February 2019 distribution of the electronic Center for Social Justice Quarterly Update. This Update contained a link to the Film Series
Creating Gender Inclusive Schools
And to the Resource Study Guide
Youth & Gender Media Project Study Guide
The Quarterly Newsletter is sent to national, state and local leadership for distribution to members.
See https://neaedjustice.org/supporting-lgbtq-youth/NEAedjustice.org for additional resources.
In the Report, NEA Resolutions: Summary of Winter Committee Actions for 2018-2019, the NEA lists their full body of resolutions along with new and proposed amendments to existing resolutions.  While an amendment to an existing resolution pertaining to the LGBTQ political agenda captured our attention, the entire report is a shocking exposé of the degree to which the radical left has taken control over our schools and clearly they are indoctrinating the children.  How did this happen?   How is it that these people have been allowed to bring their political agendas into our K-12 schools?
The following is the particular amendment that captured our attention initially but our concerns go far beyond that amendment.
Bold italic indicates proposed new copy.
[Bold brackets] indicate proposed deleted copy.
The following is an amendment to resolution B31:
B-31. Educational Programs in Support of Lesbian, Gay, Bisexual, Transgender, Non-Binary, and Questioning Students
The National Education Association supports appropriate and inclusive educational programs that address the unique needs and concerns of lesbian, gay, bisexual, transgender, non-binary, and questioning (LGBTQ+) students. The Association also supports efforts and contributions by educators, parents/guardians, community leaders, organizations, and partners in the development of these programs. Specific programs should provide—
1.Acknowledgement of the significant contributions of diverse       LGBTQ+persons in American history and culture
2 Involvement of educators knowledgeable in LGBTQ+issues in the development of educational materials that integrate factual information about the history, social movements, and current events of LGBTQ+people
3. Developmentally appropriate local, state, and national resources. (2015)
This agenda is not education and that's the nicest thing this writer can say about it other than that we're going to put a stop to it.
SEX ED FLYER
The National Education Association (NEA) is telling all their members and affiliates to create Gender Inclusive Schools. What is a Gender Inclusive School? First you need to know that the term 'gender' has been expanded. If you thought it was just male and female, then you are a troglodyte and you are not hip.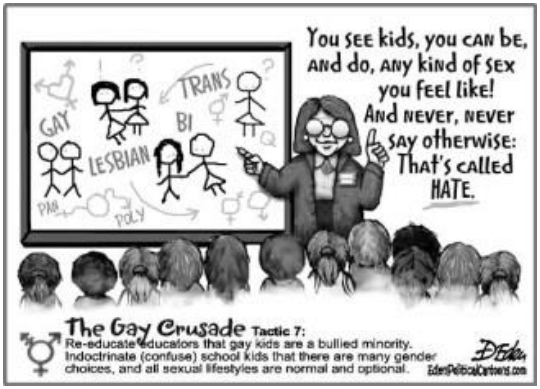 Educators have decided that gender identity is a learned behavior.
Little girls act like little girls because their parents and the society at large has cast them in that role and the union wants to "free" the children from those societal assignments of gender behaviors.
Of course your five year-old doesn't really understand sexuality so the schools will have to teach them about the differences between males, females, gays, lesbians, transsexuals, bisexuals, etc. so that the child can choose which gender they think they are.
This movement for gender fluidity will release the children to let their inner genders out.
The teacher's union – NEA, partnering with Gender Spectrum is providing guidance to educators to fully immerse children as young as 3 years old and all through high school in gender knowledge and gender creativity. What gender do you identify as today? No problem, you can change it tomorrow.
________________________________________________________________________________________________________________
Idaho Eagle Forum mobilizing with other family oriented and family friendly groups across the nation to keep this twisted political agenda out of our pre- and K-12 schools. To say that it is inappropriate is a gross understatement. This agenda of introducing gender confusion to young children will bring mental illness to otherwise healthy, normal children. We can't allow that to happen – not for any reason.
The NEA is holding their annual Representative Assembly meeting in Houston, Texas, July 4-7, 2019. Show up if you can and tell them what you think.
Please copy and distribute this flyer far and wide. It can be found at our new website: http://Idahoeagleforum.org