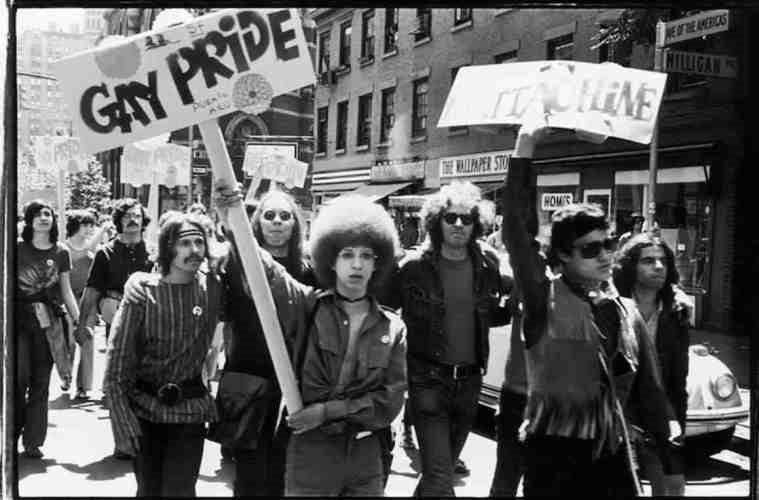 National Education Association Support of LBGTQ
By Adrian Arp
OUR SCHOOL CHILDREN ARE GOING TO BE INDOCTRINATED WITH THE LBGTQ AGENDA!  The National Education Association is having at its meeting taking place this week, the commemoration of the 50th anniversary of the stonewall uprising to support the LGBTQ agenda.  Unless this is exposed and stopped the NEA will be implementing this perverted agenda into ALL public schools starting at kindergarten through 12.  Please check out the NEA site and agenda which follows.  Work with your local school boards to stop this filth from being taught to your children and grandchildren in your schools. A concerned citizen, Adrian Arp, Ph.D.
NEA Commemorates the 50th Anniversary of the Stonewall Uprising to Support Our LGBTQ Students, Members and Community at the 2019 NEA RA
The Stonewall Uprising was the impetus for the formation of the Gay Liberation Front as well as other gay, lesbian and bisexual civil rights organizations. It's also regarded by many as history's first major protest on behalf of equal rights for the LGBTQ+ community. Now celebrating its 50th Anniversary, The Stonewall riots marked a major turning point in the modern LGBTQ civil rights movement in the United States and its impact was felt across the world.
In order to commemorate the 50th Anniversary of this important milestone in our history and to continue our support and advocacy for the LGBTQ community, NEA has created opportunities for our members and RA delegates to show their support: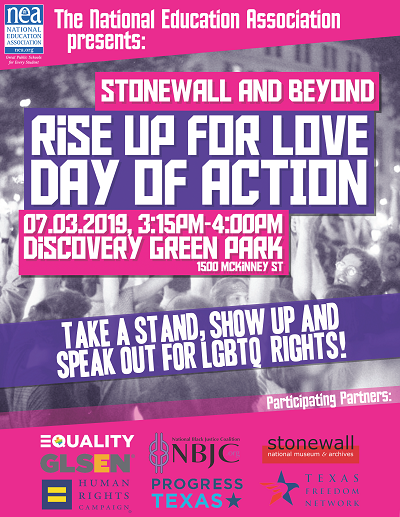 Stonewall Uprising Exhibit:
In 2019, NEA has partnered with the Stonewall National Museum & Archives (SNMA) to bring to all NEA national conferences the following SNMA Exhibits:
Stonewall Uprising Exhibition
Out of the Shadows Timeline
To date, Stonewall Exhibit has been displayed at our national conferences:
MLT/WLT Training Seminars – San Diego (Dec 2018) and New Orleans (Jan 2019)
Higher Ed Conference – Denver (Mar 2019)
Leadership Summit – Denver (Mar 2019)
NEA-Retired Conference – Denver (Mar 2019)
ESP Conference – Las Vegas (Mar 2019)
NEA Board of Directors Meeting – Washington, DC (May 2019)
Remaining Exhibits:

Aspiring Educators Conference – Houston (Jun 29 – July 2, 2019)
Conference on Racial and Social Justice – Houston (July 1 -2, 2019)
2019 NEA Representative Assembly – Houston (July 4 – 7, 2019)
At the 2019 NEA Representative Assembly and pre-conferences, NEA will commemorate the 50th Anniversary of the Stonewall Uprising by hosting the following events:
Stonewall Day of Action:
Date: Wednesday, July 3, 2019
Time: 3:15 pm – 4:00 pm
Location: Discovery Green Park, directly across from the Houston Convention Center.
Participating partners:

Equality Texas
Human Rights Campaign
GLSEN
Stonewall National Museum & Archives
Gender Spectrum
National Black Justice Coalition

Program Theme: "Rise Up for Love: Stonewall and Beyond"
Rise Up for Love Block Party: 2019 NEA PrideFest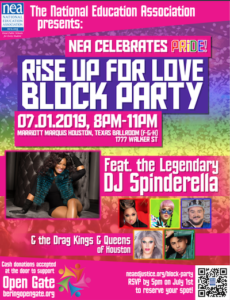 Date: Monday, July 1, 2019
Time: 8:00 pm – 11:00 pm
Location: Marriott Marquis, Texas Ballroom (F-G-H)
Theme: "Rise Up for Love: NEA Celebrates Pride!"
This event will be open to CRSJ attendees, NEA members and other invited guests
Entertainment/Schedule:

8:00 pm – 11:00 pm: The Legendary DJ Spinderella
8:45pm – 9:30 pm: Drag Queen and Drag King Show

Cash donations accepted at the door to support Open Gate
RSVP at NEA EdJustice by 5:00 pm, July 1, 2019 to reserve your spot.