Report from Olympia | June 25, 2019
Accused rapist puts new sanctuary state law under the microscope
Dear friends and neighbors,
Last week, Brandi Kruse, a reporter for Seattle's Fox Q13, tweeted:
"If you're an elected leader in our state who fought for sanctuary policies, be willing to step up and answer the hard questions when those policies hurt people. Not shirk away as if one woman's pain and suffering is just an unfortunate side effect…"
She then pointed her followers to a Q13 story about  Francisco Carranza-Ramirez, a man believed to be an illegal immigrant, who is accused of raping a disabled woman twice within a few days, including once in front of her child, and the second time while the woman was actually on the phone to 911.
Between the two incidents, Carranza-Ramirez was arrested and charged with third-degree rape, but the judge in the case opted to let him return to Mexico as he requested at sentencing. As the article points out, a state sanctuary law could be a prime reason for the second rape the victim experienced:
This oversight may have led to the victim being assaulted again. Part of the problem may be with the state's sanctuary laws for immigrants because prosecutors, judges and jail workers were not allowed to ask Carranza-Ramirez's immigration status or contact ICE to make sure he returned to Mexico as promised.
"The state has effectively blocked us from accessing any sort of state law enforcement databases and we cannot access the detainees themselves in local custody," said Bryan Wilcox, Acting Field Officer Director for ICE. "So, we have to find sources of information that are available to the public to try and determine who is in the local jail so often times we are only going to know after the fact."
Carranza-Ramirez remains at large and his victim fears for her life and believes that he's likely to attack her or some other vulnerable person again.
This is the tragic result of bad ideas coming together. First, there is the belief that defying the president and federal law is more important than the safety of citizens. There is also the firm viewpoint held by many on the left that we should lighten sentences and reduce incarcerations. Ms. Kruse is correct. Those who have promoted, endorsed and voted/signed these ideas into state law should now be held accountable and answer for the consequences of those ideas.
If you have any questions about the new sanctuary state law, this case or anything else in this newsletter, please don't hesitate to call, write or email my office. I am here to be your voice, so I am always happy to hear from you.
Thank you for the honor and privilege of representing you in the Washington State Senate.
Sincerely,

Senator Mike Padden
Program provides much-needed workforce training to local job-seekers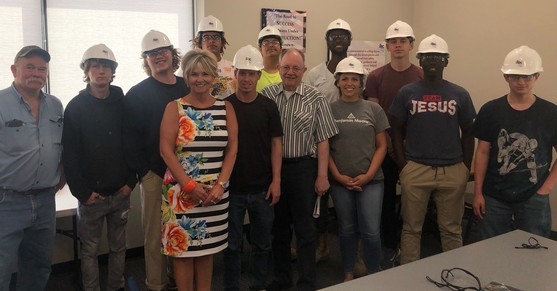 Earlier this month, I had the opportunity to visit with the Associated Builders and Contractors Inland Pacific Chapter and witness one of its construction basic training classes. The program aims to fill the skills training gap for those entering the construction industry in the Association's efforts to support workforce development. It positions students who complete the training to be ready to work in the construction industry with the basic skills necessary to succeed.
I met with the Association's President and CEO, Suzanne Schmidt, who introduced me to the class and gave me an opportunity to see first-hand all of the great workforce development the Association is doing in our area.
According to ABC-IPC, the construction industry is facing a worker shortage. There is a growing demand for young skilled tradespeople as the market is rebounding and many in the field are retiring. Jobs are in high demand and the career opportunities are unlimited.
Students who complete the program receive an OSHA 10 hour certification, First Aid/CPR certification, industry recognized credentials through National Center for Construction Education and Research (NCCER), a minimum of two job interviews, and job skills that can be applied immediately.
To learn more, visit ABC-IPC online at www.abcipc.org or call (509) 534-0826.
In The News:
Spokane-area affordable housing
Padden: Socialist price-controls not the answer to lack of affordable housing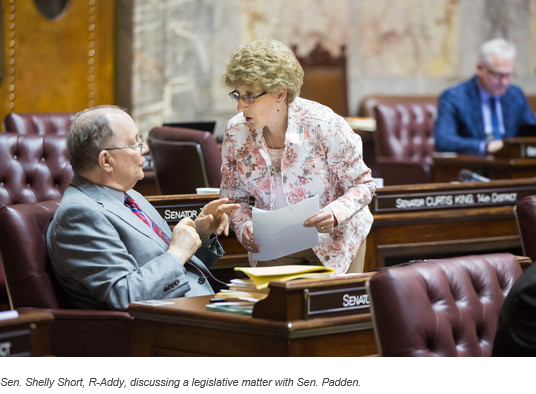 The following is an excerpt from an article that recently ran in Spokesman-Review.
Rent control has been illegal in Washington since 1981, but with the increasing issue of low vacancies and growing homelessness problem, not all local leaders think it should be kept out of the Spokane housing conversation.
Steve Corker, president of the Landlord Association Inland NW, said he isn't flat-out against rent control, but if it were an option, it would need to come alongside other programs. Otherwise, he describes it as the government telling a new-car salesman to charge used-car prices.
"You're not going to have an investment from the private sector coming from an environment that doesn't allow the investor to get a return on the investment," Corker said.
…Sen. Mike Padden, R-Spokane Valley, said he did not see rent control as a potential solution to the housing issue.
"It's like wage and price control, it interferes with the market, and what it will do is make housing less available for a lot of people," Padden said.
Padden said his concentration with the housing crisis is encouraging home ownership. He cosponsored a bill with Sen. Jamie Pederson, D-Seattle, with the intent to make condominium development more attractive.
"I'm very hopeful that there will be more developers building condominiums than just strictly apartments, and giving more people the chance to get some skin in the game and build up some equity," Padden said.
"I just think home ownership is a really good thing for our society as a whole."
To read the full article, click here.
GREAT NEWS: Schweitzer Engineering Laboratories announces new 80,000-square-foot event center in Pullman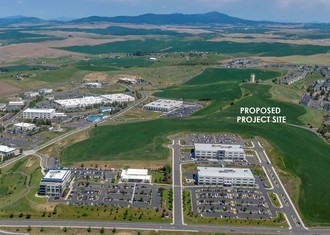 Schweitzer Engineering Laboratories announced this month that it will build a new event center on the southeast portion of its 132-acre Pullman campus. Though the project is still in the design stage, the footprint of the facility is expected to occupy approximately 80,000 sq. ft.
"We are excited about this project and what it means for our company and community," said Stephanie Schweitzer, vice president of Marketing & Communications. "We've outgrown the current space, and this center will allow us to better accommodate a number of our company's larger annual events, host new events, and provide another venue option for our community."
At nearly four times the size of the existing SEL Event Center, the facility will feature a variety of meeting spaces, including a large meeting hall.
SEL is one of the great employers for area, and I've been honored to introduce a resolution highlighting the company and its founders' history of philanthropy and community service in our state. SEL has a facility on Indiana in the Spokane Valley. We are happy to have them in the 4th Legislative District.
VIDEO: Law & Justice Committee goes back on the road this interim
Committee holds work session in Longview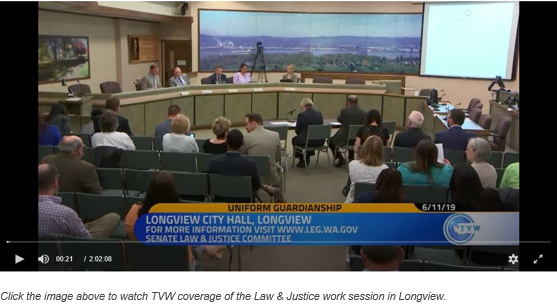 Earlier this month, the Senate Law and Justice Committee held a work session in Longview on proposed changes to the Uniform Guardianship, Conservatorship, and Other Protective Arrangements Act. This measure covers guardianships and conservatorships for both minors and adults, as well as protective arrangements. The act aims to "advance rules and systems that make it easier for all persons involved in the process—whether they be petitioners, individuals subject to guardianship or conservatorship, guardians or conservators, or judges.
Over the past several years, the committee has worked in a bipartisan fashion to bring work sessions out of Olympia and to a wide variety of communities across the state, including many here in Spokane Valley.
In The News: A Surprising Unanimous Pro-Life Ruling from America's Most Liberal Appeals Court
By Benjamin Gill, CBN News | June 21, 2019
The most liberal federal appeals court in the country has unanimously delivered a surprising ruling in favor of a Trump administration pro-life policy.
The Protect Life Rule stops clinics from receiving federal funding if they share office space with abortion providers. It also prevents taxpayer-funded clinics from making abortion referrals.
The move is expected to reduce Planned Parenthood's federal subsidies by $60 million.
…Although the Ninth Circuit's decision could be a temporary victory, pro-life groups say it's still a win.
The Alliance Defending Freedom calls it "another step toward ensuring greater government program integrity and the protection of every human life, no matter how vulnerable."
Alliance Defending Freedom Legal Counsel Denise Harle said, "Americans' hard-earned tax dollars should never be used to fund abortion, shield child abusers, or force medical professionals to violate their convictions by participating in the end of human life. Today, the 9th Circuit unanimously upheld the Trump administration's rule as 'reasonable' and accurately applied the Supreme Court's precedent by deciding that this rule may immediately go into effect."
Click here to read the full article.
Editor's note: Washington is a party to the lawsuit referenced in this article.
2019 Government Guide for the 4th LD
Together we can create a better state for our children and future generations, but it takes your active participation with your government. To help facilitate that participation, I've created this government guide to provide you with easier access to important contact information you may need. In this guide, you'll find names, addresses, phone numbers, websites, and e-mail addresses for city, county, state and federal government. You will also find contact information for local agencies and resources, as well as some general information about our district.
In addition to downloading a copy online, there are a limited number of hard copies of the Government Guide available at our district office.