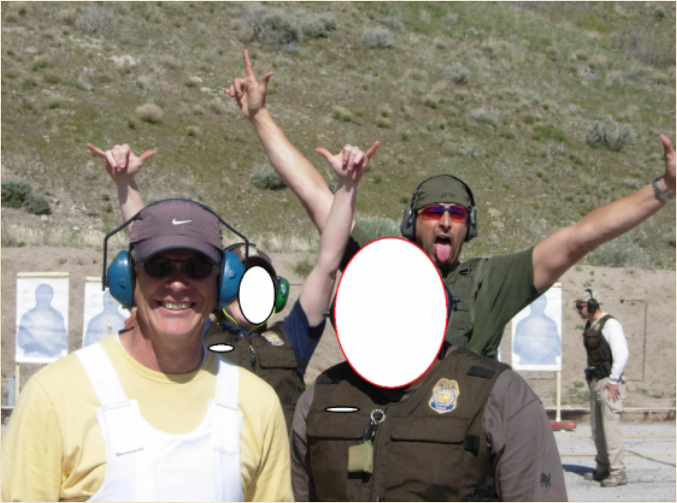 BLM law enforcement director and Dan Love mentor, William Woody, ousted in wake of numerous allegations
By Marjorie Haun
Bureau of Land Management (BLM) Office of Law Enforcement Services (OLES) director William Woody seems to have followed a path similar to that of his corrupt protégé, Dan Love. Woody has been under investigation for numerous apparent abuses of power and mishandling of government funds since the time he retook the position in 2017. According to our source, on Thursday, June 13, Director Woody's gun and badge were stripped from him and he was escorted out of the Department of the Interior headquarters in Washington D.C.
Woody was hired by the BLM in 2003 at which time he apparently mentored Dan Love, and was then moved to Fish & Wildlife Service where he worked for several years and, according to our source, was pushed out of that agency amid allegations of lavish travel spending and arbitrary pay hikes of all agents under his supervision. In 2017 Woody was reassigned back to BLM to head its division of law enforcement.
Woody's infamous protégé, Dan Love, was the agent behind the bungled Bundy Ranch raid in 2014 and the 2009 antiquities sting, Operation Cerberus, which ended in the deaths of three men in southern Utah. With countless accusations and overwhelming evidence of corruption, overreach, racism, and bullying, in 2017 Dan Love was removed from his position as BLM OLES director for Utah and Nevada. According to an informant within the agency, Love was given a medical/mental health retirement with full federal benefits.
Like Dan Love, William Woody has a reputation for overt aggression against private citizens. In addition to his involvement in the deadly Operation Cerberus, while serving in the US fish & Wildlife agency, Woody was reportedly involved in the 2014 raid on the Gibson Guitar factory in Nashville, Tennessee. The raid closely echoed those of Operation Cerberus and the Bundy Ranch with dozens of federal agents in SWAT-type vehicles and dressed in body armor descending on unawares citizens with militaristic force. See more here:
Free Range Report has followed numerous accounts of Woody's ethical lapses which include hostile work environment/anti-harassment investigations by the EEO, and broader accusations of misuse of government funds and property investigations by the Interior Department Office of Inspector General (OIG). Why Woody was removed at this specific time is unknown, but the grounds for his removal appear to be more than sufficient. As we have previously reported, Woody's apparent abuses are numerous and broad in scope:
The OIG investigated allegations that a Bureau of Land Management (BLM) official was not authorized to use a Government-owned vehicle (GOV) for home-to-work commuting, traveled to his home state for personal reasons under the guise of work trips, inappropriately interfered in a hiring action to select a lesser-qualified applicant, and planned to relocate a BLM office to another state to personally benefit from the move.
Misuse of a government vehicle while working in D.C.
Fraud in moving a major BLM Office of Law Enforcement headquarters to Salt Lake where Woody's wife's family lives. In a backroom compromise with Secretary Zinke upon Director Woody's removal from the FWS, Director Woody was told he could uproot his entire staff and move it to Salt Lake City, all expenses paid by the taxpayers.
Overruling a senior LE (Law Enforcement) official on a hiring decision for Reno so he could bring in a female with whom he reportedly had a "relationship."
Illegally hiring a female staffer at a top federal pay grade to handle his public relations disasters.
Hiring Dan Love and promoting him following his actions related to Operation Cerberus which lead to the deaths of 3 men in the Four Corners region.
Shielding Dan Love and covering up for his insane expenditures, including $14,000 in vehicle modifications (BLM has $2,500 limit) and extravagant and illegal purchases made for Operation Cerberus.
It is reported that Woody helped Dan Love receive a medical retirement instead of being fired- which leaves the door open for Love to re-enter the agency at any time.
Woody is known for extensive and unnecessary travel for meetings, often with with large groups, and visits to sportsman's shows and other unofficial activities.
Despite a period of hiring freezes in government agencies, Woody continued to hire cronies at exorbitant salaries. Most people in his position get one GS-15, which is the highest pay grade available to federal employees.
Woody reportedly buys the loyalty (and silence) of his agency underlings with unwarranted promotions and fat salaries. According to our informant he is in the process of upgrading all his 60-odd investigators from GS-12's to GS-13's.  With their special salary rate included, that's a $17,347 raise per person. He also promoted 15 or so supervisory investigators, all earning $128,882 as GS-14's ($19,817 raise) and two additional GS-15's, who received a $22,718 raise, which equates to an expenditure of $1,383,511 in additional tax dollars spent each year.
According to our source, the removal of Woody's law enforcement authority makes him ineligible to serve as a BLM cop, and removes all of his personal police powers as well. Although he is likely to get a federal pension, he probably will not receive the additional benefits given to retired federal law enforcement agents. The nature of his ouster infers that Woody's actions have been so egregious that BLM can no longer contain the reports or cover his reputation, and that they are serious about removing this apparent bad actor from power.
Our source will continue to provide us with updates on the matter.
See related content:
INTERIOR INSPECTOR GENERAL CONFIRMS ABUSES BY BLM OLES HEAD, WILLIAM WOODY
BLM'S THUGOCRACY LIVES ON IN WILLIAM WOODY AND SALVATORE LAURO
DESPITE HISTORY OF FAILURES AND CORRUPTION, WILLIAM WOODY BACK AS BLM TOP COP
LUMBER UNION PROTECTIONISTS INCITED SWAT RAID ON MY FACTORY, SAYS GIBSON GUITAR CEO
[i] https://en.wikipedia.org/wiki/Kathleen_Clarke_(Bureau_of_Land_Management)
[ii] http://graphics.latimes.com/utah-sting/
[iii] https://www.washingtonpost.com/news/morning-mix/wp/2017/12/05/pilfered-artifacts-three-suicides-and-the-struggle-over-federal-land-in-utah/?noredirect=on&utm_term=.aadd5c05fb04
[iv] http://archive.sltrib.com/article.php?id=4937025&itype=CMSID
[v] https://www.forbes.com/sites/billfrezza/2014/05/26/lumber-union-protectionists-incited-swat-raid-on-my-factory-says-gibson-guitar-ceo/#82f02e12434a
[vii] https://www.opm.gov/policy-data-oversight/pay-leave/salaries-wages/salary-tables/18Tables/html/RUS.aspx
Published with Permission of FreeRangeReport.com