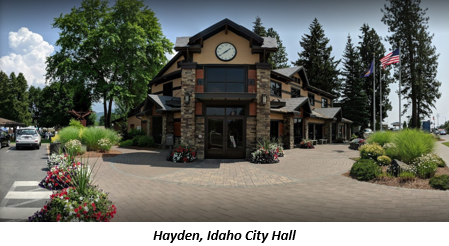 Are Kootenai County Rural Property Owners Subsidizing Law Enforcement in Hayden, Idaho?
By Lori Erickson
Roadsnacks, an offshoot of HomeSnacks.net, combines data from the Census, FBI and other sources that rank States and Cities.  They ranked Hayden, Idaho the 8th most dangerous place in Idaho based on these crime statistics.    Local leftist blogger Dave Oliveria says that Hayden, Idaho is the only Idaho City that doesn't have a dedicated police force.  Hayden's growing population has used the Kootenai County Sheriff's office to protect the growing business communities along Government Way and Highway 95 in addition to the city populace.   Are Kootenai County taxpayers subsidizing law enforcement for Hayden city that includes a growing population and businesses placing the rural property owners at risk for more crime?
The Kootenai County Sheriff's office contracts with 7 cities for their law enforcement.  For our deputies, this means knowing each city's ordinances and nuances that can vary from city to city.  In addition to the Hayden policing contract, the Sheriff's Office also contracts with Athol, Bayview, Dalton Gardens, Harrison, Hauser, and Worley.  That is 7 distinct cities with individual contracts.
Hayden ranks 17 in Idaho by population and cities with less of a populace do have their own law enforcement agency.  Mountain Home, Blackfoot, Garden City, Jerome, Burley, Star, Sandpoint, Hailey, Rathdrum and other less populated cities have their own supported financially by the locals receiving their services.
A recent Personal Records Request revealed that the contract pays the Sheriff Office an annual $285,853 or $23,821 per month.  This contract started in 2017 and is automatically renewed unless either party terminates it.  This provides for an additional 4 deputy sheriff's.  The contract states law enforcement services will be for 24 hours a day, 7 days a week.  It also includes the use of police cars and all the equipment and resources to do the job.   According to leftist blogger Dave Oliveria, the growth in Hayden requires 4 more deputies for 24-hour coverage.  That would be a total of 8 deputy sheriff's.
A recent Hayden city official, Mr. Boyer in a discussion of a levy override states that the city pays for 4 deputies but will need 8 and is not looking to establish its own police force because in doing so, Hayden would need 25 officers.  This begs the questions, are Kootenai County rural property owners subsidizing law enforcement in Hayden?  Roadsnacks believes that Hayden's growing businesses and population is contributing to the high crime rate.   What they didn't mention is Hayden does not have their own dedicated police force but contract with the County's Sheriff's Office.
Perhaps the real issue with Hayden and their City Council should transition in the development of their own local police like the surrounding communities.  Hayden City Council is framing the dialogue to their advantage and in fact is being subsidized by taxpayers in Kootenai County. What a deal!  Perhaps it's time for them to "step up" and do the right thing for their community.
Next year, in 2020, the residents of Kootenai County will need to elect a new sheriff.  This should be an issue for county residents today and also a campaign issue for the sheriff candidates.
The 10 Worst Places To Live In Idaho For 2019 – from Roadsnacks.net
 Hayden is an odd choice for list of Idaho's worst cities – from Spokesman-Review