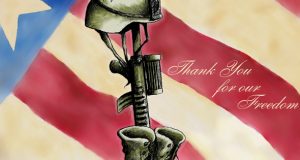 Enjoy the Memorial Day weekend but take a moment to reflect on what Memorial Day is all about
By Dan Weber
On Monday, May 27, the nation will celebrate Memorial Day. "And, while it marks the unofficial start of summer and the promise of much summertime sun and fun, it is also an opportunity for a moment of reflection on what Memorial Day is all about," says Dan Weber, president of the Association of Mature American Citizens [AMAC].
The barbecue grills will be ablaze this weekend as family and friends come together for a celebration. But Weber urges us to take a moment to reflect on what we are celebrating, namely that our nation's citizen-soldiers — men and women — have been willing to make the ultimate sacrifice in defense of their homeland.
We remember the veterans who fought and died for our country on Memorial Day. But, says Weber, we should be grateful for all of the men and women, alive and dead, who chose to put their lives on the line for their country by serving in the military. As General George S. Patton put it: "It is foolish and wrong to mourn the men who died. Rather we should thank God such men lived."   The original "memorial day" was first celebrated on May 5, 1865, and it was called Decoration Day. It was established so the nation could pay its respects to the soldiers who lost their lives in the Civil War. Relatives, friends and neighbors would "decorate" their graves with flowers. Many years and too many wars later, the day was renamed, and in 1971 Congress turned Memorial Day into an official national holiday — to be celebrated on the last Monday in May — to pay tribute to those soldiers, sailors and airmen and women who gave their lives for our freedom.
The Civil War was the bloodiest war fought on American soil. Some 2.4 million Americans fought each other in the War Between the States and 620,000 of them — nearly 25 percent of them lost their lives in the conflict. The Second World War was the bloodiest war of all time. Tens of millions of civilians and soldiers were killed, including 417,000 U.S. soldiers who were part of our country's Greatest Generation.
"But we mustn't lose sight of our fellow countrymen who are putting their lives at risk to protect us right now in far-flung places around the world," says Weber. "Most of us will be out playing with our kids and grandkids this weekend. We'll probably eat a little too much. We'll catch up on the latest doings of our neighbors, friends and family members. We'll be busy celebrating the non-official beginning of summer.  Is it too much to ask that we take a few minutes to bow our heads in tribute to the men and women who gave their lives for us? And, perhaps, you may want to say a little prayer for the safety of those who are in service today."