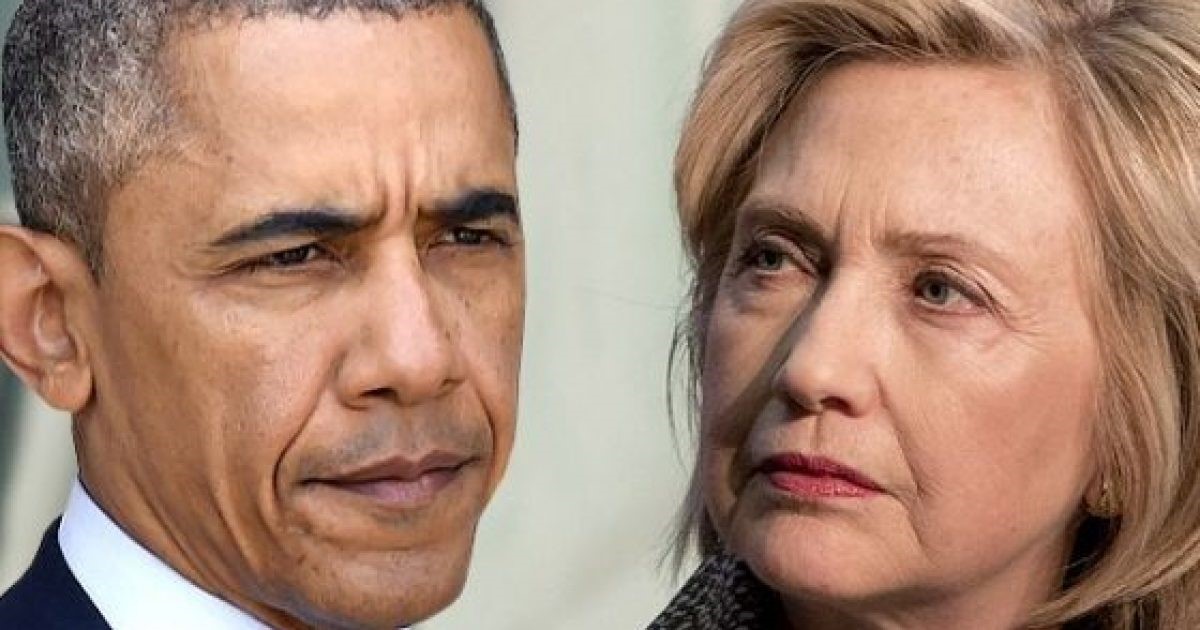 Obama & Hillary Both Got Caught Committing Federal Offenses That Should Land Them in Jail
Will there ever be real justice in this country? If you or I commit a crime, we go to jail. If a President or Former First Lady commit a very large crime, they punish their henchmen and act like the boss did not know what his or her trusted underlings were doing. Two stories emerged late last week and early this week that would be enough to put you or me in jail for a long, long time. But we don't carry the surname of Clinton or Obama.
One week ago, news came out that Barack Obama accepted over 20 million dollars in foreign campaign contributions. Unfortunately, stories that come out on Friday have a way of getting lost.
How convenient…
As I reported earlier this week:
Top of Form
Who are the happiest people?
Bottom of Form
This news broke Friday of last week, but, as is par for the course, it just wasn't big enough news to make most of your trusted news sources. Want proof? Do a Google search. You will find a few of those "red" Newsguard sites covered the story if you dig deep enough in the search results, but the mainstream seemed to mostly ignore this even happened.
From Shepherd Ambellas:
According to reports circulating at the highest levels in Washington, former U.S. President Barack H. Obama's political campaign received at least $21.6 million in illegal foreign campaign contributions during the run-up to the 2012 presidential election.
The U.S. Justice Department announced on Friday that Malaysian businessman Low Taek Jho and former Fugees rapper Prakazrel "Pras" Michel have been charged with conspiracy after allegedly funneling tens of millions of dollars into Obama's campaign fund.
According to David J Harris, "As you are probably aware, foreigners and foreign companies are forbidden by law to contribute to political campaigns. They are especially not allowed to funnel 21.6 million dollars from foreign donors to a campaign. The feds indicted Pras Michel, a rapper for the group 'The Fugees' on Friday for funneling tens of millions of dollars to the 2012 Obama reelection fund. Jho Low was indicted last year on conspiracy charges related to a scam from which he will be facing charges that he bilked investors out of hundreds of millions of dollars. Low provided the money to Pras Michel."
Here is the DOJ Report, in full:
Entertainer/Businessman and Malaysian Financier Indicted for Conspiring to Make and Conceal Foreign and Conduit Contributions During 2012 U.S. Presidential Election
A United States entertainer and businessman and a Malaysian financier were charged  in a four-count indictment unsealed today in the District of Columbia for conspiring to make and conceal foreign and conduit campaign contributions during the United States presidential election in 2012, announced Assistant Attorney General Brian Benczkowski of the Justice Department's Criminal Division.
Prakazrel "Pras" Michel, 46, and Low Taek Jho, 37, also known as "Jho Low," were charged with one count of conspiracy to defraud the United States government and for making foreign and conduit campaign contributions.  Michel also was charged with one count of a scheme to conceal material facts and two counts of making a false entry in a record in connection with the conspiracy.  Michel appeared today for his arraignment before U.S. Magistrate Judge G. Michael Harvey in the District of Columbia.  Low remains at large.
…
If you missed that story, you can read it in full here.
Not to be outdone, Hillary accepted money from her, soon to be imprisoned, buddies at the NXIVM sex cult. I wonder if they passed a hat around at one of their business meeting orgies?
It was an incredibly large hat, it would appear.
Ethan Huff uncovered this story and we reported it on Monday:
A former publicist for the infamous sex cult NXIVM has come forward as a whistleblower to tell all that he knows about the evils he witnessed while working for the group – and perhaps more importantly, to reveal the identities of some of the corrupt politicians who were also involved.
During an exclusive interview on The Campaign Show with Patrick Howley, which airs on Patriots Soapbox, Frank Parlato discussed the trial of Keith Raniere, NXIVM's cult leader and top dog. Parlato also talked about how Raniere and other NXIVM leadership were very closely aligned with Hillary Clinton, having given "illegally bundled money," to quote Big League Politics, to her 2008 presidential campaign.
According to Parlato, NXIVM routinely trafficked in teenage girls from Mexico, who were then turned into sex slaves and physically branded on their bodies with Raniere's initials. And unbeknownst to millions of Americans are the many mainstream politicians who, at the very least, appear to have known that this was going on – and some of whom may have also been perpetrators themselves.
As it turns out, Democrat senator for New York and 2020 presidential contender Kirsten Gillibrand has been called out for her close "family ties" to the NXIVM sex cult. Gillibrand's father and stepmother, who are second cousins, were both heavily involved with NXIVM before they married. Gillibrand's father, Doug Rutnik, is also a former employee of NXIVM.
According to Big League Politics, Gillibrand's father functioned as a broker between Raniere, NXIVM's leader, and then-New York attorney general Eliot Spitzer, who had been working at the time to "resolve" Raniere's "financial problems with the state" – this, according to Joseph O'Hara, another ex-employee at NXIVM-turned-whistleblower.
You can read the rest of that story by clicking here.
Please note that it wasn't just Hillary that was aligned with these perverts. Kirsten Gillibrand was getting her freak on, as was good ole Chuck Schumer. This scandal runs very deep and it is just starting to unravel.
So what do we do?
Hillary and Barack Obama just committed crimes that are very imprisonable while a sex cult and some guy who bundled foreign funds for Obama will take the fall.
I'm not about to say they should not, but in America, it never goes all the way to the top. It might get close but if We the People can't see Obama and Hillary investigated and potentially prosecuted then it simply means that our elected officials aren't doing their jobs.
Shame on you President Trump. You promised us you would seek to put Hillary where she belonged. You are still promising but nothing is getting done. Why don't you add Obama, let them share a cell and declare yourself dictator?
If you got those 2 things accomplished, I'm pretty sure most of America would be just fine with that.
Well, America doesn't need a dictator, but we do need elected leaders who will do what they promise and I'm still waiting, but my patience is growing thin.
It's time to get loud again Patriots.
The time for silence is over.
LOCK THEM UP!
Article posted with permission from Dean Garrison
From: FreedomOutpost.com