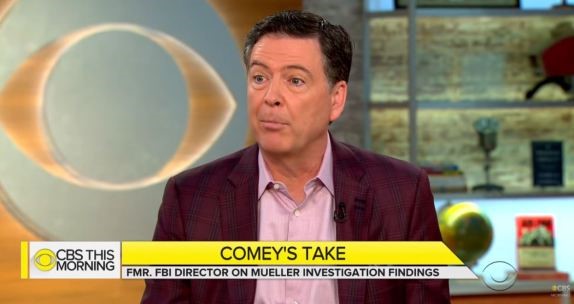 Comey Is Ultimately Screwed
By CHQ Staff 
Our friend, former U.S. Attorney Joe DiGenova had a pithy assessment of where Attorney General Bill Barr's investigation into whether the Obama-inspired spying on President Trump and his campaign were properly predicated: "Comey is ultimately screwed," said DiGenova.
DiGenova was on Fox with Rudy Giuliani and ran through some information he received from friends at the Department of Justice:
The Horowitz report is coming out in May or early June. There's another report that everyone has forgotten about involving James Comey alone. That will be out in two weeks. That report is going to be a bombshell. It is going to open up the investigation on a very high note and there are going to be criminal referrals in it.
According to DiGenova the FISA Court has already turned the information over to Attorney General Bill Barr. Joe DiGenova is a very smart guy, so we doubt he would stake so much of his credibility on a claim like this, if there weren't strong evidence it is true.
Plus, DiGenova isn't the only guy reporting on the Indian signs being picked up around DOJ that Comey is in trouble.
Maria Bartiromo of Fox Business recently interviewed Carter Page, the volunteer Trump campaign advisor who was targeted, here's a segment from that interview:
MARIA BARTIROMO: Were you colluding with the Russians? Were you colluding with the Russians to try to get Donald Trump elected?
CARTER PAGE: You know, I never — I have always followed the law, both in this country and everywhere and, you know, it's interesting because not one thing — you know, I probably spent more time than any Trump supporter that's known in Russia in 2016, not one time did anyone ask he me to do anything I'll illicit, illegal, even unethical in any way.
MARIA BARTIROMO: You have plenty of courses, this has been your business, you've worked with the FBI before, you worked with intel agencies before about surveillance. So you were a friend of the FBI.
CARTER PAGE: Not only was I a friend. I also did it as an upstanding American citizen.
MARIA BARTIROMO: Service to your country.
CARTER PAGE: For free. Service to my country. I was not paid one cent. As Judicial Watch has uncovered through their court proceedings and FOIA requests, 11 payments to this guy Steele in 2016, at the same time he's getting funneled money undercover through this law firm, Perkins Coie, to do this opposition research and basically funnel it back into the — eventually into the FISA court.
MARIA BARTIROMO: So your name gets involved and you become a target of Fusion GPS and this dossier. Your name gets into the press as a result of them leaking these stories and you start getting death threats. Your life changes completely.
CARTER PAGE: Absolutely. You really have to kind of keep — go low profile. Basically living an international fugitive lifestyle. And the sad part about it is, Maria, I tried telling Director Comey about this, sent him a letter on Sunday, September 25th, 2016, right after that Yahoo News article. And saying — calling this thing a witch hunt and just nothing — they did nothing. The months that followed, in October and in January he sends two false affidavits to the FISA court, abuse of process in a U.S. federal court.
MARIA BARTIROMO: So as a way to get a warrant from the FISA court to wiretap you and when you wiretap you, you're not just getting phone calls, you get all the communication. Explain what wiretapping is.
CARTER PAGE: What's interesting about it is, I think these fake media outlets are trying to spin this as, well, he left the campaign. I took a leave of absence from the campaign but all the people I was working with, all the people I knew said, you know, you're definitely still part of the Trump movement, you know. So I was a big supporter and unfortunately the people I stayed in touch with all of our communications — not just wiretap. I got hacked for over a year. They talk about a couple of Podesta e-mails and DNC e-mails. All of my communications with open members of the Trump team, Trump supporters, were all intercepted, illegally, based on these false affidavits by people like Comey and Dana Boente and all these guys.
MARIA BARTIROMO: You were never charged with anything.
CARTER PAGE: Not only was I never charged, I — all these witch hunt interrogations I went through with Mueller's band of angry Democrats and these various Senate and House committees, they never even asked me one question, which even comes close to doing anything illegal in terms of things I actually did.
Finally, there is this report by investigative journalist John Solomon in an op-ed for The Hill:
If ever there were an admission that taints the FBI's secret warrant to surveil Donald Trump's campaign, it sat buried for more than 2 1/2 years in the files of a high-ranking State Department official, reported John Solomon.
Deputy Assistant Secretary of State Kathleen Kavalec's written account of her Oct. 11, 2016, meeting with FBI informant Christopher Steele shows the Hillary Clinton campaign-funded British intelligence operative admitted that his research was political and facing an Election Day deadline.
And that confession occurred 10 days before the FBI used Steele's now-discredited dossier to justify securing a Foreign Intelligence Surveillance Act (FISA) warrant to surveil former Trump campaign adviser Carter Page and the campaign's ties to Russia.
One member of Congress transmitted the memos last week to the Department of Justice's inspector general, fearing its investigation of FISA abuses may not have had access to them.
Nonetheless, the FBI is doing its best to keep much of Kavalec's information secret by retroactively claiming it is classified, even though it was originally marked unclassified in 2016, noted Solomon.
The apparent effort to hide Kavalec's notes from her contact with Steele has persisted for some time.
But what was discussed was not revealed. Sources told Solomon more than a year ago that Kavalec had the most important (and memorialized) interaction with Steele before the FISA warrant was issued, but FBI and State officials refused to discuss it, or even confirm it.
The encounter, and Kavalec's memos, were forced into public view through Freedom of Information Act (FOIA) litigation by Citizens United. Yet, all but a few lines have been redacted after the fact. Officials are citing as the reason national security, in the name of the FBI and a half-century-old intelligence law.
David Bossie, head of Citizens United and an informal Trump adviser, said the documents suggest there was an illegal effort to "frame" the future president with bogus Russia collusion allegations. "This new information proves why the attorney general must conduct a thorough investigation of the investigators," he said, according to Solomon.
Sources tell Solomon there also are handwritten notes from the meeting, with information about Steele's political ties that have not been given to Congress. "There's a connection to Hillary Clinton in the notes," said one source who has seen them.
Perhaps those will come to light soon.
The mere three sentences that the FBI allowed State to release, unredacted, show that Kavalec sent an email two days after her encounter with Steele, alerting others.
"You may already have this information but wanted to pass it on just in case," Kavalec wrote in the lone sentence the FBI and State released from that email. The names of the recipients, the subject line and the attachments are blacked out, reported Solomon.
Interestingly, one legal justification cited for redacting the Oct. 13, 2016, email is the National Security Act of 1947, which can be used to shield communications involving the CIA or the White House National Security Council, observed Solomon.
The three sentences visible in her memo show that U.S. officials had good reason to suspect Steele's client and motive in alleging Trump-Russia collusion because they were election-related and facilitated by the Clinton-funded Fusion GPS founder, Glenn Simpson.
"Orbis undertook the investigation into the Russia/Trump connection at the behest of an institution he declined to identify that had been hacked," Kavalec wrote, according to Solomon's reporting.
At the time, the Democratic National Committee (DNC) was the highest-profile victim of election-year hacking.
"The institution approached them based on the recommendation of Glenn Simpson and Peter Fritsch (specialists in economic crime, formerly of the WSJ) and is keen to see this information come to light prior to November 8," Kavalec wrote. "Orbis undertook the investigation in June of 2016." Steele's firm Orbis was a subcontractor to Fusion GPS, and WSJ refers to The Wall Street Journal, said Solomon.
Everything else in the memo was redacted. The FOIA notes contain this explanation for the redactions: "Classified by FBI on 4/25/2019 — Class: SECRET."
In other words, the FBI under Director Christopher Wray classified the document as "secret" just a few days ago. To add injury to insult, the FBI added this hopeful note: "Declassify on 12/31/2041." That would be 25 years after the 2016 election, noted Mr. Solomon.
There are only two reasons we can think of to retroactively classify the Kavalec Memo: One is to try protect the CIA or the Obama White House National Security Council, or James Comey and the FBI; the other is to preserve the integrity of an investigation of the CIA or the Obama White House National Security Council, James Comey and the FBI. Either way, it looks bad for Comey.
Published with Permission of ConservativeHQ.com