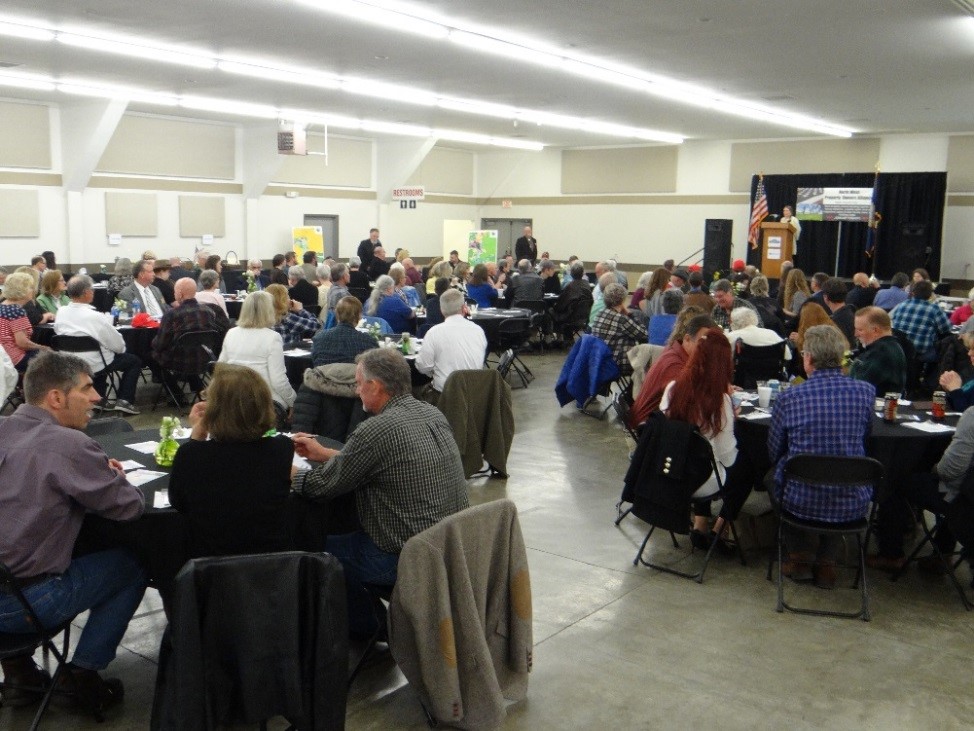 NWPOA Commemorates Attorney Norm Semanko's Big Wins for Region's Citizens
By Rich Loudenback
The Northwest Property Owners Association (NWPOA) held their annual dinner and auction for 2019 at the Kootenai County Fairgrounds on Saturday, April 27.
North Idaho Director for newly elected US Congressman Russ Fulcher, Tim Kastning, gave the opening prayer.  Prior to his invocation he called everyone's attention to the fact that all of our coins have the words 'In God We Trust' and 'Liberty' stamped on them.  When he asked if anyone knows where the word liberty comes from?  Many in attendance answered 'from God.'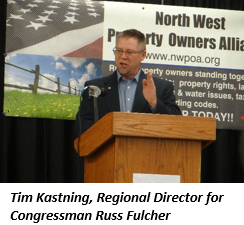 He then quoted from the Declaration of Independence "We hold these truths to be self-evident, that all men are created equal, that they are endowed by their Creator with certain unalienable Rights that among these are Life, Liberty and the pursuit of Happiness."
"I think of a lady that stands in New York Harbor that we call the Statue of Liberty with her torch raised to the sky giving light and direction to those who came to this country seeking liberty and freedom. In our Pledge of Allegiance we recite the words 'With liberty and justice for all.'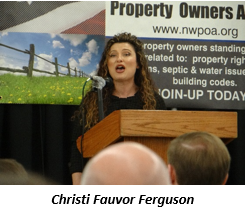 "Tonight we are assembled to be part of the Northwest Property Owners Alliance that was created to support and defend our liberties and our property rights. This is an important organization that serves our county and the people of North Idaho.
Following the prayer local singer Christi Fauvor Ferguson sang the national anthem and then led the audience in singing America.
NWPOA Chairman Jeff Tyler opened with explaining who they are, what they do and why they need to raise funds.  His comments then covered their mission statement which can be seen on their website and he introduced their board members.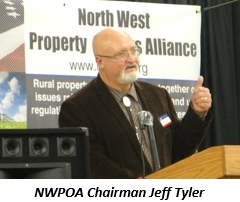 NWPOA Mission Statement:  We have fought and continue to fight for your water rights on Lake Coeur d'Alene. ​ We got the word out regarding the proposed acquisition of Avista by Hydro One.  We educated the people of Hayden on the levy increase that didn't make sense, and the levy was not passed.  We will continue to take up property and privacy concerns in defense of property owners in the Northwest (Idaho, Washington, Oregon, and Montana.)  Awe strive to keep property owners appraised of local and regional issues affecting them.
We Welcome people from all walks of life and political parties to become a member of NWPOA. We are an all-volunteer organization.  We depend on the participation of our membership and their financial contributions to help us solve the problems land owners face. ' 
Current board members are: Jeff Tyler, Kimberly Tanner, Linda LittleJohn, Summer Bushnell, Steve Adams, Michael More, and Rodger Garlock.
​Tyler acknowledged the board members by asking them to stand to be recognized.
"The focus of our organization is to mobilize the people in the community. It seems to be a consensus that people are having a hard time finding a way to organize because of their busy lives.  So that's our work. We try to give everyone a chance to plug into our efforts. We have an email list of over a thousand names and over 2000 followers on social media to help us get the word out. All this combined has influence in what we do.
"We believe there's a need for an organization that can rally the troops if needed. Property rights are probably the most important rights.  How would we have freedom of speech and religion if our government could take our property if we didn't or say or believe what is politically correct? How do we protect our families if our property or firearms is taken from us? How do we feed and shelter our families if our property of income is are overtaxed? These are the reasons we exist at NWPOA. Our number one focus is to keep members informed on issues so we can deal with them. There is power in numbers."
He said another way to get numbers is through alliances such as they enjoy with CAPR (Citizens Alliance for Property Rights) over in Washington, the Kootenai County Republican Central Committee (KCRCC), 'This West is Our West' in Montana, The John Birch Society (JBS) and North Idaho Water Rights Alliance (NIWRA).
WIN # 1
Tyler reminded everyone of their biggest success to date in winning the water wars with the tribes pointing out that one person can make a difference and the powers in numbers and subsequent funding can win. He stated that they had over 200 members who filed objections enabling them to be in the lawsuit with the tribe.  Had they not acted we would be sending our exorbitant water bill payments to the tribe.
An interesting aside here.  This writer reported on their 2017 dinner, quote: "Attorney Semanko reported there were 364 claims to the lake, tributaries, ground water and all kinds of things that were filed by the federal government on behalf of the Coeur d'Alene tribe and on behalf of the Forest Service and other entities. And over 300 different people and local governments filed objections to those 364 claims. He stated that when you add them all up, that's almost a 100,000 objections and it overwhelmed the court. He also said the court was kind of blown away by that, as was the tribe. 'At the first settlement discussion we had, they were basically complaining out loud about how much we had done,' stated Semanko."
Reinforcing Tyler's strength in numbers point, also, at that 2017 dinner, prominent Kootenai County business leader Brent Regan stated "We Can Stop a Lot by Being Big and Strong."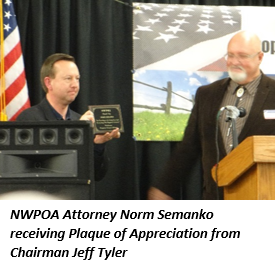 Having succeeded extrodianrly on almost all of the water litigations with the tribes and then this last fall almost single-handedly putting a stop to the purchase of Avista by Canadian owned Hydro One on behalf of the Avista Customer Group, which NWPOA was a large part of, Norm Semanko was clearly the man of the hour.  NWPOA chairman Jeff Tyler on behalf of all the organization's members brought Semanko up to the podium to award him a plague commemorating NWPOA's gratitude for succeeding on their behalf. ​The plaque's inscription read: 'Thank you Norm Semanko for excellence in litigation and protecting the region's citizens.' – Northwest Property Owners… deservedly drawing a long standing ovation from appreciative members.
Tyler reminded everyone that the ongoing cost of legal bills, the venue for the meeting, and other operational costs must be paid so he encouraged all present to participate in the evenings auction as well as just outright donating to the cause with a check.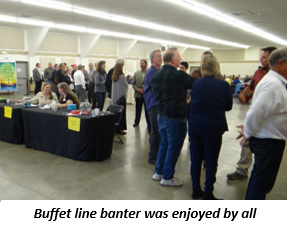 After dinner attorney Norm's Semanko gave a report to the very interested assemblage.  "Last year we were able to get the United States to stipulate to two things that are very important. The tribe didn't necessarily agree with it but these things were reflected in the judge's decision and I think they're going to be decided a different way in the appeals, they weren't even raised.
"Number one, the tribe, the United States on behalf of the tribe, will have no water rights claims outside the current reservation boundary.
"Number two, most of us know about the US Supreme Court opinion with regard to submerged land, in the lake, on the reservation. The tribe has maintained that they own the lake outside of the reservation, the rest of the lake. The US stipulated that that's not the case and the court recognized that it's not subject to appeal. Ownership of the lake outside of the reservation, the tribe and United States, can have no claims to that after we're done with adjudication.
"Where are we really? If you live in a certain place, if you need water to drink or to do your business, those are issues on the reservation which leads to their rights to groundwater versus surface water and the court will decide that.
"The bigger issue is on the rest of the reservation, particularly the tributaries that flow into the lake, is there free flow. Will there be a minimal level in the lake for the benefit of the United States and the tribe. Those things with minimum  free flow, that lake level, that will dictate whether it's your water use in the tributaries and the springs that feed the tributaries that ultimately feeds these minimum free flows which are virtually impossible to meet in the summer, whether that's going to mean, you're shut off. Because you're right is Junior and inferior to that right. The court will decide.
WIN # 2
Semanko then spent some time recounting the progression of events involving the attempted takeover of Avista by Canada's Hydro One. He pointed out that all the normal interests and groups required to approve the deal are actually those that would benefit from such a deal and they were quick to sign-on as approving it even before the public hearings were held. He said everything was going well and being touted as a 'done deal' until a hearing in Coeur d'Alene where an entire room full of Avista customers started putting the brakes on the deal and announced the formation of the Avista Customer Group with Semanko as a legal counsel.
As result of that meeting there was what must have seemed to the Idaho Public Utilities Commission an overwhelming number of written objections to the merger necessitating the commission to postpone their decision to a later date in December.
In the meantime Semanko was successful in getting intervenor status and as such after prudent research on Idaho's rules for such mergers he ultimately presented to the commission the point of law stating no government can own such a utility which eliminated Hydro One's hopes since the province of Ontario, Canada is the controlling shareholder.  Semanko said "There is a statute in Idaho passed in 1951 that says a state cannot acquire a public utility in the state of Idaho. That law prohibits the Canadian company from coming in here, period."
Avista customers should be grateful that they will not be sending American dollars to another country for our power bills.
Norm Semanko finished by saying that none of this would have happened without the formation of the Avista Customer Group and its support by people and groups like NWPOA which drew large applause.
Keynote Speaker: Martha Boneta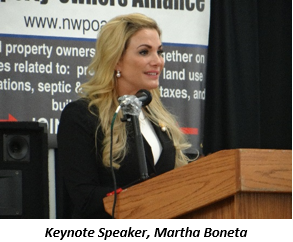 The keynote speaker for the event  was Martha Boneta who owns Liberty Farm in Paris, Virginia.
Her bio is impressive and her speech (video below) was enthralling.
Martha Boneta is a native Washingtonian (DC), Policy Advisor, political strategist and a nationally recognized Commentator on politics and current affairs.
Martha Boneta was appointed as the Executive Vice President of Citizens for the Republic (CFTR), founded by Ronald Reagan in 1977 to relaunch CFTR in 2017 with several veterans of the Reagan Administration. Martha remains an advisor to CFTR.
Martha was recognized as one of "America's Most Amazing Women" by Country Woman Magazine and was inducted into the National Capital Friends of the NRA Hall of Fame in 2017. In 2019, Martha was chosen as the featured cover story of Christian Times Magazine and later asked to join CTM.
The Virginia General Assembly, honored Martha Boneta with a Joint Commendation from both the House and the Senate recognizing Martha for her significant contributions to the Commonwealth and nation in 2016.
Martha was awarded "Unsung Hero" by CRTV in 2018 for fighting back against burdensome over regulation.
Martha has two bills named after her in the oldest legislative body in the nation, The "Boneta Bills" I & II that protect property rights and cut burdensome red tape and over regulation.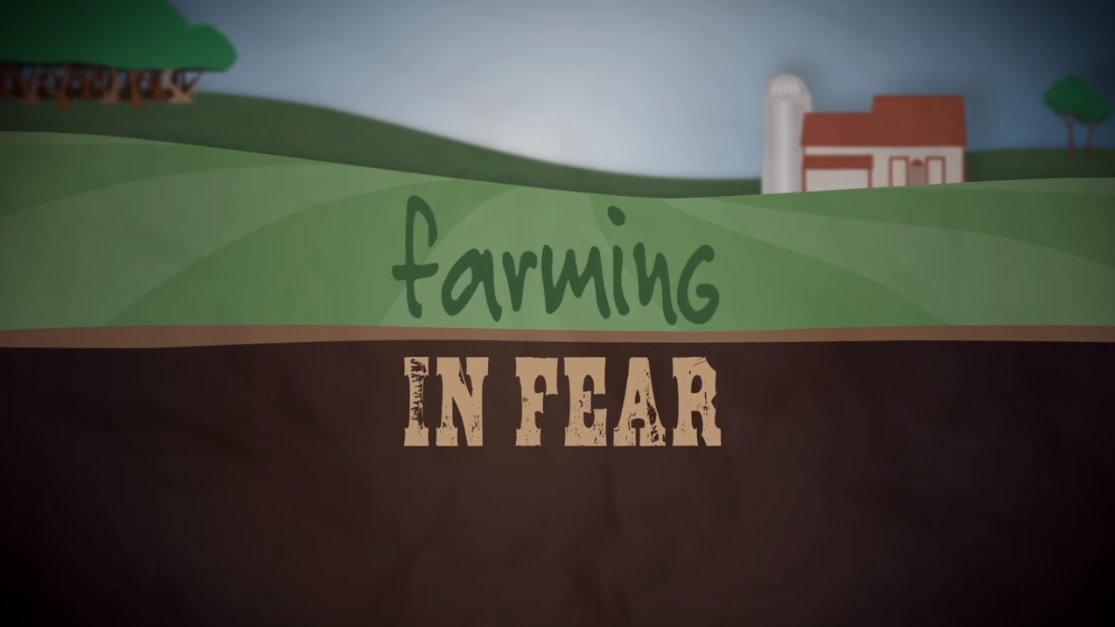 Martha is also the subject of a documentary film "Farming in Fear" commissioned by the Charles Koch Institute that received the People's Choice Award and Anthem Film Festival and numerous other awards and recognitions. This documentary film is now screened in universities across the nation since 2014.
Martha is the Associate Producer of Christian Times Magazine and the Chairman of the MEWC. Martha has also been appointed on several advisory boards and is a Co-Chair of the Trump-Pence 2A Coalition.
Today, Martha speaks all over the country to corporations, universities, business communities, political organizations and many other entities about a variety of topics including current government affairs, public policy, the environment and energy.
Martha Boneta is a frequent co-host on several radio talk shows and contributes to various media.
EDUCATION:
Martha graduated from St. Mary's Catholic School in Old Town Alexandria, Notre Dame Academy in Middleburg, George Mason University for undergraduate school, Martha received her Juris Doctor law degree from George Mason University Antonin Scalia Law School.
Martha also attended the Strauss Institute at Pepperdine University School of Law in Malibu, where she studied Alternative Dispute Resolution.
CAREER:
Immediately following law school, Martha worked in government relations and advocacy in Washington, DC that propelled her career as strategic account executive at Reed Elsevier for the Mid-Atlantic Region and Thomson Reuters in the Washington, DC Metropolitan area.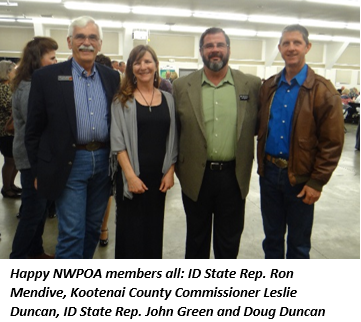 Martha is the Founder of the Piedmont Agriculture Academy (PAA), Liberty Hall Livestock Rescue and has been on the Board of Directors for the Virginia Independent Consumer & Farmers Association (VICFA), Small Family Farm Foundation (SFFF) and has represented the Farm to Consumer Legal Foundation (FTCLF) advocating legislation and various other organizations.
Martha Boneta has been on the Board of Directors for various organizations including MEWC, Moms for America, KVB and numerous others across the country.
Martha is also on the Board of Governors for the Council for National Policy (CNP).
Martha has been a Principal at Capital Keys, regarded as one of Washington, D.C.'s top public affairs firms and a Senior Policy Adviser to America First Policies.
Martha is the founder and President of Victory Coalition Strategies, LLC. representing corporations, non-profits and organizations around the world.
MEDIA:
Martha provides commentary on news and policy and has appeared on various shows including Fox & Friends, Fox Business, Trump TV with Lara Trump, Neil Cavuto, Greta Van Susteren's On the Record, The John Stossel Show, Virginia Farming, PBS, WUSA9, as well as featured in several other news, print media and radio programs. Martha has been on the cover of magazines including The Christian Times Magazine, read all over the world.
Today, Martha speaks all over the country and the world on a variety of issues.
Martha's Speech: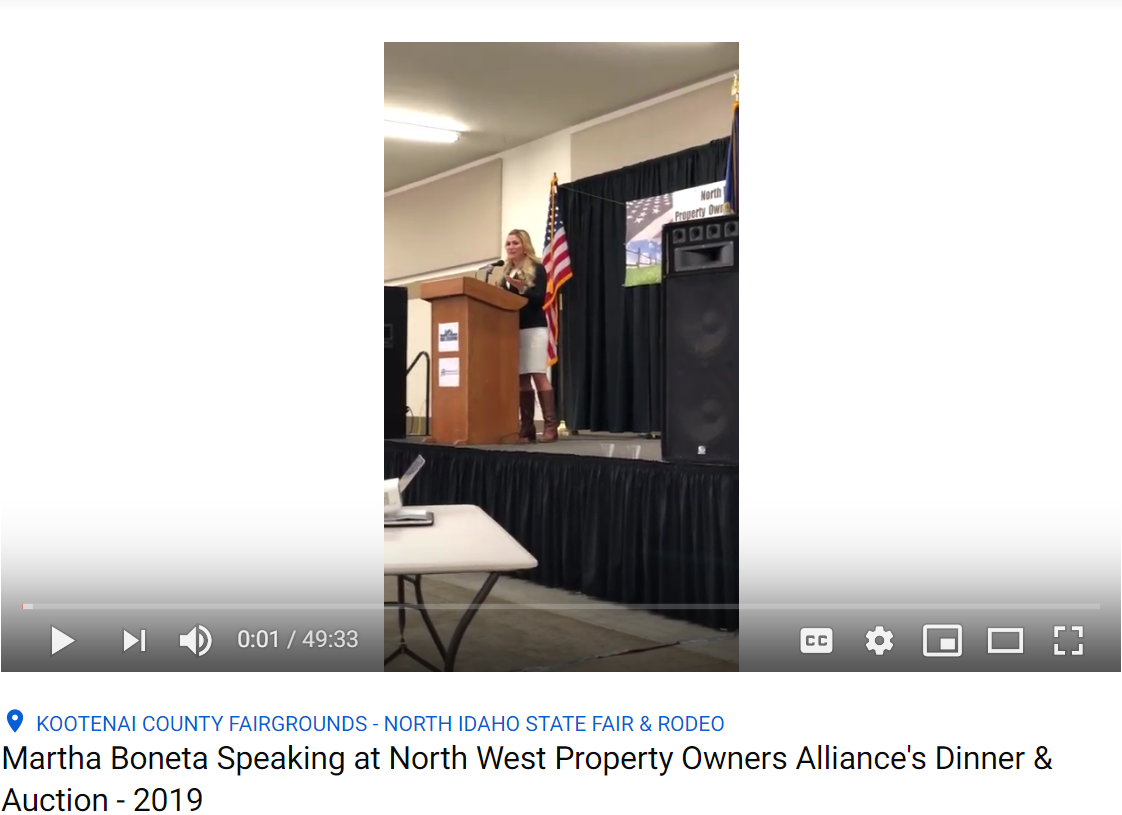 At the end of the night Jeff Tyler, stated he was very pleased with both the turnout which was similar to last year and particularly the level of interest given to the report presented by their attorney Norm Semanko and the message given by guest speaker Martha Boneta owner of Liberty Farm in Virginia.
"Also we're doing well with the suit against the tribe and the federal government protecting our water here. We should know in the next week or two an outcome to that effort as well. As Norm says, 'They can affect our lake level but they can still go after our stream flows which affects a lot of things.  Even though we won the majority of the suit, the appeal still could have some consequences.
"We had a lot of new people show up for the dinner which we are always pleased to see.
"Martha Boneta and Norm and I all emphasized in our speeches the importance of people joining together in the power there is even in one person. One person can make a difference and as a group we can make an even bigger difference. I'm encouraged that we been able to do that with our social media and in with our emails.  The folks that showed up here are as a direct result of these efforts and give us the numbers to be able to make a difference and have influence on our elected officials and getting things done to protect our property rights and our freedoms
"We're thankful to all the members who showed up and we accomplished a lot this year by participating in the struggle against Hydro One taking over Avista and winning that very important battle.  Our association attorney Norm's Semanko's effective effort was most largely responsible for this important win for members.
For more info on NWPOA go to: nwpoa.org  or NWPOA on Facebook