Every now and again, a good idea succeeds in Olympia
Report from Olympia | April 11, 2019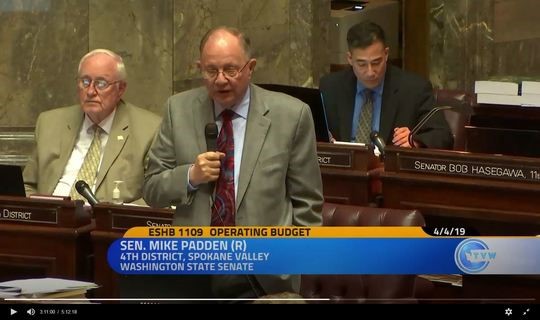 To see debate on Senate floor amendment regarding heroin injection sites, click here or on video above.
A few pleasant statehouse surprises as Legislature works toward the finish
Not everything in Olympia is gloom and doom
Dear Friends and Neighbors,
Make no mistake, this has been a troubling legislative session. Our urban Puget Sound colleagues are in the majority, and they are driving a debate on enormous spending increases and big tax hikes to pay for them. The Legislature also is considering many proposals that would expand the scope and power of government, at the expense of the individual. But not everything in Olympia is gloom and doom.
Over the last week or so, we've scored a number of smaller-scale victories. This week I'll tell you about them. One came as a complete surprise – and it certainly was a pleasant one.
Whenever the House or Senate debates a budget on the floor, the minority party offers a series of amendments. Nearly always these are rejected. People's minds are usually made up before our debates begin, and these amendments serve mainly as a reproach to the majority, and an opportunity to force members to take tough votes. But every now and then the extraordinary occurs – and the force of the argument carries the day.
That's what happened last Thursday, when we debated the budget proposal offered by Senate Democrats. I offered an amendment that would forbid state money from being used for heroin injection sites. This idea, under serious consideration in King County, is perhaps the best example of misguided compassion we have seen in recent years. Enabling heroin addicts to inject themselves under medical supervision offers government sanction to a most destructive form of drug addiction. Certainly it would add to the growing burden of Seattle's homelessness problem.
After I finished offering the amendment, the Senate Democrats' budget lead rose to speak. She declared it was something the entire Senate could support, and urged everyone to vote for it. The amendment promptly passed on a voice vote.
It just goes to show that a good idea can carry the day, and that there are reasonable people on both sides of the aisle. Now we just need to persuade our colleagues that fiscal responsibility is a good thing. That may be a tougher nut to crack.
Sincerely,

Senator Mike Padden
Valley projects get nod in transportation budgets
Proposals fund Pines underpass, Barker to Harvard project 
The House and Senate have passed competing proposals for a $10 billion transportation budget, covering road projects and other spending for the next two years. The big news for the Spokane area is a $183.5 million appropriation to continue construction of the North-South Freeway, contained in both budgets. But there are a couple of other projects for the 4th District that are worth noting.
The House version of the budget provides $2.9 million to build a Pines Road underpass at a BNSF rail crossing near Trent, and improve the intersection of Pines and Trent. The state appropriation would pay a portion of the cost.
Meanwhile, the Senate version of the budget provides $18 million in 2019-21 for the Barker to Harvard project – a plan to improve interchanges on I-90 and local feeder streets in the vicinity of Henry Road.
Negotiators for House and Senate will have to reach agreement on a final proposal, and we will be working with our counterparts in the House to ensure these important projects for the Valley are funded.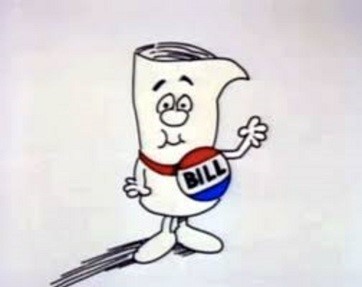 Human trafficking bill goes to governor
The House Wednesday passed a bill I have sponsored that would make it easier to prosecute human trafficking crimes involving children. Senate Bill 5885 would allow "hearsay" testimony from children under age 16 to be used in court proceedings. This measure aims to spare children the trauma of testifying in open court in these particularly troubling cases, and could aid in the prosecution of a most reprehensible crime. The measure enjoys strong support from Washington prosecutors and Shared Hope International, a non-profit organization founded by former U.S. Rep. Linda Smith to combat human trafficking. The bill passed unanimously and now goes to the governor's desk for signature.
It is among a flurry of bills that are being passed by the House and Senate as we approach the last of the Legislature's self-imposed deadlines. By next Wednesday, the Senate must pass all bills sent us by the House, and vice versa, if they are to remain alive for further consideration. Action on other bills I have sponsored includes:
School threat notification — Also passed Wednesday by the House, Senate Bill 5514 requires first responders to notify public and private schools in their vicinity when there are security threats that could warrant a lockdown or evacuation. The measure passed the House unanimously and proceeds to the governor.
DUI look-back – The Senate Transportation Committee passed House Bill 1504 Tuesday, and left intact a provision that would extend the look-back in DUI cases to 15 years. This was part of a strategy to revive a bill I had sponsored yet failed to advance. By extending the look-back from the current 10 years, we allow courts to consider a greater number of prior offenses when issuing sentence. This gives us two paths to success. The Senate operating budget also provides funding for this proposal, and it references the original bill, SB 5299, meaning that the measure could be revived as "necessary to implement the budget" when the final budget deal emerges.
Coroner subpoena authority – The House Tuesday unanimously passed Senate Bill 5300, which would give county coroners the ability to subpoena documents in death investigations. Coroners say they are often stonewalled in requests for records during routine investigations. This sometimes forces them to take matters to the formal-inquest level, where they do have subpoena authority. The bill passed the House with amendments, meaning that it must return to the Senate for concurrence or negotiation on a final bill.
Banning discrimination for organ transplants – The House Tuesday unanimously passed SB 5405, which would prohibit developmental disabilities from being the sole reason for denial of an organ transplant. Cases in other states show that people with developmental and intellectual disabilities are frequently the target of discrimination, despite a general prohibition in the federal Americans With Disabilities Act. We shouldn't wait for a high-profile case to happen here. This bill was amended in the House and must return to the Senate.
Mediation of disputes between county officials – SB 5560 would require elected county officials to try mediation before taking disputes to court. This would avoid the spectacle of costly court battles in which the people who foot the bill – the taxpayers – always wind up the loser. This bill has passed the Senate and survived a committee vote in the House, and was advanced Tuesday to the floor calendar in the House, meaning a vote could occur at any time.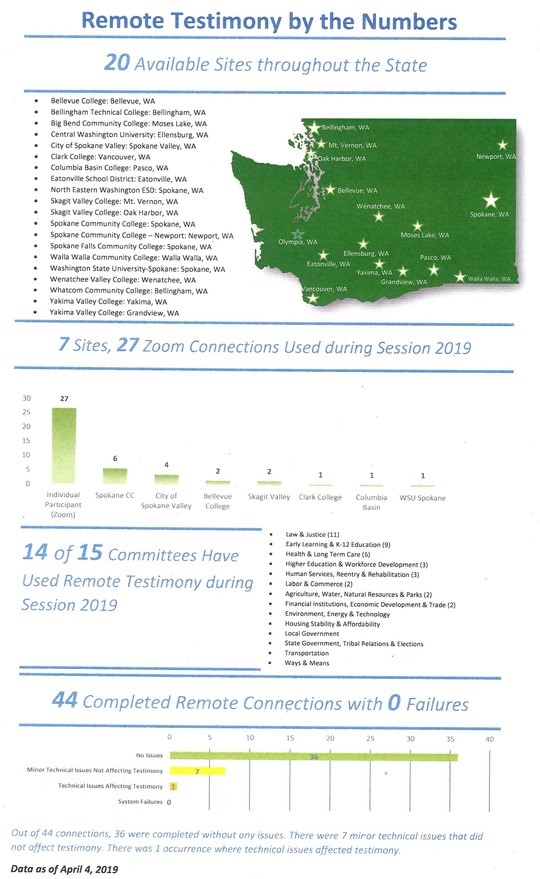 An encouraging trend in remote testimony
The packed house in the Spokane Valley City Council chambers March 29 for testimony on this session's vaccine bill offers us a reminder of the importance of remote testimony. Dozens of Eastern Washington residents were spared the need to travel hundreds of miles across the mountains to testify on one of this session's most controversial measures. And it was a good thing, too, because so many people signed up to testify in the Olympia hearing room that each person was limited to a minute apiece.
Scenes like this are becoming commonplace in the Senate, the direct result of our efforts since 2015 to improve our technology and establish satellite locations around the state where remote testimony may be offered. The graphic above, prepared by Senate staff, shows that we are using our new closed-circuit television facilities to a greater extent than ever before.
The House has been slow to adopt this new technology, a point that led many in the past to speculate that there may be partisan reasons. The House has been led by Seattle-area Democrats for nearly 20 years, while remote testimony is of greatest benefit to outlying districts, which more frequently than not are held by members of the other party.
The continued expansion under Democratic control of the Senate appears to debunk that notion. Further proof is offered by passage in the House last month of House Resolution 4621, which encourages the House to pursue a remote-testimony pilot program, and to review other civic engagement tools used by the House. This bipartisan resolution was sponsored by 59 of the House's 98 members.
Remote testimony seems simply an idea whose time has come. Sometimes in politics a good idea can succeed simply because it is a good idea.
Shadowing the Senate
| | | |
| --- | --- | --- |
| Last week it was my honor to meet Derek Tresner, a most impressive young man in his senior year at Central Valley High School. Tresner is interested in a career in the public arena. But he is too old to be a page, too young for a Senate internship. We invited him to join us for a few days in Olympia, over his spring break, to see the Legislature in action. We were glad to have him. Tresner's sharp wits and industriousness make him someone to watch in the years ahead. | | |
Thanks to Belle Miranda for serving as a Senate page!
This week it was our privilege to host Isabella Miranda as a Senate page. Isabella, who goes by "Belle," is an eighth grader at St. Mary Catholic School. She is the daughter of Greg and Christy Miranda of Spokane Valley. We had the pleasure of hosting her sister Vanessa as a page in 2017.

The Senate Page Program offers youths age 14 through 16 a chance to work in the Legislature for a week and learn how the institution functions. If you know of someone who might be interested, more information can be found here.
Contact us!
We're in Olympia for the duration. If you have a question or concern about state government, please do not hesitate to contact our office. We are here to serve you!
Phone: (360) 786-7606
Street address: 106 Irv Newhouse Building, Capitol Campus, Olympia, WA 98504
Postal address: PO Box 40404, Olympia, WA 98504
Email address: Mike.Padden@leg.wa.gov