Report from Olympia |  April 4, 2019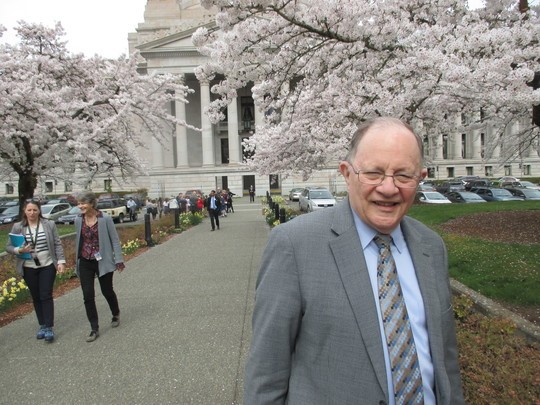 Of budgets and blossoms, and a taxing argument we can do without
By Washington Senator Mike Padden
Democratic budget proposals set up debate over an income tax
Dear Friends and Neighbors,
When it's cherry blossom time in Olympia, we know our session is near its end – or at least it ought to be. The Capitol is surrounded by cherry trees that blossom every year around this time. The trees have a message for the Legislature. It's time for us to start wrapping up our business and get ready to adjourn.
This year the Legislature is supposed to finish by April 28. But whether we will go home on time is entirely up to our Western Washington colleagues who control the House and Senate this year. The Legislature still must pass a budget, and a big argument is brewing. Last week Democrats in both chambers proposed budgets that overspend the state's tax collections by billions of dollars. Both versions would require enormous tax increases. But there is a difference on a key detail. The House proposal requires a new income tax on capital gains, and the Senate proposal doesn't.
Many of us are not impressed that we might be stuck here watching our colleagues debate a proposal to force an income tax on the people of the state. Never mind that an income tax is unconstitutional and that the voters have rejected the idea nine times. There's also the fact we don't need a tax increase in the first place. We're going to be collecting $50.6 billion in taxes over the next two years, a remarkable $5 billion increase since the last time we wrote a budget, just two years ago. We have enough to continue every current program, meet every legal obligation, and still have a couple billion left over.
This year our colleagues have the votes to pass nearly anything they wish, and they have been talking about the urgent need for a tax increase for so many years that they seem to have convinced themselves it must be so. Even in this year of plenty, when there is no urgency whatever.
The argument is absurd enough, but it would be even worse if the Legislature is kept in overtime to resolve it. The next three weeks are going to be very interesting. Meanwhile, there's plenty of other business going on in the Legislature – read on for more.
Sincerely,

Senator Mike Padden
Honors for a hero
Senate recognizes Hall of Famer Edgar Martinez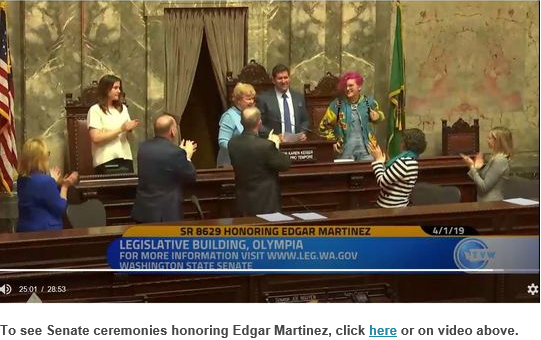 To see Senate ceremonies honoring Edgar Martinez, click here or on video above.
All of us in the Legislature were baseball fans on Monday when former Mariner Edgar Martinez visited the Senate. The greatest designated hitter of all time, Martinez was inducted into the Baseball Hall of Fame in January, and will be honored in July with a ceremony at Cooperstown, N.Y. Martinez, born in Puerto Rico, followed in the footsteps of the late great Roberto Clemente, and enjoyed an outstanding 18-year career in Major League Baseball. All of it was spent with the Mariners organization, a rarity in baseball. Martinez could hit just about anything. He set records for home runs and RBIs by a designated hitter, and baseball has named its designated hitter of the year award for him. His good works for charitable organizations earned him the 2004 Roberto Clemente Award for outstanding baseball skills and devotion to the community.
It was our honor in the Senate this week to honor Martinez' achievement with a resolution, and it was an even greater one to shake the man's hand when the ceremony was over. Martinez is one of baseball's class acts, a hero of the sport, and an inspiration to the state.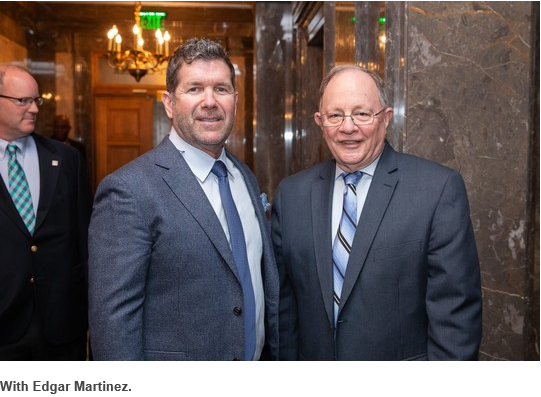 No enthusiasm for tax increases in the 4th District
Thanks to everyone who participated in our survey last week! We asked about the House budget, the first of the budget proposals to be released, but the response was so overwhelming that we can deduce a trend. With 96 percent of people responding that they are opposed to tax increases, the message is clear — the 4th Legislative District is no fan of this year's budget proposals.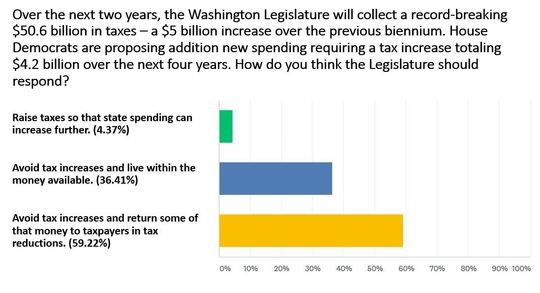 Sex education hits a brick wall in the House
This was another deadline week for the Legislature – by Wednesday House policy committees were supposed to pass all bills that originated in the Senate, and vice versa. One of the most controversial bills of the session may have been a casualty – a proposal for a state-mandated sex-education curriculum that would start in kindergarten.
When SB 5395 came before the Senate in February it provoked one of the biggest debates of the session. The measure would eliminate the ability of local school districts to devise their own programs, and force them to teach a program designed by bureaucrats in Olympia that reflects the values that prevail in urban Puget Sound. This measure died without a vote in the House Education Committee. House Democratic leaders apparently are unenthusiastic about a bill that would cause deep resentment throughout the state. Sponsors are scrambling to find a way to revive the bill, but for now it appears the state might be spared this most troubling mandate.
Vaccine proposal draws crowd in Spokane Valley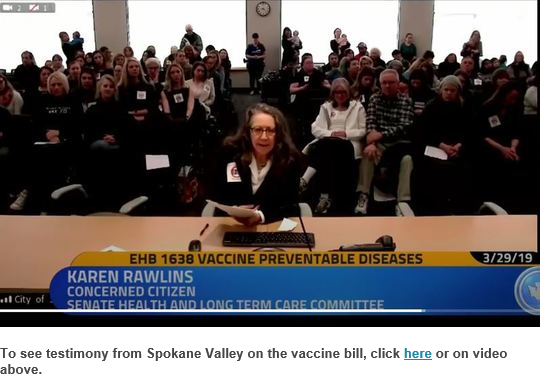 To see testimony from Spokane Valley on the vaccine bill, click here or on video above.
Another hugely controversial proposal this year demonstrated the value of remote testimony. This option is increasingly being used in the Senate to give people from the far-flung communities of the state a chance to participate in our debates without driving to Olympia. The Senate hearing room was packed last Friday as the Senate Health and Long-Term Care Committee took testimony on a bill that would tighten up the state's vaccination requirements for schoolchildren. Another large group assembled in the city of Spokane Valley, at the city council chambers, some 382 miles away by car.
HB 1638 eliminates this state's personal exemption from vaccination requirements, and takes choice away from students and parents. The size of the crowd showed us how strongly the people of Spokane Valley feel about it. By taking testimony remotely, we spared many a long drive and gave people a voice. For the record, the committee passed the bill this week and sent it to the Senate Rules Committee, to be scheduled for a vote on the floor. I remain concerned.
Trouble for measure cracking down on auto theft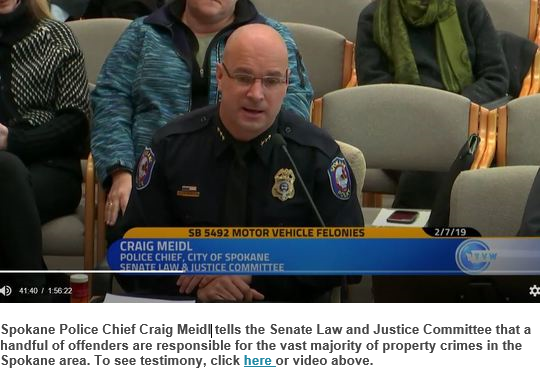 Spokane Police Chief Craig Meidl tells the Senate Law and Justice Committee that a handful of offenders are responsible for the vast majority of property crimes in the Spokane area. To see testimony, click here or video above.
The Spokane area is a national hotspot for property crime, particularly auto theft. One of the reasons almost certainly is that Washington is one of the few states that does not require community supervision for property offenders after their release from prison. This year I am a cosponsor of a bill that would allow courts to sentence car thieves to as much as a year of supervision. Unfortunately, the bill is threatened by an amendment made by a House committee.
Spokane-area officials have led the effort for the bill. In testimony before the Senate Law and Justice Committee, Spokane Police Chief Craig Meidl said the vast majority of auto thefts are committed by a handful of repeat offenders, many of whom have been arrested and convicted dozens of times. Supervision would allow community corrections officers to offer guidance on job placement, education and other opportunities – and help keep felons on the straight and narrow.
Here's the hitch. To ensure this measure does not increase the state's costs, we had to dial back a bit on prison terms. A four-month reduction in a prison term pays for a year of supervision. So the original version of SB 5492 reduces prison sentences by a third when felons enter supervision programs. The House Public Safety Committee amended the bill so that it cuts sentences in half.
There is a justification for a one-third reduction, but not a half. The defense-attorney lobby is arguing that defendants need a significant incentive to accept community supervision when they are offered plea bargains. As if getting out of prison early isn't enough. Judges need to buy into this, too, and if community supervision means repeat felons won't serve much time behind bars, the idea just isn't going to fly. Watch for debate on this issue when the bill resurfaces in the Senate.
Bills in play
Last week I mentioned that my bill extending the look-back on DUI cases was revived by the Senate Law and Justice Committee. This measure allows courts to consider convictions within the last 15 years when sentencing repeat offenders; current law permits only 10. Though the bill did not survive a deadline last month, we were able to attach it as an amendment to a House Bill on DUI, HB 1504. The Senate budget proposal also contains money to fund the original measure, SB 5299, so either bill could provide a pathway forward.
Other bills I have sponsored that remain in play are:
SB 5300 – Providing coroners with additional subpoena authority in death investigations.
SB 5405 – Prohibiting discrimination against the developmentally disabled in organ transplants.
SB 5514 – Requiring law enforcement agencies and other first responders to notify schools of potential nearby threats, allowing them to take appropriate action.
SB 5560 – Requiring mediation of disputes between elected county officials, reducing costly court battles.
SB 5885 – Cracking down on human trafficking by allowing courts to accept out-of-court statements from children under the age of 16.
Contact us!
We're in Olympia for the duration. If you have a question or concern about state government, please do not hesitate to contact our office. We are here to serve you!
Phone: (360) 786-7606
Street address: 106 Irv Newhouse Building, Capitol Campus, Olympia, WA 98504
Postal address: PO Box 40404, Olympia, WA 98504
Email address: Mike.Padden@leg.wa.gov
________________________________________
To unsubscribe or make other changes to your subscriber preferences, click here to access the subscriber preferences page. You will need to use your email address to log in. If you have questions or problems with the subscription service, please contact subscriberhelp.govdelivery.com.
This news comes to you from Sen. Mike Padden.