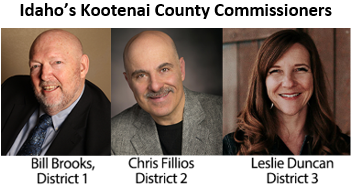 Idaho's Kootenai County BOCC Opting Out of 'Opt Out' Revealed
By Sheepdog
The recent Kootenai County Board of County Commissioners special meeting regarding the discussion on Opt-in or Opt-out of some building codes, proved to be an exercise in futility for rural property owners. The focus should have been on local government overreach that extracts more money and more control of our property.
The local government building inspector is no better (and could be worse) than hiring a private business to inspect your building. There are NO guarantees that a county building inspector will provide the assurances needed. In fact, there are many people in the county that have been financially harmed by illegal land use rulings by the Community Development Department! These are the rural landowners that need their story told.
The meeting started out with Commissioner Filios establishing the rules of order and forcefully pointing out the four Kootenai County Deputies, two at each door that would insure his idea of order. I'm sure these Deputies were paid with your tax dollars at an overtime premium too.
Many people provided cogent reasons for keeping the opt-out portion of the building codes intact. Unfortunately, since two of the County Commissioners are Real Estate Agents, you need to know who really supports them and an expanded government.  Mr. Brooks' campaign finance report shows that he received funds from the Idaho Association of Realtors and the North Idaho Builders PAC. So far $1,000.00 each could buy elections. Mr. Filios and wife are both realtors in the county and obviously have a vested interest.  Kootenai County has over 1,231 registered Real Estate agents. Who is really behind this and other local governmental expansions?
Every elected official and appointed head of a county department has an association behind it that directs its path in local governance using global guidelines.  All are supporting the International Building Codes. See the links below for their mission statements and global affiliations.
Idaho Association of Building Officials
https://www.idabo.org/membership-region/north-chapter-north-idaho-code-enforcers
ICC International Code Council
https://www.iccsafe.org/about-icc/global-services/
Idaho Realtors
https://idahorealtors.com/gri-2019/
North Idaho Building Contractors Association NIBCA
http://nibca.memberzone.com/groups/GroupRoster/nib-pac-committee-7
Idaho Association of Counties AIC
http://idcounties.org
Associated General Contractors of America
https://www.agc.org
Association of Idaho Cities AIC
https://idahocities.org/?
Idaho Building Contractors Association
http://ibca.org
Idaho Fire Chiefs Association
http://idahofirechiefs.org
That is to name a FEW.  It's all about controlling your property that you are privileged to pay higher and higher taxes on.  Oh and about taxes, Idaho is a non-disclosure state for your property assessments.  HOWEVER, it seems that our local Assessor's Office uses the Real Estate MLS to estimate your property's value. If your neighbor's house for sale is priced 10% over market value it doesn't matter because your property will be taxed at the higher rate.  The sale price is not figured in to your market value. For investors that don't receive a homestead exemption, that means that they are paying the higher value too.
Who really runs the County? Become informed about the processes and write letters to the editors regarding your concerns. Get organized, because if you don't, just look at the associations that are salivating over your property rights.
"A government that is big enough to give you all you want is big enough to take it all away" – Barry Goldwater