Idaho Legislative Update March 15,  2019 from Rep. Priscilla Giddings – District 7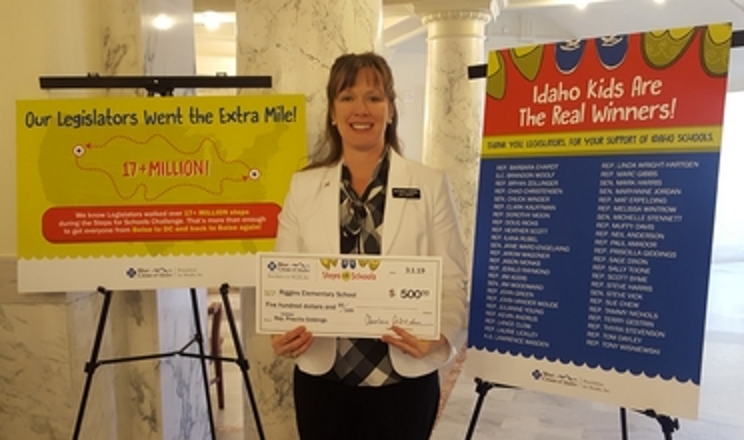 Funding bills flew through the House this week. The House's version of the school funding formula died in the Senate Education Committee, and the Senate introduced a new bill with a different version of the funding formula that can be viewed here. Opponents are concerned that it does not provide a funding mechanism for the career ladder (teacher pay). It doesn't look like a new formula will get through the legislature this year, which some school officials view as good news.
The Blue Cross sponsors an activity for legislators, the Steps for School Challenge. This year, I was awarded a $500 check for my participation, which I am sending to Riggins Elementary School. Over the past three years, I have been able to send Steps for Schools winnings of $4000 to District 7 elementary schools; thanks Blue Cross! This program is very gratifying for me; I've always thought it was important to encourage our kids to stay active, and I feel even stronger about it now that I am a new mom.
________________________________________
Hot Issues: Please give me your feedback
Listed below are some of the hot topics being discussed at the capitol. I want to represent what the people of rural Idaho and District 7 think, not the special interests of the Treasure Valley. Take a minute and email me your thoughts on these issues.
School Bond Super Majority: Article 8, Section 3 of the Idaho Constitution requires more than 2/3 of voters to approve a school bond. This week only 3 of 9 bonds across the state passed the 66% threshold. Opponents are frustrated that only Idaho and Tennessee have this super majority requirement. Since 2006 when HB1 created a school funding tax shift, the number of local bonds and levies skyrocketed. This issue comes up annually, yet there hasn't been enough support to change the constitutional provision. Do you think the problem is with the super majority requirement, or the overall school finance formula?
Taxing Electronic Cigarettes: On Monday, House Democrats will submit a proposal to the House Revenue & Taxation Committee requesting a 15% tax on electronic cigarettes. The use of electronic cigarettes has been creating large revenues for some Idaho business owners. Many people use e-cigarettes to help curb their nicotine addiction, but opponents claim the fad is developing bad habits for youth. Do you think this new industry is worthy of a "sin tax"?
Internet Retailers Tax: H259 addresses a complicated taxing issue that developed after the Supreme Court decision South Dakota vs. Wayfair. It will provide new authority for the state to collect sales tax directly from out-of-state internet retailers. While this change will help Idaho businesses, the bill funnels proceeds into a special Tax Relief Fund instead of the General Fund (from which schools, roads and health care are funded).
The Tax Relief Fund was established several years ago, but it doesn't have any revenue in it yet. Some think that these funds would create a special savings account to help promote a future grocery tax repeal, but there are currently no restrictions on expenditures from the Tax Relief Fund. You can read more about it from the Idaho Center of Fiscal Policy's perspective here. Thoughts?
________________________________________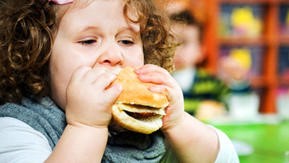 Facts I've Learned:
* 115 Americans die every day from opioid overdose.
* 25,000 Idahoans over the age of 65 have been diagnosed with Alzheimer's.
* 1 in 3 Idaho children is overweight or obese.
________________________________________
Get Involved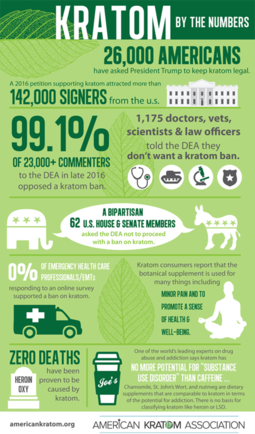 Kratom advocates provided a free showing of the documentary "A Leaf of Faith" this week. Kratom is a plant from the coffee family that grows in Southeast Asia. It has been used there for centuries as a tea to help manage pain. Recent studies have shown that it helps treat opioid addiction as well, but over the past few years the DEA and FDA have been working to make it illegal. Some states are regulating it and a few have outlawed it. Do you think it should be regulated or outlawed in Idaho?
________________________________________
The GOOD — The BAD — The UGLY
+ GOOD: Idaho just received full authorization from NOAA for our steelhead fisheries. Fish & Game will send out a press release today. The best part is that areas where steelhead fishing was suspended are now open, and we are no longer under the threat of a lawsuit for conducting the fisheries without Endangered Species Act "take" authorization.
– BAD: H88 died by 1 vote on the Senate floor. It would have provided additional funding for highway districts. I wish a few of those Senators would have driven Hwy 55 in the last few months to experience firsthand how much our highways need additional funds.
–UGLY: H251 gives the state treasurer the ability to store monies somewhere other than the Capitol's historic vault. Changing the language removes the Treasurer's only statutory authority to remain in the Capitol. This will ultimately force her to move her office out of the Capitol so that some House members can get bigger offices. This morning the bill passed the House State Affairs Committee by 1 vote.
________________________________________
Budget Bummers
We all know that money has influence; even more so in state government. During session I will track the money and keep you informed about budget concerns. This week:
$ The House approved a total of $656,414,600 in spending on appropriations bills.
The entire FY20 budget spending will be close to $9 billion. You can see a list of all the appropriations bills linked here (scroll down to the word "appropriation").
$ S1158 doubled the public defender budget (from $5.8 to $11.5 million) and passed the House and Senate with only a dozen dissenting votes.
$ The Joint Finance & Appropriations Committee approved a supplemental for $10.6 million to move the Treasurer's office out of the Capitol and provide some House members with private offices.
________________________________________
Rep Priscilla Giddings
District 7
Committees:
• Revenue & Taxation
• Agricultural Affairs
• Commerce & Human Resources
Email: pgiddings@house.idaho.gov
Facebook: https://facebook.com/Priscilladistrict7/
"When you can't make them see the light, make them feel the heat." ~Ronald Reagan
State Capitol | P.O. Box 83720 | Boise, Idaho 83720-0081 | (208) 332-1033
District 7 | P.O. Box 43 | White Bird, Idaho 83554