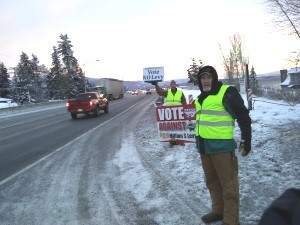 The Whopping School Levy for Lake Pend Oreille School District
By Dan Rose
 On Tuesday, March 12th, the Lake Pend Oreille School District wants to boost their supplemental levy by a whopping 49% to $25.4 million that is an $8.4 million increase from the previous $17 million levy.
This levy will be followed by another facilities levy of $39 million, per the hired engineer, in the next year, and is already in the Facility Committee planning stages, contrary to Superintendent Woodward's disclaimer!
Once again, the supplemental levy vote is scheduled for March 12th when snow birds are gone and most people are unaware there is an election.
My informal survey finds that few people know of this March 12th election.  We need to get the word out.  I suggest forwarding this email to associates family and friends and advise them.   Conduct your own survey by asking co-workers "have you heard of the March 12th tax increase election?"
Beep in support of those standing AGAINST the Levy!
Otherwise only those benefitting from the levy – school employees, their families and friends – will turn out to vote.  The rest of us will be saddled with yet another significant property tax or rent increase.
Caution: The school district cannot shut down any school because of this levy failure.   A school closure shall (must) be put on the ballot, per Idaho Code, so do not fall for the school administration fear tactics.  A re-election for a more reasonable levy amount is available on May 21, 2019.
There is a website for information, www.lposdlevy.com  It will provide the details on the levy which the school district likes to downplay or doesn't want to talk about.
You can help to defeat this levy.  Here's how:
Share this email with those you know.
There is a GoFundMe site for radio ad donations: https://www.gofundme.com/vote-against-the-lposd-levy