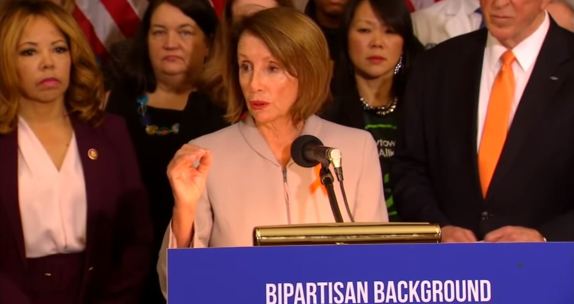 Democrats Rush To Criminalize Gun Ownership
By CHQ Staff
Our friends at Gun Owners of America recently sent out an alert about HR 8, the House Democrats' first gun bill of the 116th Congress, saying, "Nancy Pelosi and her anti-gun team are either profoundly stupid or genuinely evil," and after reading the anti-Second Amendment legislation Democrats are rushing through Congress, we're going with genuinely evil.
As GOA's Eric Pratt explained, with HR 8, Pelosi and her gun-hating cronies have crafted a "Universal Background Check" bill with dozens of trap doors that could, if enforced to the letter, put millions of gun owners in prison.
Specifically, the bill outlaws the "transfer" of a firearm without a Brady Check. While this includes private sales, it by no means is limited to that.
The term "transfer" is nowhere defined says Pratt, but it's clear from the bill that handing your gun to a neighbor for as little as one second is a "transfer" unless you're covered by one of the bill's so-called exceptions.
So, if you show off your new gun to your neighbor in your living room, and hand it to him to look at, you're a criminal, and can go to federal prison for up to a year.
But as onerous as this provision is, the worst part consists of the Universal Gun Registry the bill would create.
Under HR 8, says Pratt, since every gun transfer will go through a dealer, every gun owner will have a 4473.
We know that the ATF, in connection with annual inspections conducted under federal law, is increasingly copying these forms to its database in a centrally accessible format. See examples here.
So, here's the problem says Pratt: if everyone has a 4473, everyone is potentially in the database.
But that's just the beginning of the problems with HR 8, because after the bill was "marked-up" last week, things got even worse.
Following on the heels of last week's Judiciary Committee hearing on HR 8, our friends at the National Rifle Association's Institute for Legislative Action (NRA-ILA) the same committee held a markup, where amendments and corrections to HR 8 could be considered.
Unfortunately, reports the NRA-ILA, the markup was clearly designed to allow the anti-gun Democrats who control the Judiciary Committee to grandstand and promote attacks on law-abiding gun owners, rather than consider efforts to combat violent crime.
It was clear from the outset that the anti-gun Democrats had no interest in considering reasonable approaches to addressing violent crime reported the NRA-ILA.
The committee's Ranking Member, Republican Doug Collins (GA-9), offered the first amendment to the bill, which sought other approaches to combating crime rather than "universal" background checks, which study after study have shown to be ineffective, or their effectiveness inconclusive. His amendment was simply dismissed as not germane, without any discussion of its merits.
Republican Representative F. James Sensenbrenner (WI-5) offered the next amendment. It simply sought to add to the list of exemptions from the "universal" background check requirements anyone who possessed a valid permit to carry a firearm.
Adoption of the amendment would have still left the bill as an anti-gun mess, notes the NRA-ILA, but it was a reasonable proposal considering carry permit holders already undergo a background check in order to obtain their permits. The anti-gun majority made clear they were not interested in anything reasonable, and the amendment was defeated.
But the worst part was the Sensenbrenner amendment was attacked by anti-gunners on the committee with ridiculous arguments and inaccurate information.
Committee Chair Democrat Jerrold Nadler (NY-10) objected because not all states that issue permits to carry firearms require any training, even though the "universal" background checks mandated by HR 8 have no training requirements.
The NRA-ILA reports Democrat Representative David Cicilline (RI-01) objected because, according to him, some states have no issuing requirements for permits, which is patently false. Other anti-gun legislators falsely claimed that some states that issue permits after an applicant has submitted to a background check don't check an applicant's criminal history.
This process repeated itself throughout the day, observed the NRA-ILA, with other amendments seeking to make even minor improvements to a monumentally bad piece of legislation being rejected similarly, either voted down or ruled not germane, by the anti-gun majority and Chair. This even included simple amendments that merely sought to put a cap on the fees that could be charged for a "universal" background check.
The NRA-ILA reports that the Chair even spoke out against an amendment that sought to exempt victims of domestic violence from "universal" background check provisions of HR 8 by raising the concern of "evidentiary standards" when determining if the victim is actually a victim, even though anti-gun politicians have consistently refused to acknowledge "evidentiary standards" when promoting legislation to strip gun owners of their firearms.
We urge CHQ readers and friends to call their Senators and Representatives TODAY. The toll-free Capitol Switchboard is (1-866-220-0044) tell them that HR 8 is not a crime prevention bill, but a bill to make criminals out of law-abiding firearms owners. Tell them that you support the Second Amendment and that the phrase in the Second Amendment "shall not be infringed" means what it says.
Published with Permission of ConservativeHQ.com