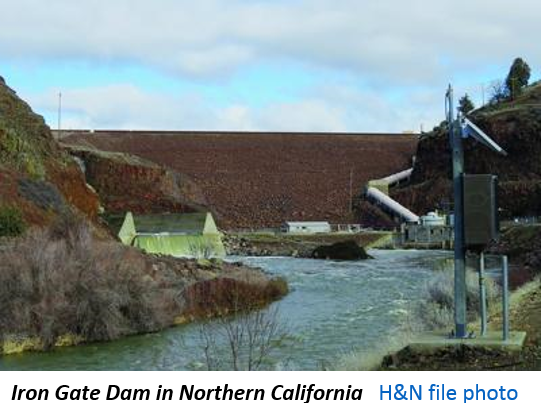 Dam removal contractor holds Q&A
By Gerry Obrien
One of three lead contractors in the running for the proposed removal of four Klamath River hydroelectric dams is holding a subcontractors Q&A meeting for the public on Tuesday, Jan. 29.
Granite Construction, with corporate offices in Watsonville, Calif., will host the meeting from 9 to 11 a.m. at the Washington Federal conference center, 5215 S. Sixth St.
It is also holding a Q&A at the Best Western Miner's Inn, 122R Miner St., in Yreka, Calif., the same day from 3 to 5 p.m.
"Knowing the importance of community involvement in the project, Granite understands the need for connecting with the region's constituents, sharing the company's approach to building the work, and listening to the community's perspective on the project's local impacts," the company said in a press release.
"Granite's commitment to providing work to local businesses and job seekers, as well as other constituents, is strong; engaging local knowledge and expertise will be critical to the successful renewal of the Klamath River environs, fish habitat and quality of life of the area's inhabitants."
The company has assembled a team of industry experts who will address the many facets of the project at the upcoming meetings.
Removal of the four dams is believed to be the biggest such project in the West, tentatively scheduled to start in 2021, with a cost approaching $400 million.
The other two contractors vying for general contractor are Kiewit Infrastructure West and Barnard Construction Co. based in Bozeman, Mont. A decision on the main contractors is expected this spring.
Published with Permission of HearaldandNews.com