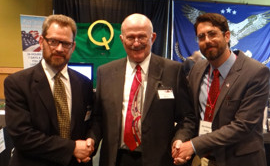 Welcome to Inland NW Report at InlandNWReport.com
By Rich Loudenback
This photo was taken in the summer of 2018 at G. Edward Griffin's Red Pill Expo in Spokane, WA. These are my two heroes William F. Jasper, senior editor (left) and Alex Newman, International Correspondent (right) for The New American magazine and thenewamerican.com. I am the guy in the middle.
I will not pretend to compare my efforts to their incredible performances but I know this Report should aim high and will simply try to matter.
Inland NW Report is going to concentrate on the obvious area the name connotes. As our bi-line states Inland NW Report will be 'Focusing on What America Is About.'
Joining me in writing and reporting are a few patriots I admire and know I can count on who will be showing up in future articles.
The 'Other Sites' logos are live links to other Constitutionally conservative publications I believe in and admire where our readers can spread their wings to get as much education as possible about what America should be about and reality.
Please click on the 'Overview of America' 29 minute video and encourage others to do the same. It will remain static so your friends can find it easily anytime.
Feel free to contact me at the bottom of the page with comments or questions.
Before you leave check out my other two sites:
SocialismToday.info with over 300 articles TOTALLY DEBUNKING SOCIALISM!
RedPillPatriots.com reaching out to younger Americans
Thank you for your indulgence and come back often.
In liberty,
Rich L