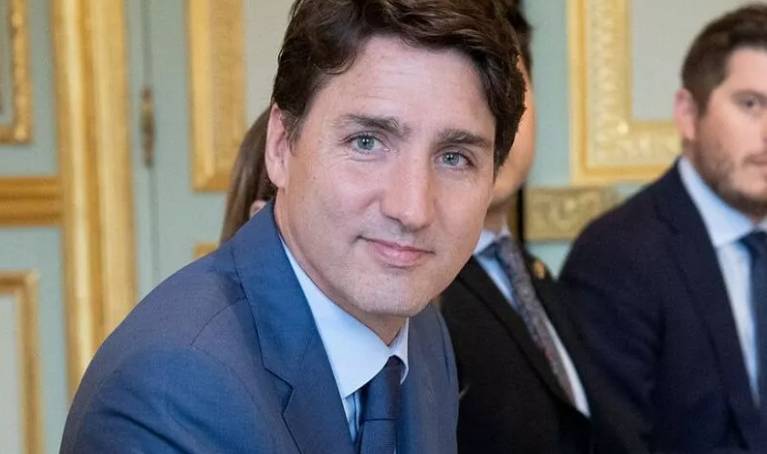 Canadian Prime Minister Justin Trudeau meets with French president Emmanuel Macron at the Elysee Palace in Paris, on June 7, 2019. (Pierre Villard/Pool/Abaca Press/TNS)
Trudeau freezes handgun sales in Canada 'from now on'
Canadians can no longer buy, sell or transfer handguns, and cannot bring newly acquired handguns into the country, Prime Minister Justin Trudeau has announced.
This is a breaking news story. Please check back for updates as more information becomes available.
"Update: People can no longer buy, sell, or transfer handguns within Canada – and they cannot bring newly acquired handguns into the country," Trudeau tweeted Friday.
The "national handgun freeze" is part of a major gun control law that's still being debated in Canadian parliament, however Trudeau's administration is already "taking immediate action" to put the handgun freeze in place.
"Canadians have the right to feel safe in their homes, in their schools, and in their places of worship," Trudeau stated. "With handgun violence increasing across Canada, it is our duty to take urgent action to remove these deadly weapons from our communities. Today, we're keeping more guns out of our communities, and keeping our kids safe."
Applications to buy, sell, or transfer handguns submitted before Oct. 21, the date of the announcement, will still be processed.
Limited exceptions on the freeze will apply to "high-performance" sport shooters and people who carry handguns in legal lines of work, according to the announcement. Businesses such as gunsmiths, the film industry and museums will also be exempted.
The wider gun control law being worked on now would also implement a new red flag law, expand the ability to revoke licenses, and increase penalties for firearms trafficking and smuggling, according to a government summary.
The handgun freeze follows Canada's earlier measures to ban more than 1,500 types of assault-style firearms, as reported by CBC, and expand background checks, as reported by CityNews Toronto.
"We made a commitment to Canadians that we would act – and we are," said Minister of Public Safety Marco Mendicino. "The national freeze will tackle the alarming role of handguns in crime, gender-based violence, and more. We are using all tools at our disposal to fight gun violence and will not rest until all Canadians feel safe in their communities."
"Quick facts" included in Trudeau's announcement include that handguns were used in most firearm-related violent crime from 2009 to 2020, and that there are 70 percent more handguns in the country now than in 2010.
The announcement states that a nearly $1 billion investment in gun control since 2016 contributed to a record number of gun seizures at the Canadian border last year.