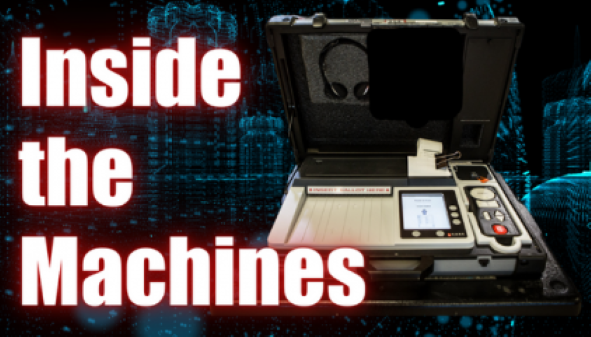 Inside the Machines
FacebookTwitterTelegramEmailSMSCopy Link
Related Content
Validated Forensic Disk Images
The downloads are two forensic image files created from a Dominion voting machine. The two files are very large in size represent a before (EMSSERVER.E01 – 18.9 GB) and after (EMSSERVER_v2.E01 – 19.1 GB) of a single Dominon voting machine. Due to the large size of these files and depending on your Internet connection speed downloading these files may take anywhere from a few minutes to a few hours. The remainder of this article will detail what specifically is included in the download, how to use the downloaded files to perform your own analysis.
What's Included
Click the name of each file below to begin the download.
| | | | | | |
| --- | --- | --- | --- | --- | --- |
| Context | Name | Size | MD5 | SHA1 | SHA256 |
| Before | EMSSERVER.E01 | 18.9 GB | 19b819764a16e093c7a99cfb45eed3e6 | 774dca9ca039b3a2af633414608cca05d98e836f | 91d45ba6db84c65d761a44d58798e73eaa7d84d5c818f44dab67f08746fdd9dc |
| After | EMSSERVER_v2.E01 | 19.1 GB | 721e22b46dcd576a76b111fb06e5dc03 | fea44c445f65200d047bf05e9641b8fc435dd74b | 519ce98ff7a02a7df9986351df42d7cfb4b9ceb1043db3fc3132f44d33b8b8e0 |
How to Use
Once you have downloaded the files mentioned above you can follow the steps below to view these files. The instructions below will work on any Windows based computer with the required software.
Download and install AccessData FTK Imager application. (see required software below)
Open AccessData FTK Imager.
From the top menu choose File | Add Evidence Item… from the "Select Source" dialog choose "Image File" and hit the "Next" button.
Choose one of the two downloaded image files detailed above and hit the "Finish" button.
At this point you should be able to navigate through the directory and file structure of the Dominon voting machine as you would your PC within File Explorer.
Required Software:
AccessData FTK Imager Version 4.7.1 (or newer). [download]
From frankspeech.com