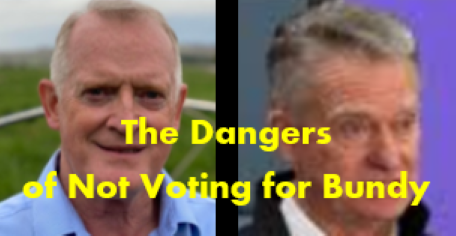 Not voting for Bundy in Idaho could get us one of these.
Not Voting is Dangerous in Idaho
By Rich Loudenback
Not voting for any of the candidates in a particular race increases the risk of not getting the best person elected, like Ammon Bundy in the governor's race in Idaho.
No candidate is guaranteed to be perfect, so Bundy may not be perfect, but who is?  In Idaho at this time, in my opinion, he's the best shot we have.  Sure, he has a lot to learn about the constitutions, U. S. and Idaho, but, who among us doesn't have a lot to learn.  I believe Ammon Bundy would do his best with what he has to work with for the state of Idaho, whereas Little is doing the best he can for cronies in the Western States Governors Association and numerous NGO's to accomplish their goals that are not in the best interest of the citizens of Idaho.
For instance, in our Idaho race for Governor, should someone not vote at all because they're unhappy with some aspect(s) of all of them, a missing vote for Bundy, for instance, would give Little or a democrat a boost.
A non-vote actually helps steer Idaho going backwards, into Little's world of his crony control, or worse by a smidgeon, a schmoozing democrat wanting to 'in our face' transform us immediately into Obamaworld.
Supporting articles by Karen Schumacher on realities of Idaho politics:
How Idaho Assoc. of Commerce & Industry (IACI) and the World Economic Forum (WEF) are Turning Idaho Blue