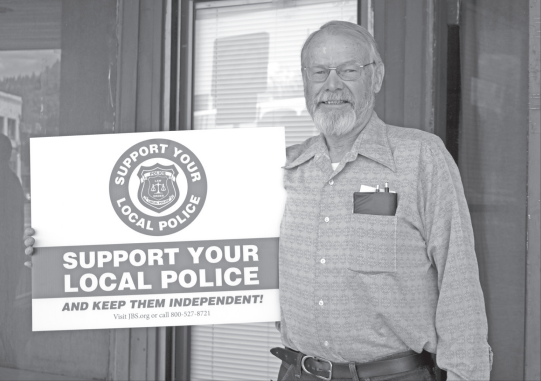 RaeLynn Ricarte photo
Chuck Gades displays one of the signs that can be seen in downtown store windows to show support for police. The signs are part of a John Birch Society outreach.
Store signs show support for police
By RaeLynn Ricarte
Last Saturday was Peace Officers Memorial Day to honor law enforcement personnel killed or disabled in the line of duty, but Chuck Gades says support for these emergency responders should be shown every day.
Toward that end, Gades, who heads the local chapter of the John Birch Society, and other members, have been distributing "Support Your Local Police" signs for area businesses to display in their windows.
Flags were flown at half-mast in Colville and other communities across the U.S. on May 15, which ended National Police Week. The special recognition given those in uniform was supported by a proclamation from the Stevens County Commissioners.
"It is important for all citizens to know and understand the duties, responsibilities, hazards and sacrifices of their law enforcement agency, and that members of our Stevens County Sheriff's Office recognize their duty to serve the people by safeguarding life and property, by protecting against violence and disorder, and by protecting the innocent against deception and the weak against oppression," stated the document signed by Commissioners Wes McCart, Greg Young and Mark Burrows.
Both Young and Burrows spent many years in law enforcement; Young as a corrections officer in Colville and Burrows as a police officer and then chief in Chewelah.
The commissioners remind people in their proclamation that there are nearly 60,000 assaults against law enforcement officers reported each year, resulting in 18,000 injuries.
More than 20,000 officers in the U.S. have lost their life in the line of duty since the first recorded death in 1791.
In 2020, there were 264 reported deaths of officers killed on the job, a 96% increase compared to the previous year, according to the National Law Enforcement Officers Memorial Fund. During a time when politicians are moving to defund the police or restrict their ability to safely do their jobs, Gades said it is important for people to let law enforcement agencies know that they stand with them.
In addition, he said the signs in windows serve as a deterrent to Antifa and other anarchists who might think to stage a protest in the area that ends up damaging properties, as they have done in so many other cities.
"We are hoping to prevent them from even getting a foothold here," said Gades.
The JBS sign also includes a phrase after stating support for the police, "And keep them independent."
Gades said there has been a movement to nationalize law enforcement and as it becomes more difficult to fill the ranks due to new mandates that make it risky to be an officer, that proposal could be brought forward by Congress.
He said local police are front-line heroes who know their communities and play a vital role in preserving and upholding liberty and the rule of law.
The John Birch Society formed in 1958 as a political advocacy group and is headquartered in Appleton, Wisconsin.
The organization is credited with shaping the modern conservative movement and has called for limited government and led opposition to American involvement in the United Nations.
JBS is also actively opposing the growing call for Marxism as a system of governance in the U.S.
JBS owns American Opinion Publishing, which produces The New American magazine that outlines their position on key issues.
Gades said the local chapter meets once a month to play outreach efforts that includes distribution of materials to educate people about political happenings, particularly infringements on their constitutional rights.
For more information about JBS, email Gades at woodchucktreefarm@gmail.com or call him at 509-680-5404.
Published with Permission of statesmanexaminer.com