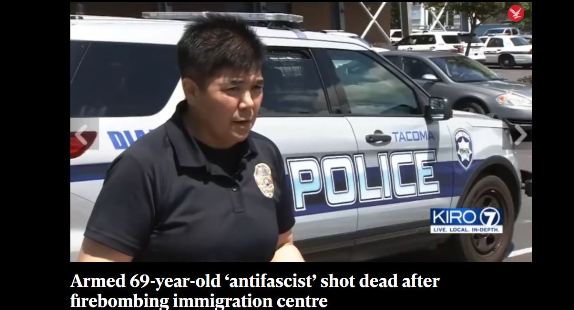 Leftwing Media Glorify ANTIFA and Terrorist Who Firebombed ICE Facility
By George Rasley, CHQ Editor
In the early hours of last Saturday morning, Willem Van Spronsen, a committed anarchist and ANTIFA supporter attempted to firebomb the Tacoma, Washington ICE facility.
The rifle-armed 69-year-old was fatally shot by the police after throwing incendiary devices at the immigration center. Van Spronsen was shot dead at the scene, with all four responding officers discharging their weapons.
According to the UK's Independent, Van Spronsen is believed to have had previous run-ins with law enforcement at the detention center.
In 2018 he was reportedly among ten people to be taken in by police after occupying the perimeter of the site – with the then 68-year-old arrested on suspicion of third-degree assault for jumping on the back of an officer as he attempted to apprehend another activist.
If you find it odd that we are quoting a British news outlet for facts on a terrorist attack in America, chalk it up to the fact that there has been an almost total news blackout on Van Spronsen's terrorist attack in the establishment media, even though he was a widely known member of the ANTIFA terrorist organization and left what has been described as a "manifesto" with friends.
Indeed, when we Googled "firebomb ICE facility" in Google News, the Independent article was the only article that popped-up; we had to Google Van Spronsen's name to get more information and links.
But that should really surprise no one, given that CNN and other Leftwing media have a record of supporting and even glorifying ANTIFA, including Willem Van Spronsen.
Van Spronsen appears to have been part of a May 5 episode of CNN's "United Shades of America" with W. Kamau Bell.
As Brian Flood of Fox News reported, the heavily promoted CNN show featured Bell explaining the "Redneck Revolt," which he identified as gun-toting liberals who defend the Second Amendment and seek to battle the "alt-right" and neo-Nazis.
Bell called them "good guys," going to a gun range with members and even questioning why "more white people" don't share their viewpoints reported Mr. Flood.
One of the men featured on the CNN special appears to be Van Spronsen — who was heavily armed when he launched his assault on the Northwest Detention Center in Tacoma around 4 a.m. Saturday.
Bell noted that the "Redneck Revolt" "protects counter-protesters, feeds the hungry and provides gun safety courses. Bell also organized an on-camera meeting between the "Redneck Revolt" and Black Lives Matter — Van Spronsen appears to be one of the attendees. The CNN host laughed and nodded his head in agreement throughout the meeting Mr. Flood reported.
"CNN has done more to give the psycho domestic terrorists of ANTIFA credibility than any other outlet," Media Research Center vice president Dan Gainor told Fox News. "Now ANTIFA has escalated from attacking people in the street to sending a journalist to the hospital with a brain hemorrhage to, finally, a deadly act of domestic terrorism."
Journalist Andy Ngo, who was attacked by ANTIFA during a protest in Portland last month, first noticed that Van Spronsen appeared to be recently glorified by CNN.
Van Spronsen's manifesto, that he sent out Friday night says, "i regret that i will miss the rest of the revolution… doing what i can to help defend my precious and wondrous people is an experience too rich to describe. i am ANTIFA."
Despite the publication of his manifesto, police spokesman Loretta Cool said a motive for Van Spronsen's actions had not been determined.
Editor's Note: Van Spronsen has no known connection with anyone detained at the ICE facility, so the reference to defending "my precious and wondrous people" remains obscure.
What is not obscure, however, is the connections between ANTIFA and establishment journalists, like CNN's W. Kamau Bell and writers and content creators whose bylines have appeared in the Huffington Post, Politico, The New Republic, the UK's Guardian, al Jazeera and other major outlets.
On May 29, 2019 independent researcher Eoin Lenihan published a phenomenal expose of the relationship between ANTIFA and a host of establishment "journalists." The Quillette article is a font of information exposing how ANTIFA sympathizers in the establishment media support and normalize the organization's terror activities.
Dr. Lenihan observed that ANTIFA often receives media coverage that is neutral or even favorable, with its members' violence either being ignored by reporters or vaguely explained away as a product of right-wing provocation. What's more, anecdotal evidence has suggested that many of the mainstream reporters who are most active in covering ANTIFA also tend to enthusiastically amplify ANTIFA's claims on social media.
To test this hypothesis Lenihan and his research partner created a data set of 58,254 ANTIFA or ANTIFA-associated Twitter accounts based on the follows of 16 verified ANTIFA seed accounts. Using a software tool that analyzed the number and nature of connections associated with each individual account, we winnowed the 58,254 ANTIFA or ANTIFA-associated Twitter accounts down to 962 accounts. This represents a core group of Twitter users who are connected in overlapping ways to the most influential and widely followed ANTIFA figures. Of these 962 accounts, 22 were found to be verified—of which 15 were journalists who work regularly with national-level news outlets.
That correlation turned out to be quite pronounced: Of all 15 verified national-level journalists in our subset, we couldn't find a single article, by any of them that was markedly critical of ANTIFA in any way. In all cases, their work in this area consisted primarily of downplaying ANTIFA violence while advancing ANTIFA talking points, and in some cases quoting ANTIFA extremists as if they were impartial experts.
An example cited by Lenihan is Patrick Strickland, a journalist among the group of 15, who specializes in reporting on the far-right in Europe, notably Greece. His book Alerta! Alerta! Snapshots of Europe's Anti-Fascist Struggle has a blurb written by Mark Bray, author of ANTIFA: The Anti-Fascist Handbook, which reads: "As a fascist darkness descends over Europe, Patrick Strickland uncovers the bars, squats, fight clubs, and street corners where resistance burns brightest. Each page of his journey breathes with the tumultuous struggles of brave anti-fascists who risk imprisonment, assault, and even death to take a stand." Strickland presents himself as a serious mainstream journalist, and has written for The New Republic and Politico. As of this writing, he is listed on Al Jazeera's web site as a senior producer for Al Jazeera English.
A more prominent example, says Lenihan, is Jason Wilson, a Portland-based writer for the UK's Guardian. One of his recent articles focused on a U.S. regional intelligence report whose authors concluded that ANTIFA and the far right share responsibility for street violence. "Experts say the report mischaracterizes the dynamics of the street violence," Wilson complained.
One of Wilson's main "experts" in the piece, it turned out, was none other than ANTIFA handbook author Mark Bray, who, predictably, denounced the report's contents as "ludicrous." In fact, Bray makes regular appearances in Wilson's articles. So does fellow Portland resident and eco-extremist Alexander Reid Ross, who regularly writes for ANTIFA publications such as the It's Going Down anarchist news site. (Ross also contributed to a 30-year-anniversary edition publication for Earth First!, an extremist environmentalist collective that advocates what activists euphemistically call "direct action.")
In another column for The Guardian, this one about the 2018 "Occupy ICE" protest in Portland, Wilson quoted "local activist" Luis Marquez to the effect that "I think this occupation is a beautiful thing, a wonderful thing. Every single person here is a hero." Marquez is in fact a prominent ANTIFA leader in Portland, and has been arrested on numerous occasions due to his militant behavior—including alleged theft and assault.
Lenihan reported that Christopher Mathias, a senior reporter for the Huffington Post, applies the same cynical approach.
Like Wilson, Mathias' byline seems to pop up whenever ANTIFA stages violent protests—and he always can be counted on to deliver a play-by-play that favors ANTIFA. But he goes even further than his Guardian counterpart. Unlike Wilson, Mathias actually doxes individuals whom he suspects of being right-wing extremists. His doxing sources for an article about suspected extremists in the U.S. military included Unicorn Riot, an anarchic ANTIFA journalist collective, and other shady sites that exist as a sort of in-house 4chan for the ANTIFA movement. (Mathias cited similar sources when he published identifying details of a Texas schoolteacher, and of a Virginia police officer.)
Mathias' apparent modus operandi is to gather doxes of individuals whom ANTIFA or ANTIFA-friendly groups suspect of being right-wing extremists. He (or a colleague) at Huffington Post then reach out to the target's employer asking for comment, leveraging the media outlet's name to ensure the individual is called out.
Then wrote Lenihan, Mathias posts the doxes in his column while investigations are ongoing. As with Emily Gorcenski's First Vigil site, Mathias broadcasts detailed personal information whose release seems designed to destroy the reputation of the accused, no matter the results of any subsequent investigation. It's unclear how this behavior differs from ordinary, everyday ANTIFA-style online activism.
Of course, says Lenihan, all investigative journalists rely on tips from the general public. But collecting tips isn't what Wilson and Mathias and others appear to be doing. Like other prominent writers whose names appear among the 15 journalists most closely engaged with ANTIFA, they seem to function not at professional arm's length from their sources, but rather as cogs in an activist enterprise that churns out both pro-ANTIFA propaganda and doxing information about real or imagined ideological enemies.
As if to prove Dr. Lenihan's hypothesis, The Huffington Post article headline on Van Spronsen's terror attack refers to him as simply "an armed man" and requires the reader to go 11 paragraphs into the article to find the first mention of his ANTIFA connection, and Seattle's KIRO TV referred to Van Spronsen as the "victim" in a police shooting. As for CNN, as of CHQ's post time, the Leftwing cable network had two articles on the attack, neither of which mentioned Van Spronsen's name, his manifesto or his connection with ANTIFA and the previous CNN program in which he appeared.
Published with Permission of ConservativeHQ.com