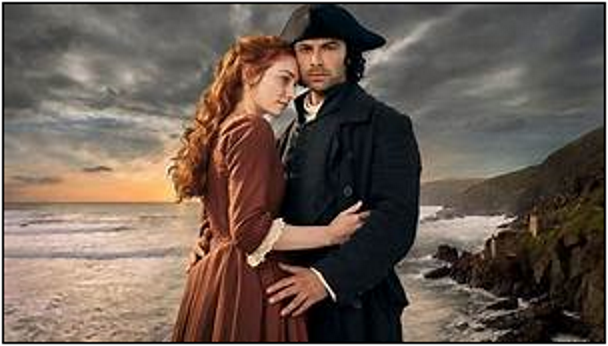 Poldark
By Rob Chase
Poldark is an ongoing mini-series on Masterpiece Theater that covers the 12 books, by Author Winston Graham, about the fictional Sir Ross Poldark of Cornwall, in the late 18th and early 19th Centuries. It is a combination of romance and historical fiction, or more properly termed "faction", since Poldark's character is inserted as an unknown, and yet significant player, amongst George III, William Pitt, the Duke of Wellington, and other famous contemporaries.
I remembered a 1970's series attempt about Poldark, also a product of Masterpiece Theater that I ignored at the time. But I needed something to take my mind off the events of last summer so I gave Poldark a try, and the first three seasons came free with Amazon Prime. I was so delighted I paid for Season Four, and now earnestly await Season Five coming this fall. Each yearly series covers roughly two of the books so I anticipate a Season Six next year to wrap things up.
The wild scenery of the Cornish Coast, and the accompanying music score are both beautiful, and the acting and plot twists are intriguing. Aidan Turner plays Ross Poldark. He is probably best known as the handsome dwarf from "The Hobbit", who fell in love with a much taller elf maiden, so that it probably wouldn't have worked out (although one witty commenter on YouTube conjectured the dwarf probably would have liked to have given it a try.)
It is sort of a fairy tale, in that the Cornish nobility are mostly ideologically beautiful, and the commoners are rather common but have an earthy character. The series starts out with Ross Poldark serving in the British army during the American Revolution, getting wounded, and shipped back to Cornwall to find his father's estate almost bankrupt and his father recently departed. It often gets worse and we find ourselves engaged with Ross's struggle to rise above the ashes and just as often to get knocked down again, principally by the evil Banker – George Warleggan, who is played magnificently by Jack Farthing, and will probably go down as one of the best played villains ever. And through it all, is the love interest, lowly Demelza Carne, played by the beautiful Eleanor Tomlinson.
Not only is Ross trying to get some yield from the windswept hardscrabble farm, but he is also trying to get his father's panned out tin mine producing again. We see things not only through the characters eyes, but also from the fly on the wall which gives us a view of those things our characters don't know about, but still effects their decisions. I often found myself saying to the TV, "No! Don't do that!", but Winston Graham can write plot twists that give us surprises we didn't anticipate.
Another factor I enjoyed was how the author wove Cornish traditions of protocol, manners, mores, the local diet, medicines, entertainment, and weather into an interpretation of how our ancestors lived not many generations ago. The series also spans the destruction of the class system in Western Europe during that period and the rising merchant class overtaking and surpassing the helpless nobility.
It is also interesting how Poldark, as a man of the Enlightenment, views the various religious factions at the time. He portrays the Anglicans as hypocritical, and the Methodists as crazy, but he also gives them their due as a part of a society we may wish to long for. Even so, Ross Poldark lives an examined life, and turns to inherent principles to make the right or wrong decisions.
A general rule, what I found to be true is that a series or a movie is never as good as the original book(s), and as much as I love the series the books are even better than the series. But watch the series or read the books, or both. If you want a delightful departure from the troubles of our times, then go to the Cornwall of 200 years ago, and read of their troubles. It will make us appreciate the things we do have these days, like plumbing, electricity, transportation, and central heating.